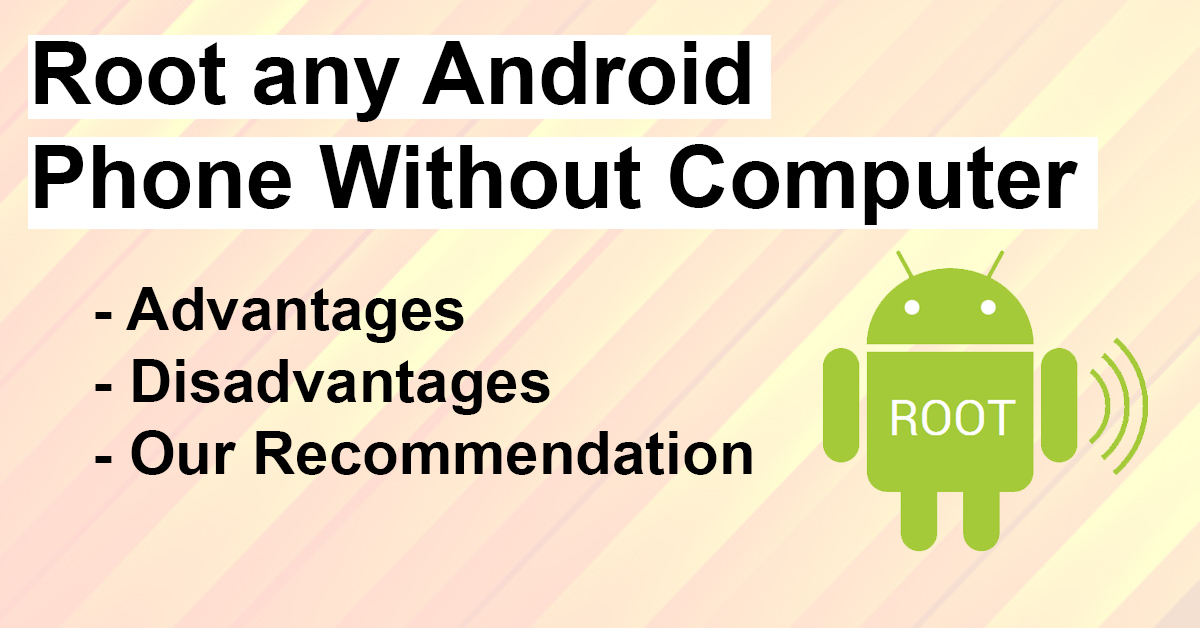 Hello Solutionexist readers, if you are using Android mobile then you might be aware of rooting android phone and tablets. Solution Exist in today's tutorial comes with  Root Android phone without Computer. If you don't know then also don't worry we in this tutorial will explore every segment of ROOTING and will tell you safest way to root android.
Rooting Android smart phone is a just simple process You have to understand this Rooting process. If you want to root android phone and you don't have access to computer or you are not comfortable to with a tutorial to root android phone using PC then this tutorial will help you to root android phone without computer which is apps to root android phone.
If You are new to Android device then it is not Recommended to Root your android phone. Here is the best and simple process to root android phone without computer and Get access or unlock all various thing to do in Your smart phone by Rooting process.You can do several thing after Rotting which is mentioned below in Full Guide. Before proceeds root process You need to Read advantages and all Disadvantages of Rooting Device.There are many Advantages and many Disadvantages to Root android mobile.Here I will showing some Advantages and Disadvantages to Root below. So Read these Advantages and disadvantages First and after proceed to Root method If You accept to all things.
What is android phone rooting
Android mobile has lots of features that are helpful but are locked. These features allow users to use the android phone at it maximum potential. The reason these features are locker is, if the features do not perform perfectly, it can damage the phone permanently. Hence one has to enable root privilege or in other words, admin access by rooting an android phone. One can consider android phone rooting as jailbreaking the Apple iOS system
Like everything Rooting android tablet or rooting android mobile also both advantages and disadvantages. So before you jump to the step to root android device safely read the advantages and disadvantages of rooted android phone.

Advantage is that you can customize and make you phone work as you want and your phone will able to bypass any hardware restriction. Rooting your phone will make many apps start working.

Disadvantage is Roots Voids Your Android device Warranty.
Advantages of Rooting android phone:
You can update you phone by using custom roms which can give you various feature that Stock ROM (original manufacturing company) ROM is failing to provide.

You can increase RAM and internal memory.

You can be able to use various application and can make you phone stable and smooth.

You can overclock you mobile and hence increase the speed of your mobile.

Biggest advantage of rooting is you can install Custom roms and can use

Cyanogen or AOSP ROM etc. which can increase Your Android version and this will definitely increase Your device performance or more.Get more and Good features by Changing ROM.
Improve battery life by using Greenify and hence you can use various Tweeks.
You can uninstall various Pre-installed apps from your mobile which are the unwanted apps installed by the manufacturing company and hence can free up internal memory.
You can also take Back-Up of your Rom using Rom Manager.
Disadvantages of rooting android phone:
First disadvantage of rooting is its Voids Your Android device Warranty. In other words any harm cause to you mobile Mobile care will not solve that problem.
Any casualty in Rooting or Installing Custom ROM can brick you phone.
Biggest disadvantage is as you root you phone your phone will automatically discontinue for OTA and FOTA updated given by original manufacturing company.
Exclusive Solution Exist post – use Dual Whatsapp in android phone without rooting android device to have multiple WhatsApp on android phone.
Is it bad to root your phone? Well.. that depends on you. If you are Ok with the disadvantages of rooted android phones and involved points than
Prerequisites Before Root Your Android Device
Before you root your mobile here are some prerequisites that you are requested to follow for the successful rooting process.
First of All take backup of your Apps.
Take backup of you SD card to a safe place.
Charge your phone. Battery should be more than 70%
If you had successfully read all the above steps then You can start now Root Your Android phone with Full mentioned Root without PC Guide.
Methods to root android phone
Using PC
Without Using PC
Well in this tutorial we are providing you the method to root you phone without PC. In some other post we will explore the method to root your phone using PC.
For rooting you phone without PC you have to install some special apps that will allow you to root your phone.Rooting without PC is as easy as sending file using Bluetooth. All you need to do is follow the instruction completely.
Apps to Root Android Phone Without Computer or PC
FramaRoot.
Vroot.
Z4Root.
CF auto Root.
Tower Root.
Kingo Root.
Apps To Root Android phone without Computer
---
#1 FramaRoot
FramaRoot is best app to Root Your Android phone by easy method.We have to Install FramaRoot app and You will Get there 3 button in app to Root.You have to simple click on anyone Root button that You want to Root Your device.After clicking Your mobile will Get Rooted in some minutes.If don't get Rooting then choose different methods give below to Root.This is my favorite app to Root android phones without computer. I Rooted own 2 Smartphones with this FramaRoot app. This is mostly use for Samsung mobile.
---
#2 Vroot
Vroot is a Good app to Root Your Android device in simple steps.If You root with this app and Then During Rooting process.You will get Your Mobile switch off and when It will auto ON You will Get Your Rooted mobile phone with superuser.This is a Good app so it's listed in number two.Its Good to Root for Chinese mobile phones like Karbonn Brand mobiles.Also You can Root using Vroot app on PC if You did not Get Rooted Your device or checkout more methods give below to Root.
---
#3 Z4Root
Z4root is also a Good app to root some mobile phone in simple method. Best thing of This app is You can root almost All Android phones simply because it has support all UI of smartphones To root.If You are using Chinese spectrum model mobile phone then it will Be good app for You to Root Your mobile.This app has two Rooting method.One of them is temporary Root which can Root Your phone for temporary until You didn't Restart Your phone,After restarting Root will be Gone. Second method is Permanently Root.In permanently root You will Get Root Your phone permanently until You didn't install stock ROM.
---

#4 CF Auto Root
This app is also Good app to root.It can Root all Samsung devices so its made for Samsung phones specially to root.You have to need root Your mobile phone with this app then You should PC or Laptop.You can find this app download link from Below. It's a Good app for Samsung brand mobile.So if You have Samsung then Root with this app.
---

#5 Towel Root
Towel Root is an another Big Rooting app to Root almost phones simple.This app specially made for 4.4.2 kitkat users.This app will also work on Samsung android mobile phones.Its a free app You have don't even pay a paisa.You can root Your mobile without a pc or laptop using this app.Download link is given below after mention so Download and Root with Towel Root app in simple steps.
---

#6 Kingo Root

(Recommended)
This app is also a Good app to Root android phones without a pc or laptop.Some users Don't have pc or laptop then You can use Kingo Root app to Get full Root access in Your mobile.You have to Download this app and just click to root button.After complete Root process You can check Root via any root checker app that Root is fully access properly or not.So Download and use this Kingo root app to Root easily Your phone.To root using this You need to working internet connection or WiFi because this app download some updates and scripts during process.This app is very small around 1.1 MB.So Must You have to try it.
---

Note:- Any casualty in rooting process can brick you phone and we are not responsible for any damage.
Wrapping Up
These were the app that can be used to root android phone without computer. After rooting the android phone you must check out Top 7 Must have apps for rooted android phone. I personally use Kingo App to root android device and I also recommended to you all. If you are confused about which app you should use then comment your mobile model and installed the android version and we will tell you the App name. Join our Facebook Group Android And Windows Errors Solution and Follow or Facebook Page Solution Exist to be updated with Solution Exist awesome articles.
We are Solutionexist, If you had any problem while rooting your phone and if your phone is brick then also don't worry we will surely provide you the solution to unbrick your phone.
SolutionExist wishing you happy rooting…!!!
Recommended Reading...