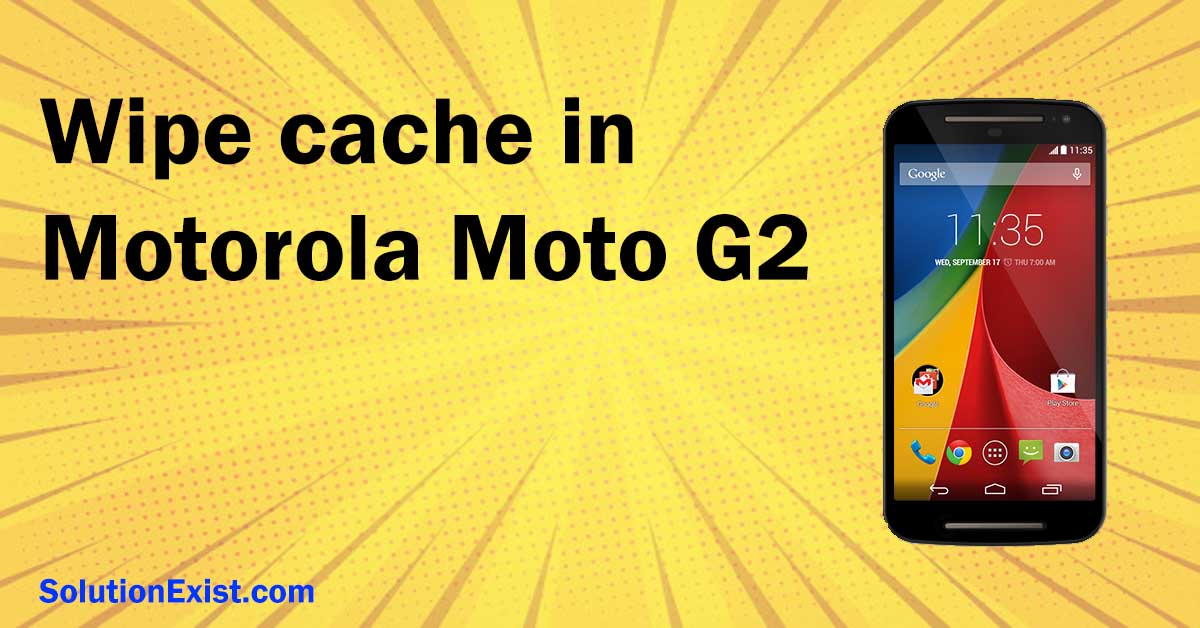 Wipe cache partition in Motorola G2 – Android system generates cache file as we use the mobile. These cache files are helpful to for mobile processing but if we don't clean it on regular interal, it becomes responsible of slow android phone and your phone stats to hang.
Hello SolutionExist reader, we are again back with a new android guide on how to Wipe Cache Partition in Motorola G2 as described in How To Get Better Battery Life in Android Guyz if you are facing a battery draining problem or hanging problem you should try wipe cache partition. Cache file maybe the reason for the above problem. So we are providing you to clear cache on Motorola G2. So without wasting your time start reading the below procedure.
Steps To Wipe Cache Partition in Motorola G2
Turn off the Motorola Moto G2.
Press and hold both Volume Up and Volume Down keys at the same time.
Press the Power key only until the phone vibrates once, then release only the Power key. Continue to hold the Volume up and Volume Down keys until the Android System Recovery screen appears.
Press the Volume Down key to highlight wipe cache partition.
Press the Home(GB only) or Power(ICS only) key to select.
Make sure Reboot System Now is highlighted and press the Home or Powerkey to reboot.
You can read all the specification from gsmarena
Wrapping Up
Hope you like the tutorial on how to wipe cache partition in Motorola G2, it is recommended to perform wipe cache every 2 months to avoid slow android phone. Wipe cache will also solve the battery drain issue. If you have any problem in performing the steps then comment below or follow us on Facebook Page – Solution Exist for more updates. Feel free to ask if you wanna know the Wipe cache partition method for other devices we will post on your request.