Chrome For Android phone : Google Chrome is a very popular internet browser among internet users for computers. As the android platform is developing, it was sure that google will launch Google chrome for android.
Till now if you are using an android phone, opera min is widely used by mobile phone users of all platforms i.e. java phone, Symbian phone, or android. Now the wait is over, as Google Chrome For Android phone is launched.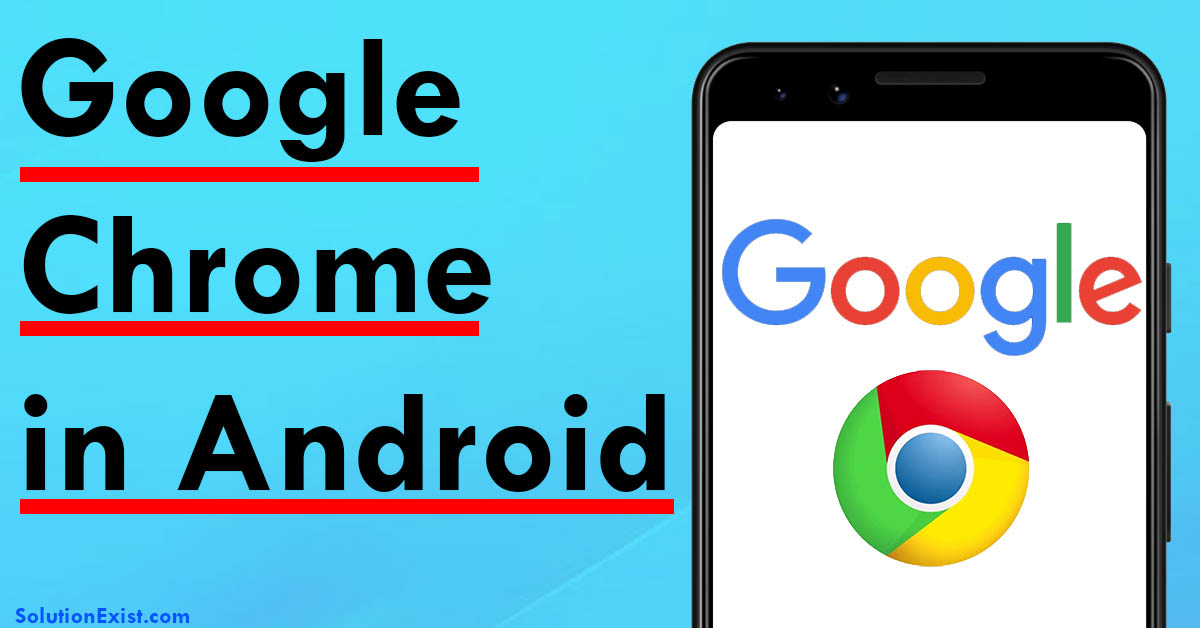 Finally, the Google Chrome browser is out for the Android platform. But this release is only for limited devices running on Android Ice Cream Sandwich 4.0+. Chrome Beta for Android is fairly fast and synchronized all your bookmarks and view tabs on your computer once your sign in using Google account. We had covered various articles related to google chrome-like, Enable Dark Mode in Google Chrome for Android which will help you to uninstall any other dark mode apps.
In this tutorial Solution Exist in this post will explore the feature of Chrome for android phone features and steps to install it. Let's see some of the great features offered by Chrome Beta. Currently, Chrome for Android devices is not available for Gingerbread users. Apart from how to install chrome on an android phone, we will walk you through the features of chrome android.
Steps To install Chrome browser in android phone
Firstly click on the download link (Link at the end of the post).
As you click you will be redirected to PlayStore. Click on install.
Now after the download is completed run the chrome browser.
Done..!! Enjoy the chrome browser in your android phone
Also Read:- How To Solve Battery Drain Problem In Android
Google Chrome for Android Beta Features
Faster browsing with the accelerated page loading, scrolling and zooming.
Search and navigate directly from the Omnibox.
Open and switch unlimited tabs between.
Sync all your bookmarks and views tabs on your computer using your Google account.
Ability to send pages from desktop Chrome to smartphones or tablets.
Browse privately in Incognito mode.
Now chrome for android is officially launched its stable version for android user. I personally use google chrome in android phone. hereby i had listed some features of Google chrome android apk
Features of Google chrome android
Browse fast and type less.
Incognito Browsing.
Sync Chrome Across Devices.
All your favorite content, one tap away.
Protect your phone with Google Safe Browsing.
Fast downloads and view web pages and videos offline
Google Voice Search.
Google Translate built-in: Quickly translate entire web pages.
Use less mobile data and speed up the web.
Smart personalized recommendations.
How to uninstall google chrome on android
If your mobile had not come with pre-installed chome then you can uninstall google chrome on android easily. If in case your mobile had chrome preinstalled then you can disable it but not uninstall it
Another thing you can do is root android phone and then you can use the app like root uninstaller app to uninstall any system applications.
FAQ (Chrome for android phone)
1. Is Chrome browser safe for Android?
Yes, Google Chrome is safe for Android as well as desktop users. However, use has to take special precautions while browsing i.e. enable safe browsing in Chrome and not to visit unsafe or non-trusted websites.
2. How to install Chrome on Android?
In the latest phone, google chrome comes pre-installed on latest Android phone but in case you don't have installed in your phone, you can download it from Google playstore.
Downloads
Download Chrome Browser (PlayStore Link)
Wrapping Up
This was the latest tech update on Chrome For Android phone launch and beta testing. Do install in your phone as it is more stable and works seamlessly with android system.