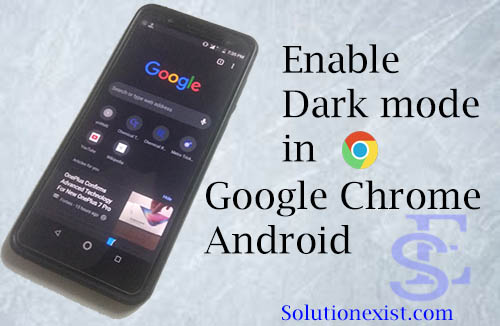 Google chrome is a web browser use widely by android users. This 2019 is a trend of dark mode and following the trend, google chrome for android also gets the feature of dark mode. yes, you heard it right, Google chrome for android had rolled out an update which will enable dark mode for android device. In the recent update of Google chrome with built-in version 74.0.3729.112 had to include a dark mode option to enable in google chrome.
Not only Google chrome developers are in race to provide Dark mode. On the basis of news, it is know that Whatsapp is also working on Whatsapp dark mode also Youtube had recently pushed update to enable dark mode in youtube app android. The dark mode is good if you are using an android phone at night as using mobile in dark will not hurt your eyes and dark mode and even google say that dark mode saves battery. So in this tutorial, we will learn how to enable dark mode in chrome android. So without wasting more time, let us jump into it.
Steps to Enable Dark Mode in Chrome for Android
Firstly open Google play store and search for Google Chrome and click on update.
2. After updating, open Google chrome copy and paste chrome://flags/#enable-android-night-mode in address bar and hit enter
3. Now tap on the down arrow of the option "Android Chrome UI dark mode" and select "Enabled" from that list and after that relaunch app.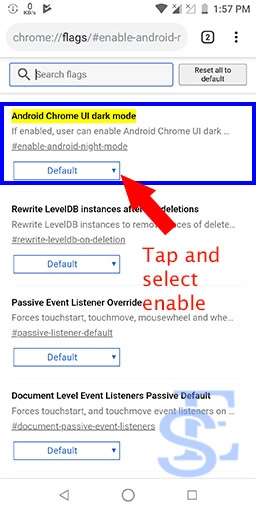 4. Now click on three dot (Setting) at top right corner and tap on setting
5. Under basic option, click on dard mode and enable it.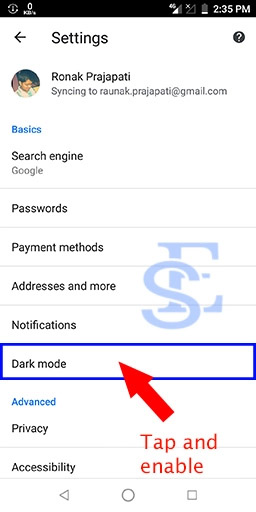 6. Boom..!! You had successfully enable dark mode in Google chrome for android.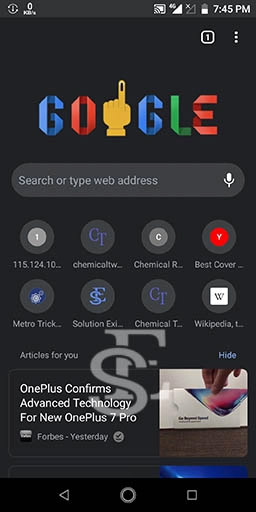 Note- Initially this feature was in beta mode hence you need to follow this long procedure to enable dark mode. Now in the latest updated google chrome version, you have a dedicated option to change the them. Read the below procedure for more details.
Enable dark theme in Google chrome android
Step 1 – Firstly make sure you are on the updated version of google chrome and to do so, open the Google play store and search for chrome and open it.
Step 2- If you see an option to update, tap on it to install updated version.
Step 3 – Now open chrome for android and tap on three-dot placed at top right corner.
Step 4 – Now scroll and tap on "setting" option.
Step 5 – Now again scroll and tap on Theme to open it.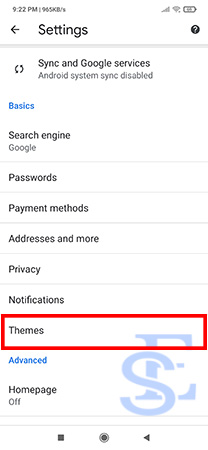 Step 6 – Here you can see three options, system default, Light and dark, tap on dark to activate it and you are done.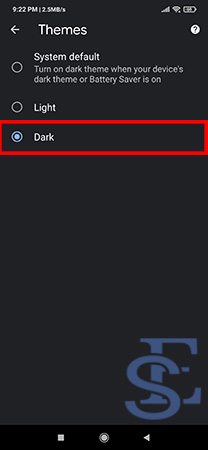 In this way, you can activate dark theme mode in Google playstore.
FAQ (Chrome android dark mode)
How do I turn night mode on for Chrome?
In the updated version, you can find an option i.e. theme in the setting option. You can open it and select Dark theme.
Is there a dark mode for Chrome?
Yes, google chrome had recently got updated to the version which supports dark theme. You can easily update to the latest version.
Wrapping Up
Hope you like the tutorial on how to enable dark mode in Google chrome for android. In meantime, you can read tutorials on Hide whatsapp chat without archive / Without Any App. If you have any queries then feel free to use the comment section. Solution Exist will help you to solve your queries. For fast support, post your queries at our Facebook group Android And Windows Errors Solution and also like our website page Solution Exist