Are you struggling with slow android phone? Do you want to know why is chrome so slow on android? Then this post is for you. Today, we are going to share some useful tips to speed up chrome on android smartphones.
Google Chrome browser is very famous whether it is google chrome for computer or Google chrome for android/smartphone. Google Chrome browser in mobile gives you the best website experience in your smartphone. I am using Google chrome on my android smartphone since long time and the issue i face recently is slow google chrome. The first time i experience is android chrome scroll lag and I started wondering why my chrome is slow on android phone.
If you are also facing the same problem of slow google chrome then this tutorial is for you. In this tutorial of Solution Exist on Speed up chrome android phone I will be sharing how I fix my slow chrome browser. So without wasting more time, let's start with the tutorial.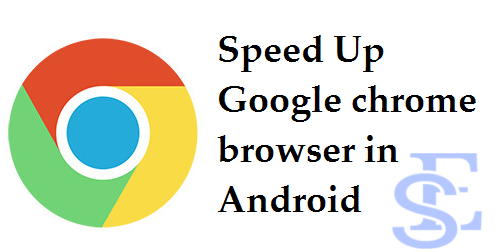 Tips to Speed up Chrome Android
Remember this thing performance of Google chrome depends on 2 things. So to speed up chrome for android we need to look up to the below points.
Hardware of Smartphone
Data Speed
Although these things are responsible for your google chrome performance but there are few tricks that can help you to speed up google chrome on an android phone. Previously Solution Exist has posted a tutorial on How to Speed Up Your Opera Mini Of You Smartphone. So without wasting more time check out the tricks to speed up android and how I make google chrome faster on android.
1. Keep Chrome updated to speed up chrome
Google chrome for android phones keep on updating their app on playstore. People to save mobile data don't update the google chrome browser in android phone. It also may happen that you had turn off auto-update in the android phone so whenever update is launched your chrome browser is not updated automatically. It is better either you turn automatic updates On (Not recommended) or manually check google chrome update after a regular period (Recommended)
2. Speed up Chrome by turning on Data Saver
If you are facing pages taking too long to load problem in your chrome then you can try data saver option. This option will loads web pages in lite more which will not only saves your data, but also loads pages fast. Here are the steps to turn on data saver option on chrome.
Steps to turn on Data Saver:
Open Chrome.
Hit the 3-dot menu button on the top-right corner of the screen.
Select "Settings".
Scroll down and select "Data Saver".
Toggle the setting on.
---
---
3. Clear cache from time to time
Cache helps you to load your website fast in your browser. Simplest thing is that when you open a certain website some elements will remain same for every page that you open of that website. Example- suppose you are reading this post of Solution Exist now when you open any other post of Solution Exist then some elements like logo and menu will remain same. So this cache will load this data from save cache and only other data is need to be load.
But, when this cache becomes too much then it started creating problem for the browser. Due to more data stored your browser becomes slow and your will experience slow browser performance and websites takes long time to load. So it is recommended to clear cache in android phone to make browser load website fast.
Steps to clear cache on Chrome for Android:
Firstly Go to the phone's Settings app.
Select "Apps".
Scroll down to Chrome and tap on it.
Select "Storage".
Select "Clear cache".
4. Prefetch Page Resources | fix chrome running slow android
Prefetch is the feature of google chrome that will help you to load website fast. This feature is On when you are using WiFi and Off for mobile data. This is OFF for mobile data to stop data loass in android phone. If you don't bother about mobile data then you can turn prefetch data ON to load website fast.
Steps to Turn On Prefetch Page Resources
Open Chrome and Tap on the 3-dot menu button on the top-right corner.
Navigate to "Settings">>"Privacy".
Now Tap on "Prefetch page resources" and select "Always"
---
Don't miss Exclusive tips – Things You Should do Before Updating Your Android Phone
---
5. Use Chrome shortcuts on your home screen
There might be some websites which you are using on a daily basis. The best way to open that website is to create shortcuts of the website in google chrome. Example – Suppose you are a regular reader of SolutionExist.com then it becomes an easy and fastest method to access the website using shortcuts. Create a shortcut of solutionexist.com which will be placed on home screen and it will help you to have fast access to Solutionexist. This also helps to speed up chrome android.
Steps to create shortcuts on your home screen
Firstly open chrome and open website of which you want to make shortcut.
Click on three-dots placed at top-right corner.
Tap on Add to Home Screen and then tap on Add.
You can See shortcut of website on home screen.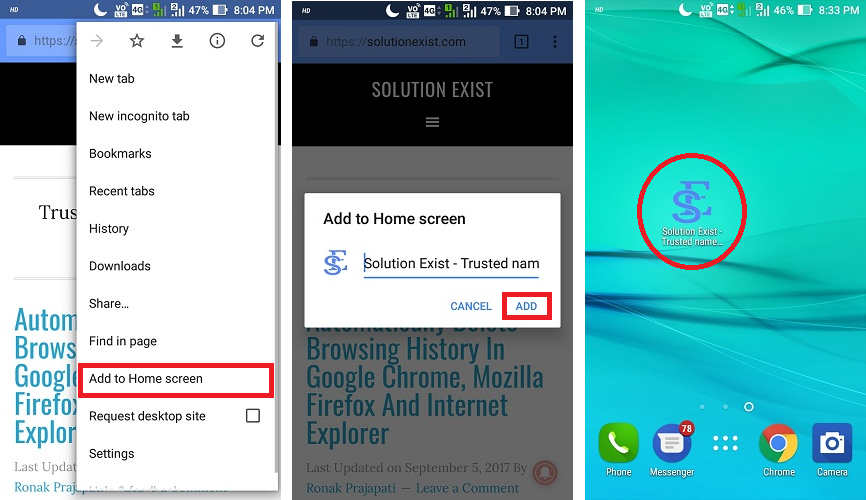 FAQ (Fix chrome loads slowly)
1. How to fix chrome takes too long to load

There can be multiple reasons which were making chrome android loads slow but the main primary reason can be less free RAM on android. To fix it, close all the other apps running on smartphone to free RAM and then try to open chrome on an android phone

2. How to download chrome lite for android

Officially there is no chrome lite is released for Android or PC. So don't download any app that claims to be a chrome lite app.

3. Why are web pages loading very slowly on chrome for android?

If you are facing slow page loading on chrome and pages taking too long to load then this might be the problem of slow internet and not a fault of Google chrome. Try to connect to high-speed wifi and check if your problem is fixed or not.

4. What is a chrome slow android solution?

Here are some chrome running slow in android solutions that can fix your issues.
1. Keep Chrome updated
2. Clear cache
3. turning on Data Saver
4. Activate preloading pages
Wrapping Up
This was the tutorial on speed up chrome for android phones and will solve your slow chrome on android and you will not complain why my chrome is slow. These tips are self tested which will surely provide you good surfing speed in google chrome browser and will speed up chrome browser up to 5 times faster. In mean time you can read – How To Use PenDrive As Ram in Windows 10, 8 & 7 | Boost PC Speed. If you had any problem in following these steps then feel free to use comment section.