Android mobile market is increasing day by day and the Android market is killing IOS because Android is a platform that gives freedom to have the latest updates that iOS developers are failing to provide. Yes, Android users receive system updates and firmware updates but android users are lagging behind in getting proper knowledge on how to upgrade android phones so, In this tutorial, we will provide Things to do Before Updating Android Phones.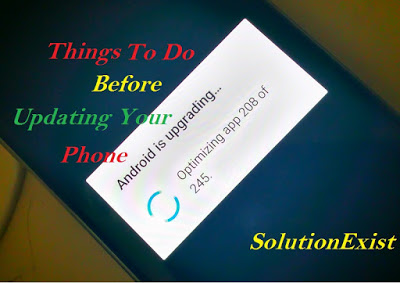 Now android mobile manufacturers are concentrating more in providing Firmware Over-the-Air (FOTA) and Over The Air update (OTA) for mobile phones. These updates can be minor firmware updates or an upgraded android version. Both the updates are from the official manufacturers. These updates are provided for better performance and work as a patch to the bugs present in the ROM. In meantime, you can read How to resolve google play store error 927
Why Updates are important?
Updates are important for android phone are there are various reasons fro that. When mobile companies launches their phone in market that had tested there software before but as users start using their phone many error comes out which are reported back to companies by the customers. To fix those issues or to give security patches to mobile Android updates are important.
What are firmware updates? and Why does firmware need to be updated?
You are familiar with Android updates like Android nougat is the latest, As soon as this Android update releases devices running nougat receives firmware updates. Android devices is not 100% bug-free manufacturer provides updates to makes improvements in Roms that run the device smoothly and to fix bugs in software post updates (firmware). These improvements are released as firmware updates.
What does software update do on android?
Well, sometime the updates make the mobile worsts. The manufacturing company developers like Samsung, HTC or any other companies sometime provide update just to make to believe that you are not left over by the company and latest updates. The situation in which when you mobile performance is slow can be by 2 reasons.
Reason 1:-

You (us) are responsible for the bad performance



Reason 2 :-

Some bugs present in the update that is responsible for bad performance
---
Things to do Before Updating Android Phone
# Solution For Reason 1
Updating the phone but official updated is a easy process also updating in correct way is more meaningful. Updates are completely tested by the developers so the reason behind the slow performance can be mostly Us. Before you update you mobile you should follow the below steps that can be helpful for better performance and patching process.
Firstly take backup data of android phone.
Charge you phone until battery level is full / battery is 100% charged
After a successful data backup you should do a factory reset android phone.
After doing a full reset you should Wipe cache from the boot menu.
Reason for doing full format/hard reset android because some time some file and apps that are coming from the new updates conflict from the existing apps and data. The system file of the present phone are not overwrite by the new updates and hence these can give rise to the Force Stop error. Frequent popup of Unfortunately android .process.acore or android .process.anyting are the result of this so my suggestion do wipe data and do a full reset. you can read – How To Fix Unfortunately Google Play Services has stopped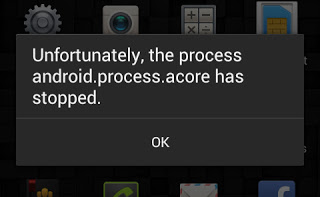 # Solution For Reason 2
As we said earlier that the updates from the manufacturers are tested but sometimes those are not fully stable. If you performance of your mobile is down because of the update then you can report that bug to the developers and ask them to patch them. If feel that the developers are not giving the patch update then you should go with the downgrade. Downgrading is not recommended to newbies. you can check How to downgrade ZenFone 5 from Android 5.0 Lollipop to Kitkat v2.21.40.44 if you want to see the android downgrade process.
Wrapping Up
This was the tutorial on Things to do Before Updating Android Phone by solution exist. We recommend you Firstly try to solve the problem by the reason 1 solution and if you are still not getting the proper performance of the mobile then try downgrading (Not Recommended for noobs). If you have full prepare your mind for the downgrading then comment below SolutionExist will help you with the process.
Share this post with you friends and helps them by providing the useful tips