This tutorial will help you to Resolve Google Play Store Error 927 in your android phone.
If you are an android user then you surely face lots of google play store errors / Google Play Store issues in android phones. Nowadays not only the apps in play stores are increasing errors are also increasing. Among various errors, most frequent error that occurs in play store is Error 927.
Mostly you will find this error in newly purchased mobile or when the user is trying to update or install apps. Solution Exist in this tutorial will guide you on how to Resolve Google Play Store Error 927 and will provide you easiest way to fix google play store error 927. In meantime, you can read – Things You Should do Before Updating Your Android Phone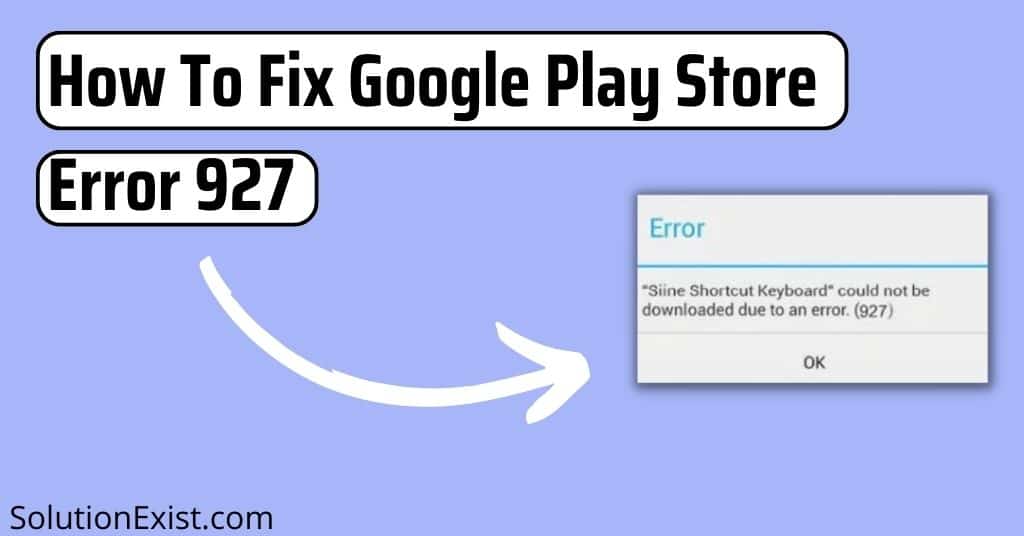 We are presenting you Best 5 ways to Resolve Google Play Store Error 927. Solution Exist had previously posted How To Fix Unfortunately Google Play Services has stopped solution you can also refer that if you are facing that error in your android phone. The top 3 way You can use any of then and can make you google play-store error solve. Now without wasting more time let's go to the methods to solve.
Methods to Resolve Google Play Store Error 927
There are a number of methods that on can use to fix Google Play Store Error 927. So start reading all the steps to fix 927 play store error and follow them one by one.
Method 1 – Uninstall Previous Google Play Store Updates
Go to Settings > All > and then Select Google Play Store.

Now simply stop the google play store application by selecting the Force Stop option. Also Clear Data and Cache Files by selecting the clear option listed below.

After performing the above steps carefully again try to download or to update your applications from google play store.

If the above method is not working than you should also try to uninstall the google playstore updated version by going to the application settings > All > Google Play Store > uninstall updates.
Method 2 – Remove Google account – Fix Google Play Store Error 927
In this method to Solve Error 927 in play store, first login through your different Gmail accounts by going to System Settings > Accounts > Google > Remove your Gmail accounts.

Now again Force Stop the google play application and then clear data and cache files (as we have done in Method 1).

Again go to the account settings option and then add your Gmail account.

After doing the above steps nicely again try to download your applications from google play store.
Method 3 – Install Different Version Of the Google Play Store App
In some cases different version of google play works well on place of one that you have on your android phone. To try to install a different version of google play store (older or newer version) and see if it resolves the google play store error
You can download the Google Play store apk (All newer or Older versions) From Apkmirror
Method 4 – Unmount SD card | Google Play Store Error Solution
The reason for this error can also be the Not enough memory in the phone memory or SD card. Something due to some errors in the SD card. It automatically gets Unmount and hence gives rise to this error. So my suggestion is to check your phone memory and cross-check if your SD card is perfectly mounted or not.
Method 5 – Final Solution – Factory Reset android phone
Its your bad luck that none of above methods to fix Google Play Store Error 927 works for you then only one methods remain to resolve error 927 in android phone that is sad but you need to Factory Reset your android phone. It is recommended to backup android phone before resetting the android phone.
Wrapping Up
Hope the above methods had Resolve Google Play Store Error 927. You will come across to many google playstore issues or Google Playstore errors. This Error 927 was just one of them which are mostly find. If you are in trouble by any error of playstore then note down the error code or take a screenshot and post in the comment section SolutionExist or post on the Solution Exist Facebook page will try to solve the problem ASAP.