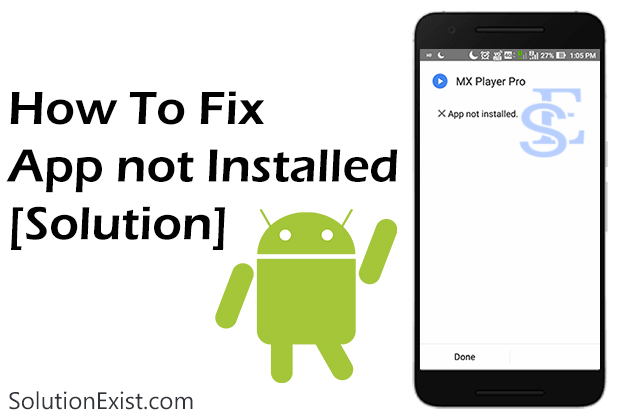 Android users face lots of error and among those the one error we mostly encounter with is App Not Installed Error on Android Phone while installing Android app in your smartphone. Recently I encounter with this App not installed error in my android phone while installing MX Player and because of that I started searching the solution. to fix Android app not installed or Application not installed.  In this post Solution Exist will cover How to fix App not installed error in android phone. Previously Solution Exist had covered how to fix Error 927 Play Store in android phone make sure you checkout if you are also facing that error in android phone
As Described earlier there are various reason behind this Application not installed error. Solution Exist had searched and got various points on Android App Not Installed Error solutions. Firstly read why you get Android App Not Installed Error in your smartphone and according to that read how to fix those issue. You would also like to read Our exclusive tutorial on How to speed up Chrome on Android Phones
Common Reasons behind Why Apk Not getting Installed ?
Dimmer Application –  Any dimmer app is running in your android phone then Install button will not work while installing app in your phone
Low storage – Android software and if data such as photos, videos, music, messages, Apps, contacts, emails, etc are stored in the internal memory there is not adequate storage left for another App, leading to Android App not installed error.
Corrupted App file – When you don't download Apps from the Play Store and choose another platform to do that, Those App files are mostly corrupt and cannot installed on your device. I personally recommend you not to download apk from other sources / website
SD Card not mounted  – When your phone is connected to your PC device which can access the SD Card from your device. In that situations if you install an App and choose to save it to your SD Card, you will see Android App not installed error because the App cannot find the SD card as it is not mounted in your device.
App compatibility with Android Version – Some applications on the internet which are only meant to work on some Android versions. Installing these applications on newer android versions will show error.
Application Permission – Application running in the background and App Permission are not new concepts. Such errors can also cause the Unknown Error Code during App installation.
Incorrect file – If you already have an App installed but download another variant with distinct signed or unsigned certificate can also show an error.
Methods to Fix App Not Installed Error | App not installed error solution
Method 1: Allow Apps from Unknown Sources
In android phone to install app which is not downloaded from Playstore you need to tick Install app from unknown source. By default this option is untick fro safety purpose, so if this is untick you will not be also to install app in android phone and will give you Application not installed in android smartphone. So to fix this follow the below path.
Go to Settings → Security → Unknown Sources. Enable Unknown Sources.
Now try to install App.
Method 2: Clear Data and Cache of Package Installer
Firstly Open setting of your Android device.
Tap on the option called Apps or Manage apps
Check for the Package Installer App under system Apps
You will find two option of Clear data and Clear cache. (Android Marshmallow 6.0 users check for option Storage to clear data and cache)
Clear the data and cache and you problem is solved.
Method 3: Reset All the App Preference
Firstly Settings of your Android device.
Open Apps or Apps manager.
check for All Apps.
Tap on menu icon.
Click on 'Reset App Preferences'.
Method 4: Fix App Not Installed Error For Root Devices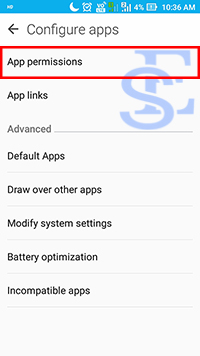 Some apps requires Root access to install and works because those app are for rooted android phones only Those app when you try to install it will through error Root access requires. So in order to use those Application you need to Root android phone then only you can use that Android App in your phone. If you want to root your android phone in easy steps then must read – Root any Android Phone Without Computer – Detailed Solution
Ensure that your phone is rooted perfectly and
Now go to system → app and grant permissions to the app
Now that App is install in android phone
Wrapping Up
Hope this post on How to Fix App not installed error or How to fix Application not installed in android phone is helpful for you and you are able to install app in your android phone. In mean time you can follow Beats Audio for Every Smartphone If you faced any problem in following this tutorial then feel free to use comment section. Solution Exist will provide your App not installed solution.