Hey Readers !! SolutionExist is back with new tricks to create password in USB or in other words how to create password protect usb drive windows 10 . Security now becomes an illusion as technology is having exponential growth. Securing your data is not only important by also a challenging task as well.
This guide will help you set a password for your computer's USB ports and hence lock the USB port of the computer. There is a risk that people can take our data through a USB drive if our USB ports are not locked. But if we can put passwords to our USB ports, no one can transfer data from the USB without the correct password.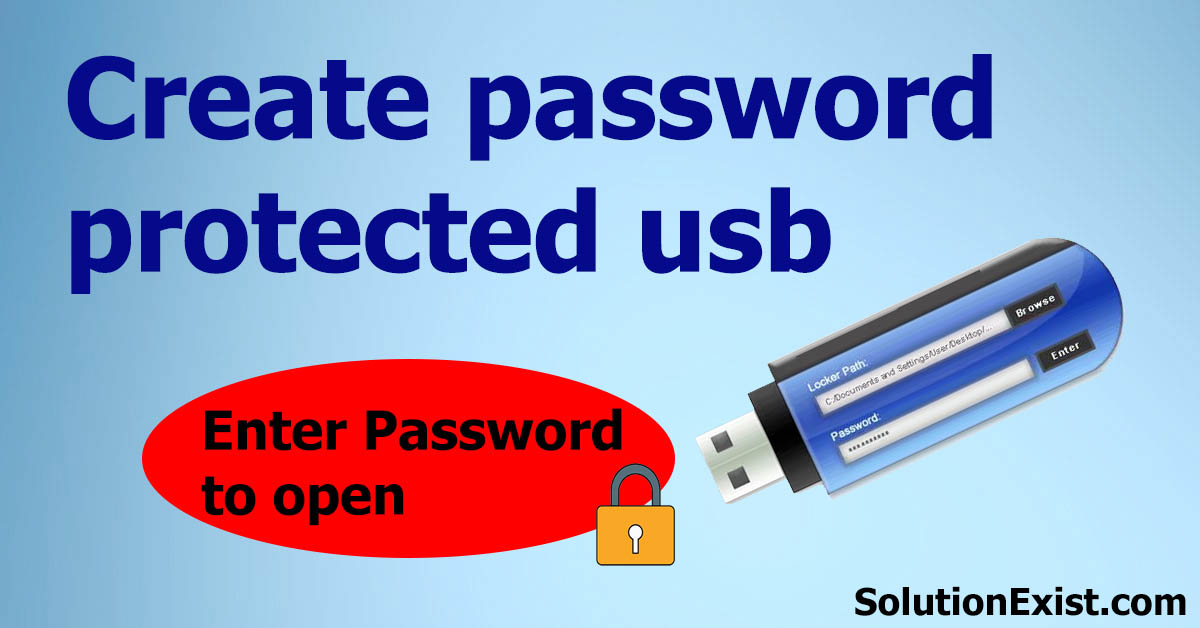 In this article, we are providing you free USB protection. You would also like to read – Lock and Hide Folder with Password without Any Extra Software in which we had talked about how to create password protected folder on computer. So without wasting more time let's move towards the tutorial on how to lock a USB drive with a password.
How To Password Protect a USB Drive in Windows
Method 1 – Create password protected Pendrive – create password protected USB
In this method, we will set password to USB stick to protect USB stick in windows using BitLocker
Firstly Insert the USB drive into your computer and navigate to This PC (My Computer).
Right-click the USB drive and Select Turn BitLocker On.
Now click on 'Use a password to unlock the drive' and enter a password that you want to set.
Click on next and Select where or how you want to receive your recovery key in the next window and select Next.
Select 'Encrypt entire drive' and then Next.
Select 'Compatible mode' in the choose which encryption mode screen and then click on Next.
Click on Start encrypting and the process will be started.
Method 2 – Another way to create password in USB is using software.
Firstly download MyUSBOnly software – Download MyUSBOnly
After Installing this Software you will be able to see a USB icon on system tray of your computer.
Double click on it and select "General Setup".
Then type four zeroes (0000) in the field called 'Required Password' and click allow. 0000 is a default password in this software and you can change this later if you want.
Done..!! in this way you can protect your pendrive with password
Also read – How To recover hidden files from virus infected usb pen drive Windows 8, 7 and XP
Features – Protect your USB disk
Prevent data theft by blocking all but your trusted USB storage devices. Stop your files from walking away on thumb drives, smartphones and portable USB hard drives
Secretly log all USB connect, disconnect and files/folders copied, modified, deleted activity
Get an email notification message when an unauthorized USB storage device is connected to your PC
Run it invisibly, so you can catch, as well as deter, problem coworkers, visitors, family members, or managers
Source:- MyUSBOnly
These were the methods to protect your USB disk using password. Now premium and even basic USB stick come with there own password protection software such as scandisk and Kingston. So if you had purchased recently, you don't need to use this method, you can use there pre-installed software which can help you to set up passwords in USB with very little effort.
FAQ (how to password protect usb drive)
How can I protect my pen drive with password?
To protect your data in USB drive, you can create a password protect USB drive which can help you to encrypt you data with a password. There are lots of software available on the internet to do so.
How can I protect my SanDisk pen drive with a password?
SanDisk has their own software which helps user to create password-protect Sandisk Pendrive. Here are the steps that you need to follow in sandisk pendrive.
1. Insert SanDisk Cruzer into computer flash drive port.
2. Now click on "LaunchU3.exe" and then Select "Enable Security."
3. Now Enter a password in "New password" field to create a password on USB drive
4. Now "Retype it." and save it.
In this way, you can create password-protected flash drive in Sandisk pendrive.
Wrapping Up
MyUSBOnly is a recommended software if you want to create password in USB. I personally using this software and find out that this is the easiest way to protect you pendrive and your personal data. So use this software and enjoy the privacy. in meantime you can read – Hide whatsapp chat without archive / Without Any App. If you face any problem then feel free to comment.