Google chrome web browser is one of the most used software for internet browsing in windows, android, and in Mac. While browsing the internet on Google chrome, you will find various chrome errors like your connection is not private, DNS could not be found chrome, chrome DNS probe finished no internet or any DNS error chrome.
We had covered various google chrome critical errors on our blog and provided the solution. like Error Your Connection is not private Solution Today also, we are providing you how to fix DNS Probe Finished No Internet Error in Chrome.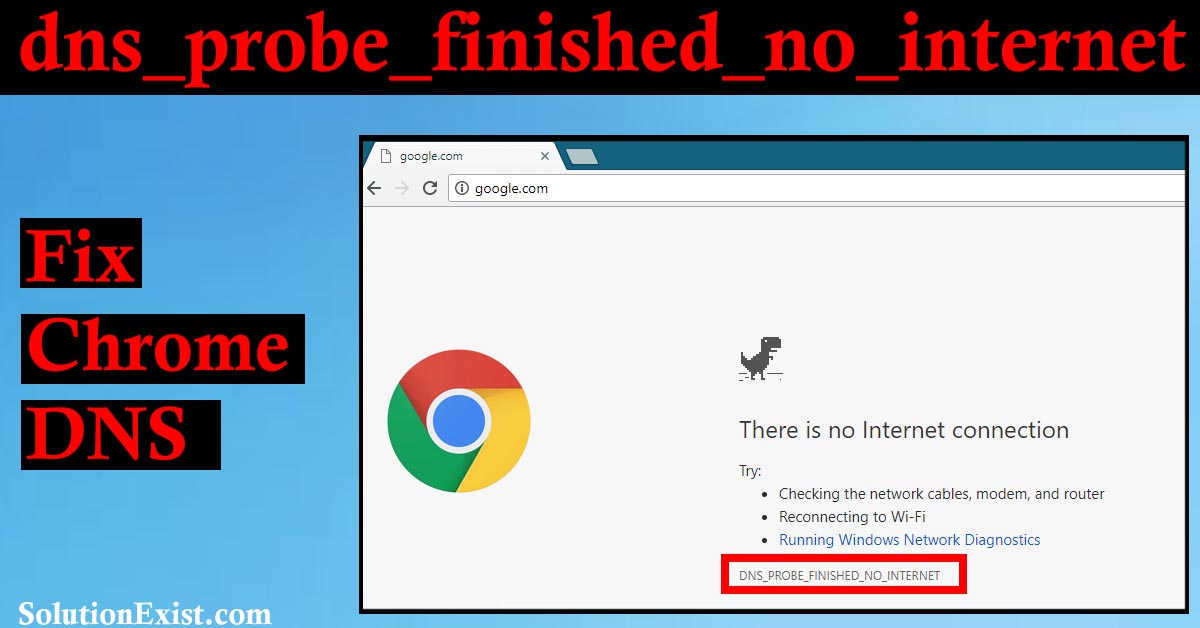 What is dns error chrome
DNS stands for domain name server. Websites containing files that of hosted on a host like, digitalocean, Godaddy Namecheap etc which provide online space. When a visitor opens the website, DNS established the connection between domain and host and loads the website to the visitor's web browser. Sometimes due to a slow internet connection or some other errors, users experience chrome DNS errors. DNS Cache Load Fails may result in dns_probe_finished_no_internet. Although a slow internet connection causes this problem, it is not necessary, even users with high-speed internet connections are facing this DNS probe issue. If your google chrome is working slow then do read Fix Slow chrome
Today in this post, we will solve the chrome DNS error i.e. dns_probe_finished_no_internet. So without wasting more time, start reading the methods are there are various methods to fix DNS probe finished no internet on google chrome. Follow one by one way till your problem is solved.
How to fix dns_probe_finished_no_internet
1. Clear DNS Cache of Google Chrome
Cache help web browser to load the website fast. If you open a website for the first time on the system, it will take time to load but if you again open the same website, the website loading time will decrease as the browser had saved cache files also refer are temporary files which will preload file of the website locally and result in fast loading of the website. Sometimes outdated cache files result in DNS Probe Error. So the best and simple way to fix DNS server problem is to clear DNS cache chrome. Steps to clear DNS cache are written below.
Firstly open google chrome and open url 'chrome://net-internals/#dns'.
Now Click on Clear-Host Cache button present beside Host resolver cache.
You had cleared the host cache, now reopen google chrome and try to check whether your DNS server issue is fixed or not.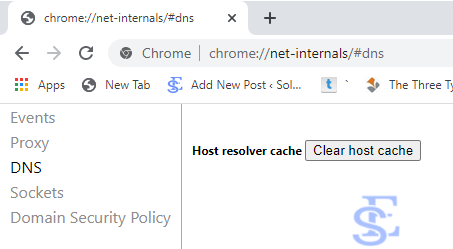 If your problem is not solved, then keep following the article and move to methods 2. You can also try clearing cache of chrome, firefox, or any other browser.
2. Change Protocol DNS Settings

| DNS Probe Finished No Internet Error in Chrome

Sometimes, DNS server issue is the result of wrong protocol DNS setting. Changing DNS protocol setting, in that case, will fix dns server problem. Here are the steps to do.
Click on the start button and open the Control Panel and then open network and sharing. Now open the Change adapter setting or You can also Search 'ncpa.cpl' and open it.
Now click on the network that you are using, right-click on it, and open properties.
Scroll down and search for, Internet Protocol Version 4 (TCP/IPv4) option.
Select it and then click on the Properties button
Now select use following the following DNS servers; Preferred DNS server as 8.8.8.8 and Alternate DNS server as 8.8.4.4
Click on ok and Restart google chrome.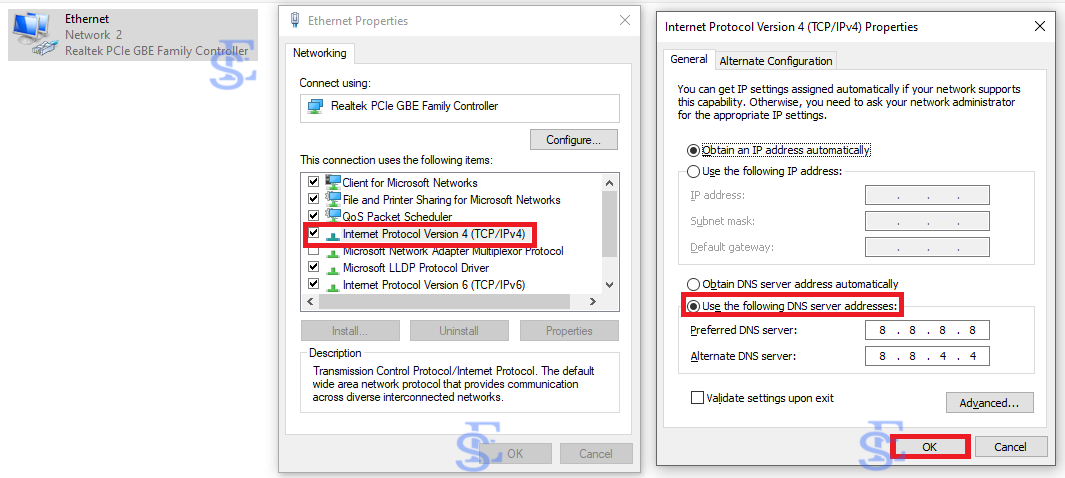 Now open the website and check whether your problem is solved or not. If not then follow the other methods.
Recommended – Use Google Chrome to scan & remove harmful software from Computer
3. Flush Chrome DNS
Flushing Chrome DNS is also proved as a useful method to fix dns server error in chrome. To flush chrome DNS follow the below steps.
Press Win + R button and open run in windows
Now type cmd and hit enter. This will open the command prompt in windows.
Now type ipconfig /flushdns and press Enter.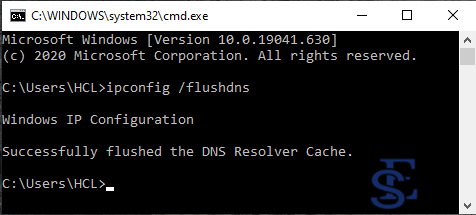 In this way, you can flush chrome dns. Now Restart your computer and check if your Chrome issue is fixed or not.
Recommend – How to speed up Chrome for Android Smartphone
4. Reset TCP and IP

– dns_probe_finished_no_internet

Reseting TCP and IP in computer also fixed chrome error. To do so, follow the below steps and paste these commands in CMD.
Open the start button and type Command prompt.
Now right-click on it and click on Run as Administrator.
Now paste below command prompt codes and hit enter.
ipconfig /release
ipconfig /all
ipconfig /flushdns
ipconfig /renew
netsh int ip set dns
netsh winsock reset
Now restart your computer and check whether your problem is fixed or not.
5. Check DNS client service is running
DNS error while browsing internet can also be due to DNS client service is stopped. In that case, we need to start DNS client service. Follow the belows steps to check whether DNS client service is running or not.
Press Windows + R to open run and type msconfig then press enter key to open the system configuration window,
Click on to the services tab to navigate in the tab and scroll and search for DNS Client from the services.
Make sure, the check box is checked. If not then do click on it and make it check
Done..!! Click Apply, then OK button.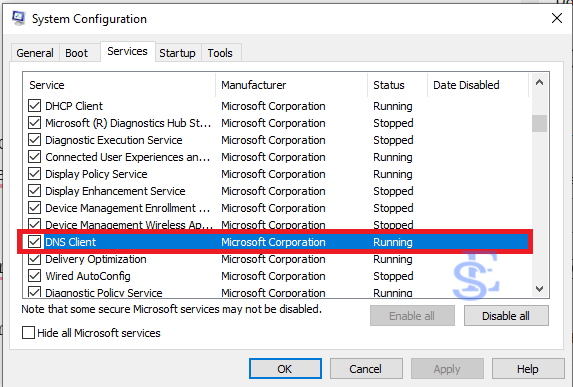 Now and restart windows, open Google chrome and check whether you are able to browse the webpage.
6. Update Google chrome
The outdated problem may also lead to chrome errors. It is always recommended to use an updated version of google chrome as chrome developers keep on adding and optimizing the software and sometimes discontinue the support to the older version. Follow the below steps to updated google chrome
Open Google Chrome and click on the three-dot button, placed at the top right corner.
Now hover on Help and Click on about Google Chrome. It will check the latest version is installed or not, if found an outdated version, it will update you to the latest version of Gooogle chrome.

Now try browsing any web page and check if you your problem is solved or not.
7. Disable google chrome extension.
Google Chrome extensions are the tools that can help you to provide various features. Sometimes these extensions are the culprits and annoy you with the error.
Open google chrome and click on the Three-dot button placed in the top right corner and hover on More tools and then click on the extension.
Now using the toggle switch, disable all chrome extensions.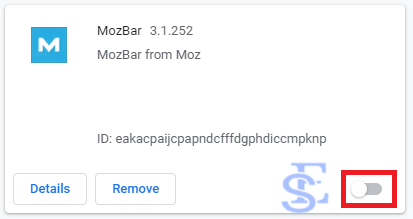 Now restart google chrome and check whether your problem is fixed or not. If it is fixed then keep on checking but enabling one by one google chrome extension and figure out the culprit extension.
8. Try Disabling Antivirus
Antivirus is good for pc security from viruses and malware. Sometimes this software goes harsh on computer networks and results in chrome errors. To check whether the DNS probe is due to antivirus software installed on your computer, try disabling your antivirus.
FAQ (DNS probe finished no internet Chrome)
What is DNS probe finished no Internet Mac?
This DNS probe error you might encounter while using the internet on chrome. This error means the webpage or website you are trying to load is unable to load due to DNS error.
What does dns probe finished no internet mean
DNS probe fininshed no internet error you will encounter when you are trying to load a website but due to DNS error i.e. you are not able to connect properly to the ip address of the website. This might be the result of the failure of the internet connection due to a DNS error.
How do I fix DNS probe finished no Internet Windows 10?
There are multiple of reason which can be responsible for causing this error and here are the tips to fix DNS probe error.
1. Check if your internet connection is working or not
2. Restart your router and internet connection
3. Clear browsers cache and cookies
4. Reset TCP and IP
5. Update network adapter drivers
6. Scan system for virus
Wrapping Up
This was the tutorial on how to fix DNS Probe Finished No Internet Error in Chrome. If you still facing dns probe finished no internet error then do comment below, we will help to to solve your chrome dns problems. Don't forget to join our Facebook group where we discuss problems related to Android and windows problem and also like our page Solutionexist. For an even faster reply to your queries, join our Telegram group Solution Exist