Do you use WhatsApp and have ever like the WhatsApp status of your friend and thought to save it. You will notice that there is no option to save WhatsApp stories. We are here with the solution of the query on how to download Whatsapp status videos.
Whatsapp has been changed drastically and developers keep on adding lots of features in the app like whatsapp stickers. A year back WhatsApp had added a feature by name WhatsApp status. This WhatsApp status is a feature in which users can add WhatsApp stories consisting of images or WhatsApp status videos of 30 sec long. Pretty same as Instagram stories, WhatsApp stories get automatically deleted after 24 hrs of upload time.In this tutorial, we are going to learn How to save WhatsApp status video in gallery without any app?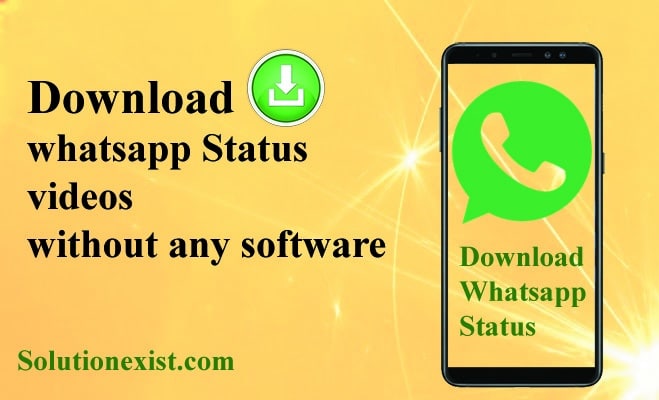 This is pretty common that you see several WhatsApp status videos everyday uploaded by your contacts. There may be some Whatsapp status that you want to do download and save WhatsApp status but in WhatsApp, there is no such option available. Solution Exist had previously shared various WhatsApp tricks and today in this post solution exist will share with you the solution to download Whatsapp status in android phone. There are several methods available to download Whatsapp status in android phones.
Methods to save WhatsApp stories and WhatsApp status videos.
After detailed research, we are narrow it down to 3 methods on how to download others WhatsApp status easily. These methods include using android WhatsApp status saver apps, and without using apps as well. So without wasting more time, lets start with the tutorial.
Download WhatsApp status videos using file manager
Every android phone comes with a file manager, I am using a stock android phone in which I had install Files by Google filemanager to view my internal memory. You can use your file manager installed in your android phone and proceed with the below procedure.
Step 1 – Firstly open file manager in your android phone
Step 2 – Now click on setting and find Show hidden file and make the options turn on (Refer below snapshot for detail). If you didn't find show hidden file option then read method 2.
Step 3 – Now search and open WhatsApp folder and navigate to >> Media >> .statuses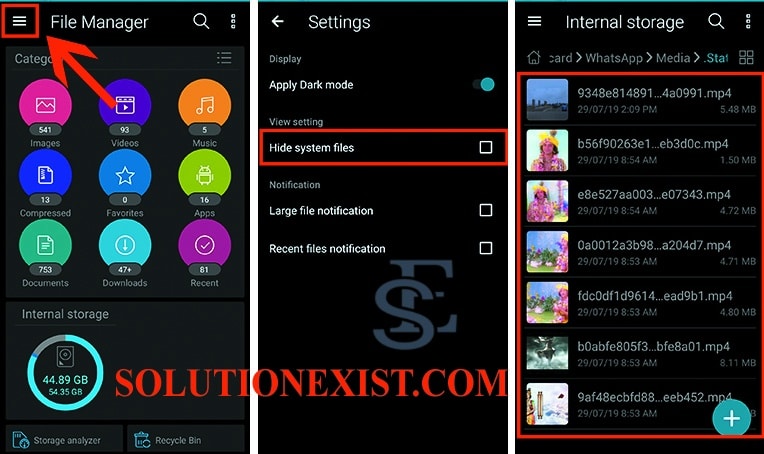 Step 4 – You will see all the WhatsApp status stories which you had watched of the contacts.
Step 5 – You can cut and paste to any other folder and these WhatsApp stories will be visible in your gallery.
In this way, you can download WhatsApp stories using file manager.
If your inbuilt file manager doesn't support show hidden file feature then you need to follow the below tutorial. You need to install file manager app that will support this show hidden file feature and for that, I will recommend you use file by Google.
# Method 2 Download Whatsapp stories in android phone
Step 1 – Download and install Files android apk by Google from Google play store.
Step 2 – After installing it, open the files app and click on the Three horizontal lines button placed at the top right corner.
Step 3 – Click on setting and turn on Show hidden files
Step 4 – Now in file manager app navigate to whatsapp>> Media >> .statuses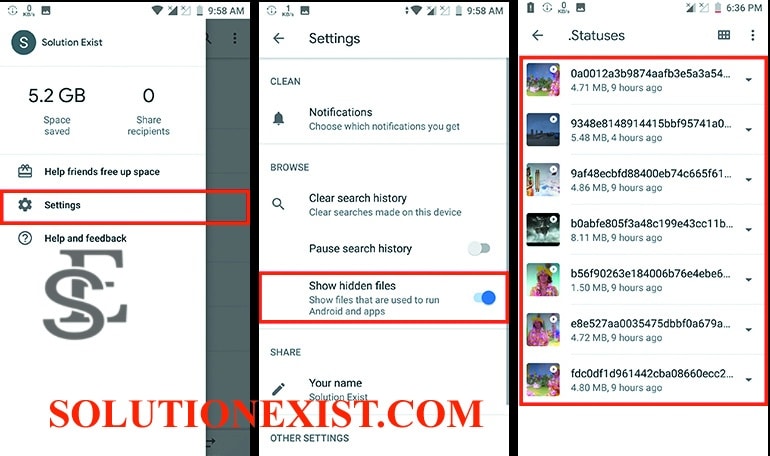 Step 5 – Here you will see all the WhatsApp status videos which you had watched in WhatsApp.
You can copy these download WhatsApp status and paste it into some other folder to make them visible in the phone gallery.
In meantime, you can check blank WhatsApp trick in which we had posted a method to set no WhatsApp status.
3# Download WhatsApp Status videos using MX Player on Android – Whatsapp Status saver
We came up with another android app that will allow you to download WhatsApp status and it is none other than MX player. Why I had included MX player in this article as the majority of Android users use MX Player to play videos on android phone. MX player is updated with tons of features and among those WhatsApp status saver is one of those.
Steps to save WhatsApp status using Whatsapp Status saver – MX Player
Step 1 – Open the MX player on the android phone. In case you are not using MX player to play videos, download it from below download button.
Step 2 – Tap on Horizontal Three lines button placed at the top right corner.
Step 3 – Tap on Whatsapp status saver option.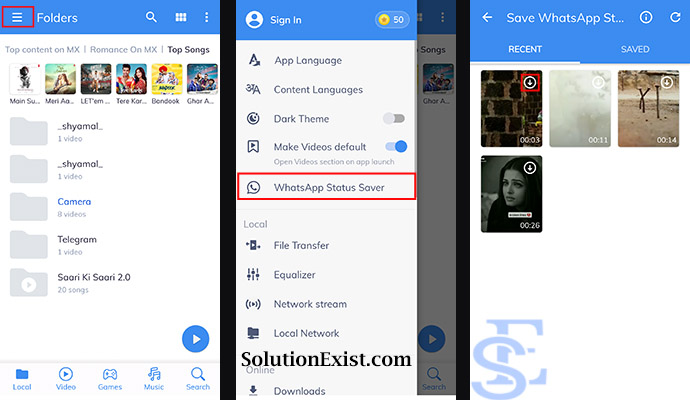 Step 4 – Here you can find all the WhatsApp status that you had viewed on WhatsApp.
Step 5 – Tap on the download button to save WhatsApp status.
You can only save the WhatsApp status which you had viewed. So you need to open and view WhatsApp status in order to save WhatsApp status using MX player.
This is the best way to download WhatsApp status videos on your android phone. Basically, what happens here is when you view any WhatsApp stories, it gets downloaded in .statuses folder present in WhatsApp but as the folder name starts with. (dot) it remains hidden hence it is not reflected in your phone gallery. This method In this way you can download WhatsApp status videos without installing any third-party apps.
FAQ (how to save Whatsapp status)
Can I download WhatsApp status of others?
Yes, there are several methods available by using which you can download status of WhatsApp of your fi
How to take screenshot of WhatsApp status
If you want to save a photo status of WhatsApp then this is an alternate method to save WhatsApp status without any apps. To do so, open the status that you want to save and press the power button and volume down button simultaneously.
How to copy someone's whatsapp status?
Here to copy someone's whatsapp status is referred as how to save WhatsApp status. There are apps available on google play store to copy WhatsApp status.
Wrapping Up
This was the simplest way to download Whatsapp status videos without any app as file manager is pre-installed in your android phone. If you had any difficulties to download WhatsApp stories then use the comment section to ask about problems, we help you to deal with it. For a faster reply to android or windows problems follow Solution Exist Facebook page and join Android And Windows Errors Solution and ask your problem there.