If your system is getting hanged while running google chrome then this tutorial will help you. We will learn How to Enable Memory Saver mode in Chrome on computer.
Google Chrome has been a popular web browser for years and its users are worldwide. However, one of its major drawbacks is it consumes more of RAM memory. On the internet, users also refer to Chrome is as a RAM eater. This is especially an issue for low-end computer configuration system users or who have limited RAM in the system.
We had posted various tutorial related to google chome such as Fix Not Enough Memory To Open This Page Error On Chrome in which same problem of low memory was refered and fixed.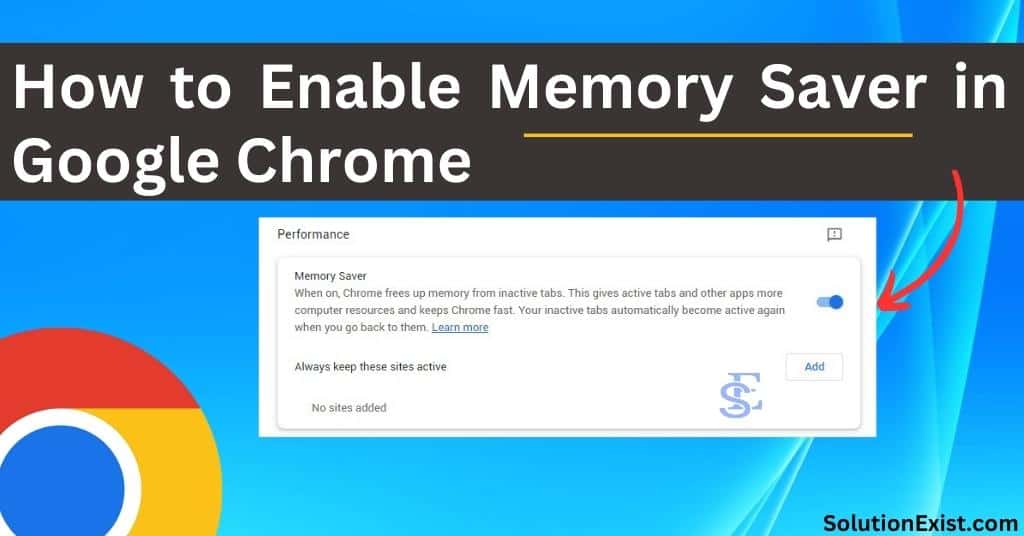 There have been numerous complaints about Chrome's high RAM usage and hence to fix this issue, chrome had launched a new feature called Memory saver.
Before we get into the tutorial on how to enable memory saver in chrome, lets have a quick introduction to what is memory saver feature in chrome and why you should enable it. So without wasting more time, let's get into it.
What is the chrome memory saver mode?
The memory saver feature in Chrome is a feature designed to help users save their computer's memory when browsing the web or doing multi-tasking. It does this by automatically unloading inactive tabs, reducing the amount of memory used by the chrome. This feature can be especially helpful for users who frequently have multiple tabs open or use Chrome on a device with limited resources.
Now that we had learn about the memory saver feature, lets start with the steps on How do I enable performance mode in Chrome?.
How to enable Memory Saver Mode in Chrome
Enabling memory saver in Google chrome is pretty easy, here are the steps that are needed to follow
Step 1 : Open Google Chrome browse in your computer and check if your google chrome is updated to the latest version.
Step 2 : Now click on the three-dot button placed at top right corner to open Google customization menu and then click on settings.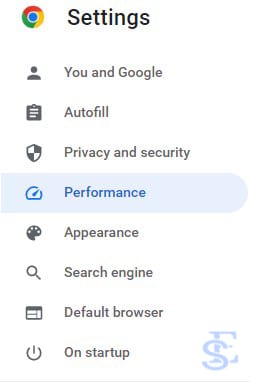 Step 3 : Now from the left side sidebar, click on the performance tab. You will see the Memory saver option on the right side, enable it and you are done.

It is important to note that the memory saver feature can improve performance and reduce RAM usage in the system. Enabling this feature may cause some tabs to reload when you reactivate is by clicking on it.
In this way, you can enable memory saver tabs in google chrome. Apart from that, if you still face slow chrome on Windows 11 then we had prepared a proven steps article to speed up your chrome in windows.
FAQ (Enable Memory Saver mode in Chrome)
1. Chrome Memory Saver not showing in the performance tab
The first step is to update your google chrome to the latest verson as Chrome had included this feature in the Chrome 110 updated in February 2023. So if your browser is not updated to the latest version, you will face the problem of Chrome Memory Saver missing.
2. How to Turn on Memory Saver Chrome
To enable Chrome memory saved, you need to open the performance tab from the settings and then enable it.
3. Can I dedicate more RAM to Chrome?
Sorry to say, currently there are no such option available in windows which can help you to dedeicate more ram, what you can do is increase the RAM by inserting RAM module into your computer.
Wrapping Up
Hope you liked the tutorial on how to Enable Memory Saver mode in Chrome. If you have any problem in following the tutorial, feel free to use the comment section. We will help you to fix it. Till then you can also ask us what you want us to cover next in the comments or reach out to use on our Facebook page Solution Exist and telegram channel.