If you are trying to open links from the Instagram post or stories facing in opening it, this tutorial on how to fix Instagram links not working will help you.
Instagram in only for sharing photos and video content through Instagram reels, one can even promote their business or share links of their other social media platform to get Instagram followers on that platform and convert their audience as YouTube subscribers or Facebook page followers.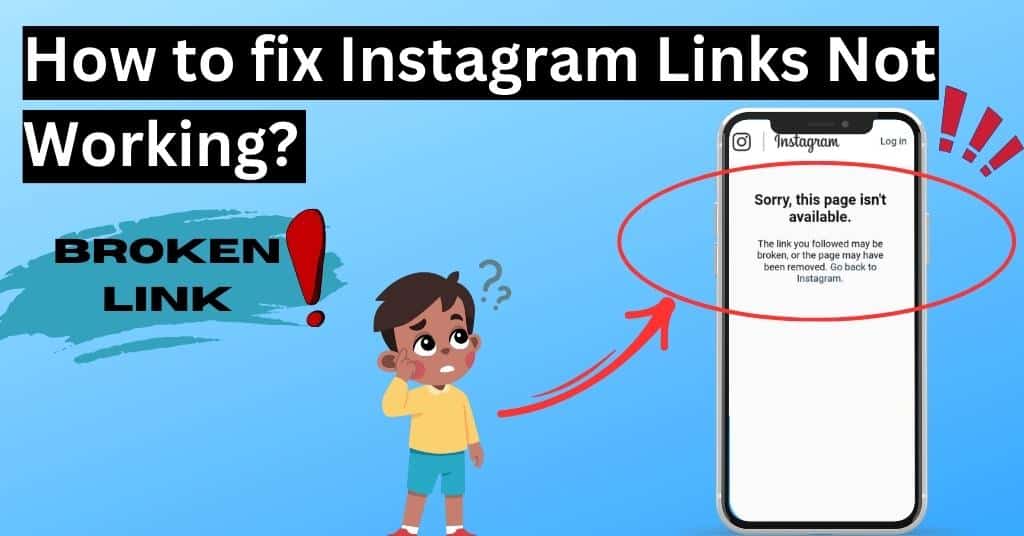 There are lots of people who are running online businesses and promoting their services through Instagram by posting links on Instagram posts. But in case you are facing an error while opening. No need to worry, we have an answer to your question, why are my Instagram links not working?
Today, in this tutorial, we are going to learn what are the reasons why links not working on Instagram.
Reasons why are Instagram links not working
There are several reasons for links not working on Instagram stories or posts and those are listed here.
Links are no longer available or permanent links is changed
Links are redirecting too many times and Instagram has flagged as spam
Users had reported that the link
Instagram found that link as spammy or redirecting to a malicious website
Shortlinks are not supported on the platform
The Instagram Bio Link not working
As you know Instagram doesn't allow users to post a clickable link in the post description and this makes the creator to add link in the bio section. if you are facing error in opening Instagram bio link then you must check if the link is not banned on the platform. Instagram has some strict rules for link redirects.
Apart from that, the basic problem that most creators do is spelling mistakes. Do check and correct it. Open the same link in an external browser and then copy and paste in the bio link section.
These were the solutions to fix the Instagram bio link not working.
Now that we have learned what are the reasons, let's proceed with the solution to fix it.
Methods to fix Instagram links not working
There are a number of reasons why you are facing a page not found on Instagram or sorry this page isn't available on Instagram as we had learned above. There are different solutions to fix that error and here are those listed in detail. Follow one by one and these solutions will be fixed sorry this page isn't available on Instagram
1. Too many redirect links
Instagram is very strict with its policies and hence monitor all the link posted on Instagram that redirect to another website. If you have posted a link in stories or bio that has multiple redirects, Instagram consider those as spammy and may contain redirects to malicious websites.
Users use link shortener which makes the links to redirect for tracking engagement and gathering analytics, but if there are too many redirects in the chain, it can cause the link to fail or become unresponsive. This can lead to instagram considering link as spam and banned on the platform.
Solution to fix is to use a direct link and check if users are still facing errors in the opening links or not. Apart from that, make sure that the link is correct and does not contain any unnecessary characters or spaces. By simplifying the link and removing any redirections, you can increase its reliability and ensure that users will be able to access your content without any issues.
2. Restart the app or Force close the app
When you encounter a glitch or error with Instagram links not working, one of the first troubleshooting steps is to restart the app. It may seem simple, but this action can often resolve minor issues and bring the app back to its normal functioning. Restarting the app essentially clears out any temporary files or cache that may be causing conflicts and proper functionality. By completely closing and reopening the app, you give it a fresh start and allow it to reconnect with the required resources.
In some cases, simply restarting the app may not be enough. If you find that Instagram links still aren't working after restarting, you may need to force close the app instead. Force closing differs from a regular restart as it completely shuts down all active processes related to the app.
Here are the steps to Force close and reopen the app.
Step 1 : Firstly unlock the phone and open the app drawer.
Step 2 : Scroll and find the Instagram app or search it and long press the app icon.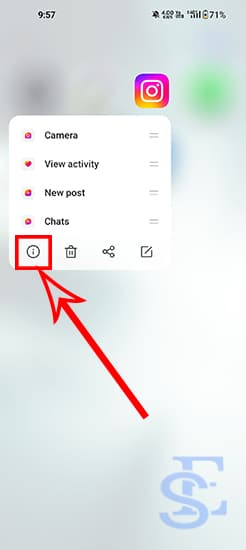 Step 3 : You will get different options, tap on App info to open new options
Step 4 : Here you will find Force-close the app. Tap on it and get back to homepage.
Step 5 : Now open the Instagram app.
In this way, you can force close the Instagram app to stop all the background process and allows the app to restart the services.
3. Cofingure Instagram to Open Supported links
if you are struggling with link not opening in instagram app then you must try this solution. Instagram app allows you to configure to always open the Supported links in its in browser. This take only few tap for adjustment in your app info settings. Here are the steps that you need to follow.
Step 1 : Unlock your phone and open App info by long-pressing the app or from the phone settings.
Step 2 : Now tap on the 'Open by default' option from the app info menu.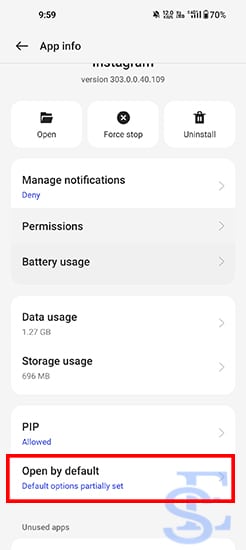 Step 3 : Now toggle on Open supported links.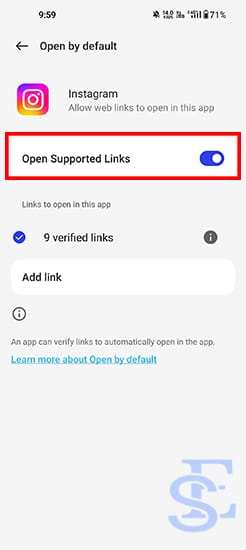 In this way, you can open supported links in your Instagram app. Now open the link in which you were facing an error.
4. Open the link in an External Browser
Yes, it is frustrating when you try to open a link on Instagram and the face link does not open. To check if there is some problem with the link, you can try opening the link in external browser such as Firefox or Chrome. By default, when you tap on a link within the Instagram app, it opens within its in-app browser. While this may seem convenient at first, it often leads to issues as some websites may not function properly within the app's restricted environment.
Opening links in an external browser bypasses these compatibility constraints and allows for a smoother browsing experience. To open a link in an external browser from your Instagram feed or direct messages, simply tap on the link and it will open in in-app browser.
Tap on the three-dot button to open the menu and then tap on open in Chrome. You can even click on the copy link to manually paste to other browser address bar.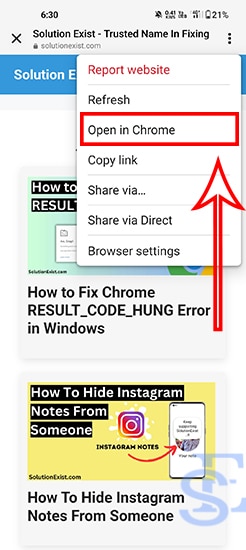 In this way, you can open links in an external browser. Using an external browser ensures that you have access to all features and functionalities without any limitations imposed by Instagram's internal browser.
5. Disable VPN and Proxy app
As people are getting more concerned about privacy online, the use of VPNs has increased. Use of a VPN is good but as using VPN, but it masks your IP address and routes your internet traffic through different servers around the world. Sometimes opening links from different IP, can prevent Instagram links from working. If you're experiencing problems with Instagram links and you are using a VPN, try disabling your VPN temporarily to see if that resolves the issue.
If after turning off your VPN, links are getting open and you are no longer facing any issue related to external link opening in Instagram, the problem is your VPN. In case, you are still getting errors, keep following the tutorial.
6. Clear App cache
One of the common reasons why Instagram links may not work is due to a cluttered app cache. We have seen that clearing app cache had fixed various Instagram errors such as This Story is unavailable Instagram. The cache stores temporary data to make it quicker and easier for apps to load app content. Over time, the cache becomes overloaded with old and unnecessary files, causing conflicts and disrupting the functioning of features.
Clearing the app cache can help resolve this issue and others such as Couldn't load image tap to retry Instagram error. So clear the app cache and check if your problem is resolved or not.
7. Update the Instagram app to the latest version
The Instagram team constantly working on the app to improve app stability and fix any security loophole or vulnerabilities. If you are struggling with the link not working in Instagram which is working fine in an external browser then there is a possibility that your app version is not updated. If the auto-update option is not turned on, then the possibility that you are not on updated app is pretty high.
So try updating the app the the latest version from a trusted source such as Google Playstore for android and App Store for iPhone and then check if your Instagram error is solved or not.
8. Reinstall the Instagram app
Another solution for you is, try login to your account on any other device and check if you are still facing the problem. If you are not facing any error while opening the link on Instagram then you should try reinstalling the Instagram app.
Reinstalling the Instagram app can often fix any underlying bugs or glitches that may be causing problems with the links. To do this, simply uninstall the app from your smartphone or tablet and then download it again from the App Store or Google Play Store. This process will replace all of the app's files with fresh ones, potentially resolving any issues that were affecting its functionality.
After reinstalling, log in to your Instagram app and check if your problem is fixed or not. If you are still facing the same problem, then we have a final solution for you.
9. Contact to Instagram and report the problem.
If none of the above solutions worked for you, you can try contacting to Instagram support team or Meta help support team and describe the problem. You can include all the above solutions that you had tried by not worked for you in the email and ask them for the solution. Here are the steps that you need to follow to contact to Instagram support team.
Step 1 : First open the Instagram app and log into your account if not logged in tap on the profile icon.
Step 2 : Tap on three horizontal line to open the menu and from that, tap on settings and privacy.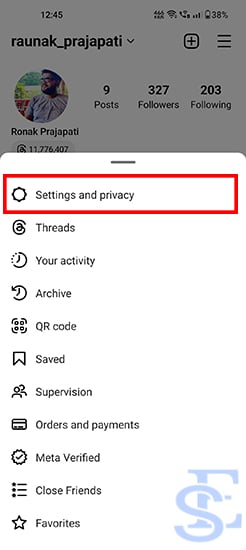 Step 3 : Scroll down to the bottom and tap on the help option to open it.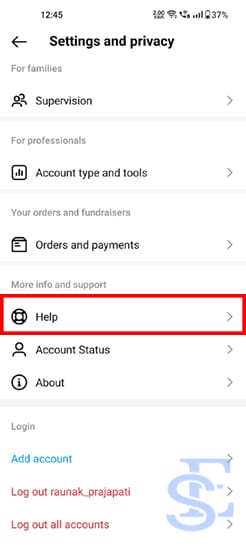 Step 4 : Here, you will find the Report a problem option, tap on it to open.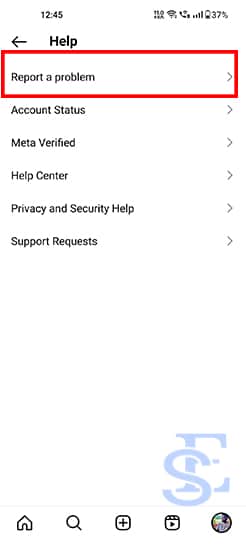 Step 5 : You will encounter different options, Tap on Report problem without shaking.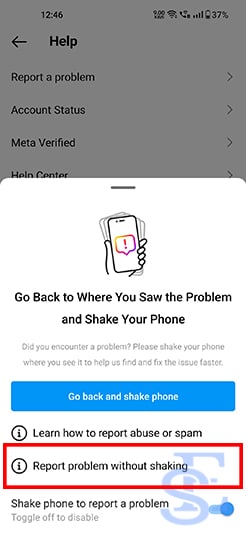 Step 6 : Now tap on Don't include and continue to proceed.
Step 7 : You will get a blank text option where you need to describe the link that is not opening on Instagram and tap on the send button to escalate your problem to the Instagram team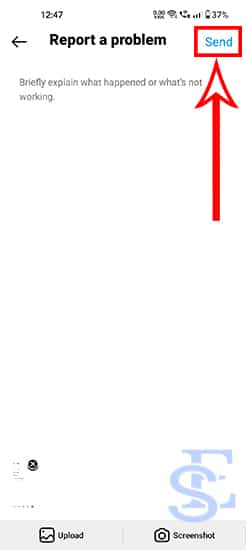 Step 8 : The Instagram team will reply to you in 5-7 days and let you know why you are facing the problem.
These are the steps that you need to follow to report the link not working error to the Instagram help and support team.
FAQ (How to fix Instagram links not working in app)
1. How do I open a link in the external browser instead of in app?
To open a link in an external browser in Instagram, tap on the link and allow it to open in the in-app browser. Now as the website loads, tap on the three-dot button and tap on open in Chrome. This step will open Chrome browser in your mobile and the website will load in the external browser. You can even tap on copy link and manually paste the link in the browser.
2. Why does Instagram not allow links?
Instagram don't allows you to insert link in the post unless you are running paid ads. You can insert links in bio or on Instagram stories.
3. Why is my Instagram link invalid?
If your Instagram is showing sorry this page isn't available there is a possibility that your link is expired or broken. If this link is of any Instagram account, then account may be banned on the app.
4. How to Disable In-App Browser for Instagram in Android or iPhone
Sorry, to say that Instagram doesn't allow users to open the link directly on an external browser. By default, a link will open in an in-app browser then manually you need to open it in an external browser. This is done for security reasons and to monitor if users are redirecting to any malicious websites.
5. Why are links on Instagram not working in the app?
The primary reason why you are facing this error can be a typing mistake in the URL. Another reason can be an expired link or a banned link by the app. So check if the link is proper or not.
6. Why can't I click links on Instagram?
instagram doesn't allow you to post a link in the post description. Even if you paste the link into the post description or caption, the link will now be clickable and hence you were not able to click on Instagram links.
Wrapping Up
These are the solutions to fix Instagram links not working. Users mostly face this error if the links are banned from the platform or the link you post has expired or reported by the users.
If you have any doubts in following the tutorial, feel free to use the comment section, and in case you have any other working solution to then do share it with us as well. Till then, do follow us on the Facebook page Solution Exist.