YouTube is a very famous platform where we get different kinds of videos. Everyone knows that we need high-speed internet to watch videos on YouTube smoothly. 2G internet is not sufficient to watch videos on click and play basis. If you are using YouTube to watch videos or webseries and tired of buffering then solution Exist is for you. In this post, SolutionExist will provide you some useful tips to improve YouTube experience / Increase YouTube buffering speed.
Not every time it's our internet speed that causes buffering in YouTube videos. Sometimes the factors are different than Slow internet speed. In this tutorial, we will cover some tips and tricks to Boost YouTube Buffering Speed and also Increase Youtube performance.
Methods to Increase YouTube Buffering Speed / Increase Youtube Performance
#Method 1 Increase Youtube speed by 20% Guaranteed
Microsoft windows reserve 20% of your available bandwidth for their own specific purposes like updates and interrogating with your PC. This causes reduction in your internet speed which reflects as buffering in youtube videos. So You need to disable this immediately to enjoy full ISP Speed. If you disable this reserve speed your internet speed will increase by 20% and hence you can see an increase in youtube buffering speed by 20%
Steps to Increase your Internet Speed:
Step 1 – Click on start, select run and type "gpedit.msc".
Step 2 – Now, navigate to Local Computer Policy>Computer Configuration>Administrative Templates>Network> QOS Packet Scheduler >Limit reservable bandwidth.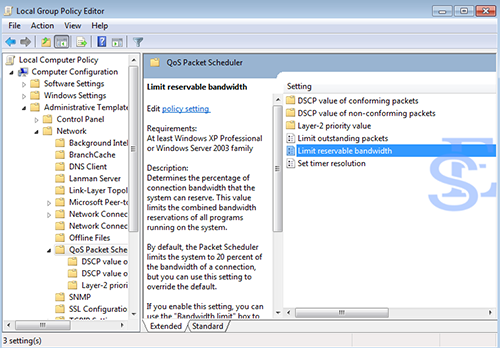 Step 3 – Double click on "Limit reservable bandwidth" and then select "Enabled" and set the bandwidth limit to O.
Step 4 – This is an amazing trick that works on your PC or Laptop to watch YouTube videos without any lag.
Note – Some versions of windows like windows 7 home don't have Group Policy so this method will not works. Don't be sad check out other methods which will surely help you to increase youtube video speed.
#Method 2 – Block CDN IP Addresses on Windows
Click on Start button and search for CMD. If you're a Windows 8 or 8.1 user, then press Windows key and type "CMD".
Simply, right click on CMD icon and hit Run as Administrator.
Just copy the below-given code in your CMD and press enter.
netsh add firewall firewall add rule name="YouTubeTweak" dir=in action=block remoteip=173.194.55.0/24,206.111.0.0/16 enable=yes
4. Now, you can close the Command prompt windows and restart your browser and the internet connection.
#Method 3 – Use YouTube DNS to boost YouTube buffering speed
You can increase your YouTube buffering speed by using internet connection through different DNS. Using Youtube open DNS will help you in speed up the youtube video buffering.
How to use YouTube DNS in Windows 7/8/8.1
Firstly Go to Control Panel and Click on Network and Internet then click on Network and Sharing Center.
Click on Change adapter settings.
Now, Right Click on Local Area Connection then select Properties button.
Double click on Internet Protocol version 4 (TCP/IPv4) (don't change anything in IP address).
Click the radio button. Use the following DNS server addresses and type

Preferred DNS server: 208.67.222.222
Alternate DNS server: 208.67.220.220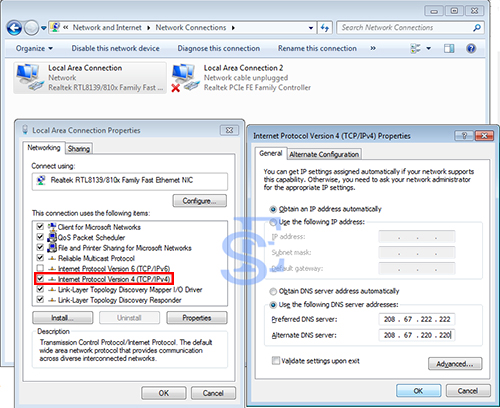 Click Ok and you're done.
Just restart your computer and see the difference in your internet speed
#Method 4 – Clear Cache Data – Make Youtube Run fast
As you surf the internet lots of data is saved in the form of History, cache cookies, etc. These data sometimes started becoming a barrier in your browser performance and which can ultimately reflect as buffering in YouTube videos. It is better to delete caches in chrome or the web browser that you use. We had posted a tutorial on Automatically Delete Browsing History In Google Chrome, Mozilla Firefox And Internet Explorer which will be helpful if you are lazy.
Several other software are also available over internet which can help you to clear cache and other junks files from not only google chrome but from computer also. This can reduce ram usage and ultimately reduce load over ram. We had written best free PC optimization software from which you can test and use according to your taste.
#Method 5 – Block Ads on Youtube – Load youtube video fast
You had seen when you open youtube.com you will different types of ads at different locations. On the homepage which is mostly video ads. When you open any video you will see rectangle ads on the right top side. These YouTube Homepage ads and other ads make your YouTube slow because some data will be used by those ads. It is better to block ads to increase YouTube buffering speed.
Steps to block YouTube ads in google chrome
Firstly open and install Youtube AdBlocker in Google Chrome
You will see Red color icon beside setting icon
Done..!! You had successfully installed YouTube adblocker
#Method 6 – Remove Adware from Chrome to speed up youtube buffering speed
Viruses and malware attacks are very common these days as the internet is full with cyber attacks. Attackers find new ways to earn money that is infecting google chrome and add Redirects and Pop-up Ads in google chrome. If you are facing advertisements and ads in your google chrome then it is clear that your google chrome is affected by adware. These adwares are forcing google chrome to open ads in chrome. In that case, you need to remove adwares from computer. We had posted a detailed guide to remove adware from the computer.
#Method 7 – Download Youtube Videos
if you watch movies videos songs on youtube in free time and buffering is killing your mood then downloading youtube videos can save your mood. We had posted the easiest way to Download Youtube Videos Without any software. If you are an android user then also we are with solution i.e Download YouTube Videos on android phone
#Method 8 – Change the Video Quality on YouTube
If your internet speed or broadband speed is slow then also you will face YouTube buffering problem. In that case, it is recommended to change the video quality which will although reduce video quality on YouTube but will play YouTube videos without buffer.
#Method 9 – Change your internet plan
As you had read in method 7 that to speed up youtube buffering speed, we had to reduce internet speed. Which will although improve youtube loading of video speed but will not get a good youtube experience So in that case, you need to invest in a good internet plan which can provide you good internet speed. Investing in good internet plan can increase your productivity also as you don't have to waste time waiting for youtube loading. If you had a question i.e. my youtube is slow but the internet is fast? Then you should take an internet speed test and verify whether you are getting internet speed according to your internet plan and if you are not getting speed according to your data plan then contact to your internet service provider.
FAQ (YouTube so slow right now)
In this frequently asked question section, we will answer some question regarding YouTube buffering speed and how to fix it.
1. Why is YouTube so slow right now?
Ans – If your system streaming YouTube slow and then the first step is to clear cache of your computer or if you are using smartphone then clear cache of the YouTube app.
2. How do I fix buffering problems?
Ans – There are numbers of factors that are responsible for the YouTube buffering problem and those are;
1. Check signal or network strength
2. Close other programs using internet
3. Stop downloading of any files if running.
4. Disable ads blocker extensions
3. How do you get YouTube to stop buffering?
Ans – If you are constantly getting YouTube buffering problems then you should run an internet speed test by google and verify it with your internet plan. There is a possibility that your internet is working slow for that instance of time.
4. What is a good Internet speed test?
Ans – If you want to watch YouTube videos in HD quality or 1080p quality then 20-30mbps internet speed is good internet speed. Internet speed requirement changes according to the video quality
Wrapping Up
This was the tutorial on increase YouTube buffering speed which will enable you to play YouTube videos without buffering with fast loading. I hope the above methods to make YouTube video load fast will give you a great YouTube experience. You can subscribe to our Youtube channel Solution Exist. If you know any other ways to speed up youtube buffering speed then feel free to share in the comment section. In case you know some tricks then you can write it down in the comment section and lets others also know your tricks. If you face any problem in following the steps then feel free to use the comment section.