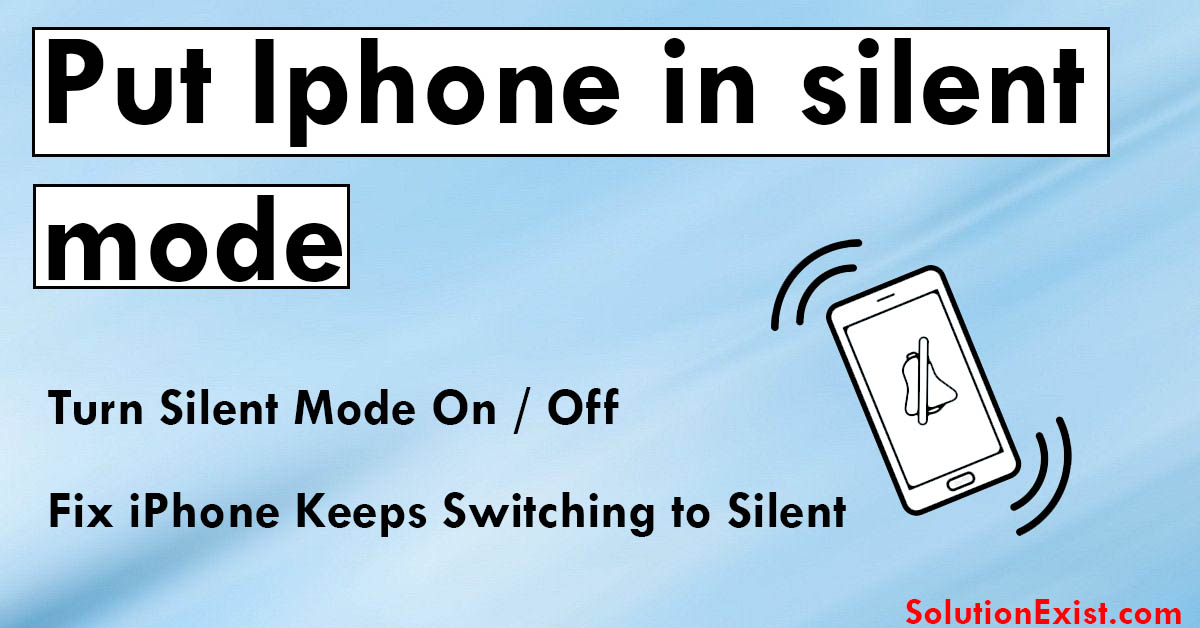 Iphone silent mode – Among different modes, most people like to put their phone mode in silent. If you are attending a meeting whether is a social meeting or a business meeting and your phone rings, it creates a disturbance. Not only you will get disturbed by the phone's ring but also distract others and that will be a moment of embarrassment. iPhone user and if you are using Whatsapp then do read how to hide whatsapp chat in iOS.
There are different mode available on phones i.e. android phones or iPhone i.e. Ringing mode, vibration mode, and silent mode which serves a different purpose, basically allow you to have feedback of an incoming call, notification alarm as per your requirement. Ring mode will put in iphone ringer mode which means your phone will ring with selected ringtone. In iPhone vibrate mode, incoming call will vibrate iphone
How to activate Iphone silent mode
Swithing iphone silent mode is very easy. We all know it case of emergeny like you are in meeting and suddently your mind strike that your phone is not in silent mode. In an ongoing meeting it sounds rude to unlock your phone and go to setting and put iphone silent. This is not a problem in iphone as there is a dedicated swith for silent mode.
Every year new iPhone launches in the month of September or October like in October 2020 iPhone 12 Pro was launched along with the iPhone SE 2020. Although new phones are releasing, the process to mute iPhone is the same, this method is for all i.e.iphone 7, iPhone 8, iPhone 12 pro and even you can activate silent mode on iPad.
How to put iPhone on silent mode – how to mute iPhone
Using a dedicated silent mode switch iPhone
Using sound setting – iPhone silent mode without switch
Mute using iPhone silent button
As discussed, earlier, the iPhone had a dedicated button to silent placed on left side of the iPhone. Here are the steps to use the button for ring and silent mode activation.
To activate silent mode, you need to "ON" the switch i.e. by putting switch down. In silent mode, the orange color will appear above the switch. As you activate it, a symbol having a bell with cross-line will appear on the screen.
Now to put your iPhone in Ring mode, you need "OFF" the switch by move up. As you do this, the orange color on the switch will not be visible. the switch so that orange isn't showing.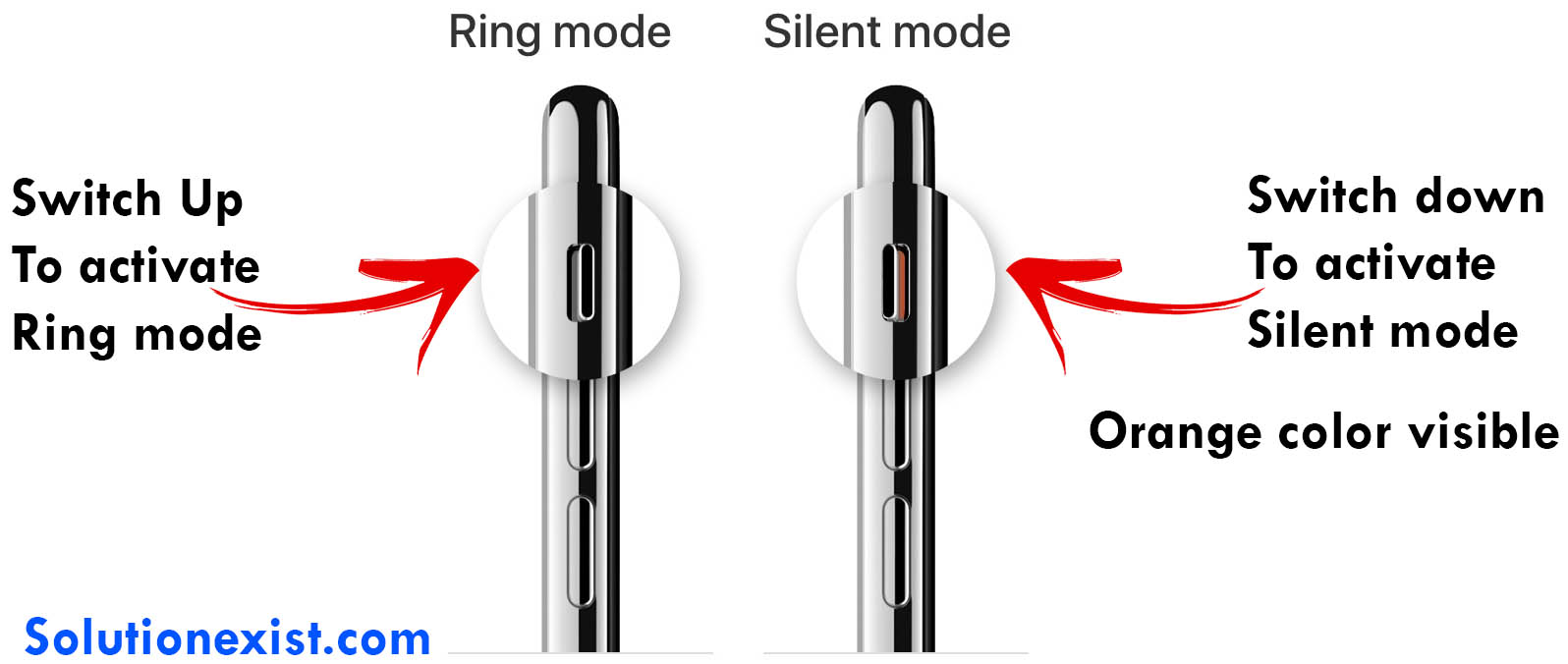 Don't forget to check share Facebook video on whatsapp
Mute iPhone without button
Method 1 was very simple and a bit convenient as you don't need to look at the phone screen and operate it to put iPhone in silene mode. In case of emergency while are can't afford to look rude, you can activate silent mode without getting noticed by others. If your switch is a malfunction or just in curiosity, you want to explore the sound option in iPhone, you can follow this method.
Unlock iPhone and open setting and Navigate to the below path
Settings → Sounds & Haptics. Phone earlier to iPhone 7 models can find the option at Settings → Sounds.
Now reduce the volume from the bar and you are done.
You had successfully activated silent mode.
Activating Vibrate Mode in iphone – iphone vibrate mode
If you are like me and like to put your phone in vibrate mode then these steps are for you. iPhone had a ringer mode switch but it either activates ring mode or silent mode. So the switch is useless if you want to active
Unlock iPhone and open setting and Navigate to the below path
Settings → Sounds & Haptics. Phone earlier to iPhone 7 models can find the option at Settings → Sounds.
Here you will find the option to activate iPhone to vibrate in both Ring or Silent mode. You can off both options if you don't want vibration mode in the iPhone.
iPhone silent mode keeps switching on and off – Fix iPhone Keeps Switching to Silent
iPhone silent mode can be activated or the answer to your question about how to mute iPhone is ringer switch. If your iPhone is keeps on swithing on and off then here is you can fix it. I had read over Reddit that some users reported this fault in their iPhone. Sound problem in iOS devices is very common. Let's read the steps and fix it.
1. Change in button option
It might happen that you accidentally deactivate change with button option which de-activates the option to put in silent mode using switch. To activate this, follow the below steps
Navigate to Settings > Sounds & Haptics (In phone 7 or older)
for older iOS, navigate to setting >Sound),
Now turn off "Change with Buttons" available in the "Ringer and Alerts" section.
2. Clean dust from the switch button
As we use the iPhone, over time, the dust gets accumulates in the switch which can result in the malfunctioning of the switch. Take a fine cloth and try to clean gently. You can even use a soft toothbrush and make sure it is completely dry as moisture can worse the situation and try to clean it.
If the problem is due to dust, then after cleaning iphone keeps switching to silent mode will be fixed.
If the problem is still not fixed then this might be the result of malfunctioning of riger swithch and may require swithch replacement, you need to take it Apple service center.
FAQ Regarding Mute mode iphone
1. Do alarms work when iPhone is on silent?

Yes, alarms work when iPhone is on silent mode. The silent mode only makes your call and message tone silent. The alarm will works as it is.

2. Will the Alarm Go Off If My iPhone Is Off?

Yes, if your phone is off or your iPhone is switched off, in that case, your alarm won't sound.

3. My iPhone silent button not working, will it be replaced for free?

If your iPhone is under warranty period, the apple service center will fix your button for free. If the warranty period is over, it will be chargeable.
Wrapping Up
These were the method to activate the iPhone silent mode. In case you find any difficulty in following the article then feel free to use the comment section, we will help you with your query related to silent mode iPhone. Also, comment down whether you did know how to turn iPhone off silent mode without switch or not. Be the part of our community by joining Android and windows error solution Facebook group and also follow the Solution Exist Facebook page. For regular updates, join the Telegram channel Solution Exist.