When its comes to Multiplayer Alternative of Doodle Army 2 Mini Militia game all hands down because this game had created a very high rush in 2016 and now 2017 also.
Now in these days purchasing and uses of Android smartphone is increased. In these peoples are selecting more advanced features mobiles like phone having High Ram, High Graphics card or High resolution etc. Previously, we had posted a tutorial on Install Fortnite Battle Royale game on Android Devices which is also a multiplayer game that allows you to play with your friend.
Most of these smartphones are used for gaming purposes. And one thing if we have good featured smartphones without installed any gaming application then its worthless. Nowadays crazy gamblers and lots of i think all students are played Mini Militia Game. Mini Militia apk is installed in every smartphone that played an interest in playing the game. But most of the peoples are bored with Mini Militia gaming app due to continuously playing one game. So don't worry because SolutionExist showing in this tutorial Top Most Multiplayer Alternative Games like Mini Militia [Offline & Online]. Well, we know you won't leave playing Mini Militia game for any other game, But there is nothing wrong in giving a try to something that's pretty much like Mini Militia game ( Doodle Army 2).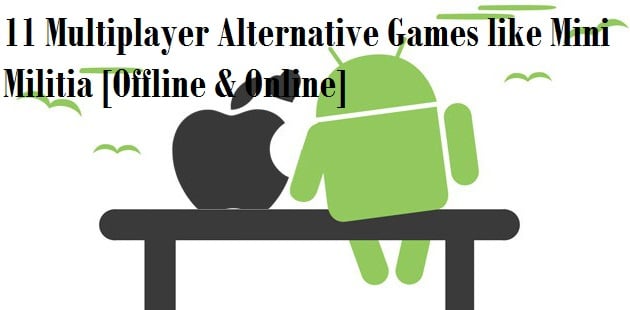 What's is the craziest thing you must be looking for in the New Multiplayer Alternative Games like Mini Militia –
It's crate and Play with Teams.
It is Multiplayer Game.
Supports online and offline gameplay with LAN Wifi.
Let's you connect at least 5-6 other players.
Work on low-end devices as well and small in size.
SolutionExist is presenting a list of the best Multiplayer Alternative Games like Mini Militia. And also with every game, We will provide you to the Game application size, direct downloading link with respect to Playstore or ios store, Rating of game on the bases on Peoples experience and also if any Price is associated with the game or not. So let's have an eye on the below list of best multiplayer game for Android
What are LAN wifi multiplayer games
Playing games alone or with a bot is pretty boring. To make playing games more interesting lan wifi gaming is introduced. LAN gaming allows you to play games with you fried and opposite to other players. Among those games, pubg is one of them. We had posted a tutorial on How to delete Pubg account permanently.
List of 11 Multiplayer Alternative Games like Mini Militia [Offline & Online]
#1 Asphalt 8: Airborne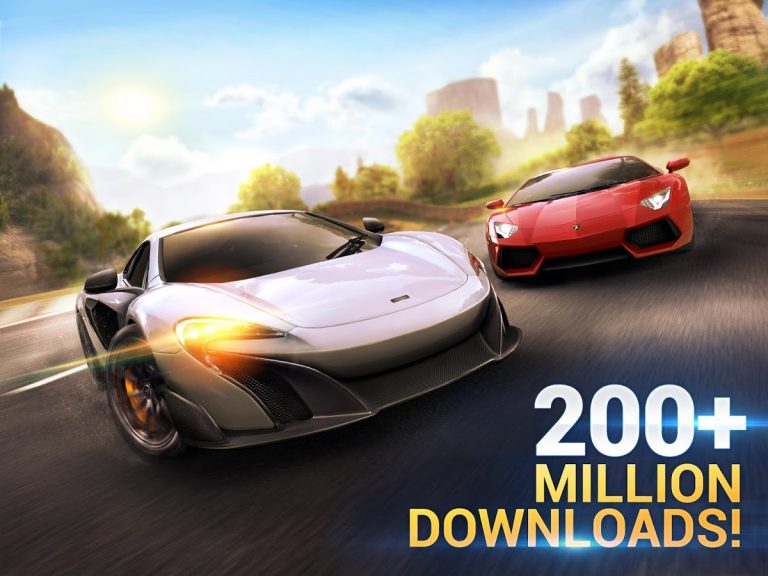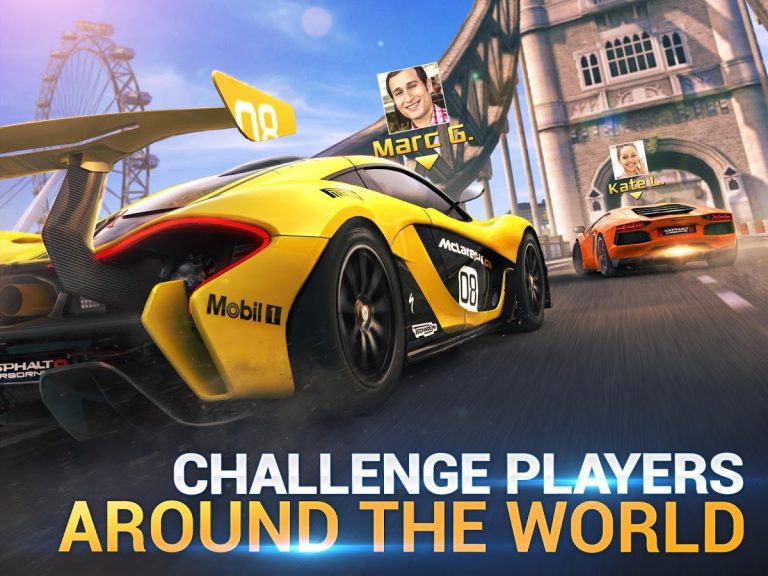 200 MILLION PLAYERS CAN'T BE WRONG!
TAKE A SPIN WITH THE FRONTRUNNER AMONG MOBILE RACING GAMES!
** The fully installed game requires at least 1.8 GB of free space in your internal storage. **
ACCLAIMED BY PLAYERS & THE PRESS!
WINNER: **2015 MWC Best Mobile Game App**
WINNER: **Winner of 2014 Pocket Gamer Best Sports/Racing Game Award**
PERFECT SCORE: ** 5/5 – TouchArcade**
PERFECT SCORE: ** 5/5 – AppSpy**
PERFECT SCORE: ** 5/5 – Slide to Play**
PERFECT SCORE: ** 100/100 – GameReactor**
PERFECT SCORE: ** 5/5 – MacLife**
LEAVE GRAVITY IN THE DUST!
• 140+ OFFICIAL SPEED MACHINES: Ferrari, Lamborghini, McLaren, Bugatti, Mercedes, Audi, Ford, Chevrolet… We got 'em all!
• STUNNING GRAPHICS: Interactions between the vehicles, environments & tracks are a fully physics-based experience!
• ARCADE GAMEPLAY AT ITS FINEST: Feel the thrill of gravity-defying racing across 40+ high-speed tracks!
• THE ULTIMATE MULTIPLAYER RACING EXPERIENCE: Race in real-time multiplayer action for up to 12 opponents & dare your friends to ghost races!
• WIN BIG: Participate in our Limited-Time Events to stack up amazing & exclusive rewards!
• MASSIVE CONTENT DEPTH: 400+ career events, 1,500 car mastery challenges, 5 unique game modes, car collections. An endless stream of single-player content!
• CUSTOMIZE & UPGRADE YOUR RIDES: With over 2,300 decals, take down your opponents with style!
Rating: 4.6 of 5
Requirement: Android 4.0+ and  1 GB of RAM.
Download: Android | iPhone (iOS)
#2 Clash of Clans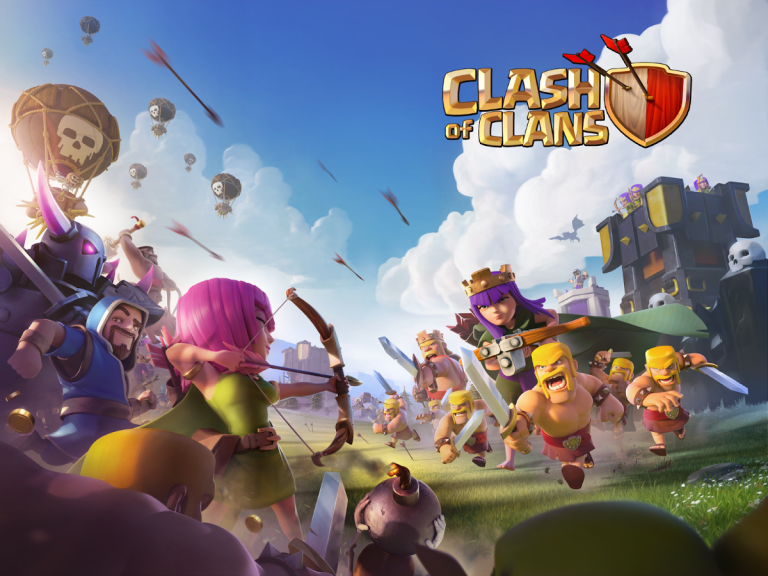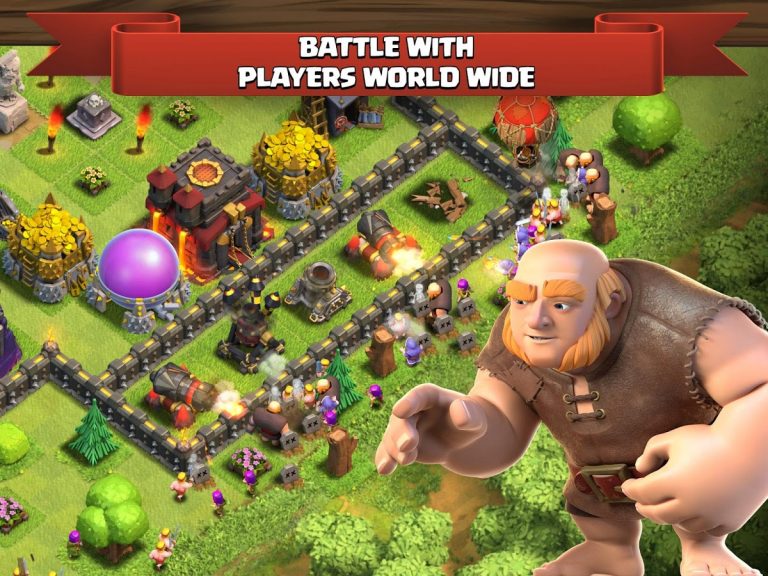 From rage-­filled Barbarians with glorious mustaches to pyromaniac wizards, raise your own army and lead your clan to victory! Build your village to fend off raiders, battle against millions of players worldwide, and forge a powerful clan with others to destroy enemy clans.
PLEASE NOTE! Clash of Clans is free to download and play, however some game items can also be purchased for real money. If you do not want to use this feature, please set up password protection for purchases in the settings of your Google Play Store app. Also, under our Terms of Service and Privacy Policy, you must be at least 13 years of age to play or download Clash of Clans.
A network connection is also required.
FEATURES
● Build your village into an unbeatable fortress
● Raise your own army of Barbarians, Archers, Hog Riders, Wizards, Dragons and other mighty fighters
● Battle with players worldwide and take their Trophies
● Join together with other players to form the ultimate Clan
● Fight against rival Clans in epic Clan Wars
● Build 20 unique units with multiple levels of upgrades
● Discover your favorite attacking army fwedwrom countless combinations of troops, spells, Heroes and Clan reinforcements
● Defend your village with a multitude of Cannons, Towers, Mortars, Bombs, Traps and Walls
● Fight against the Goblin King in a campaign through the realm
Rating: 4.6 of 5
Requirement: Android 4.0+ and  1 GB of RAM.
Download: Android | iPhone (iOS)
Check Also: Know how Many People Using your WiFi Network with Android
#3 Shadow Fight 2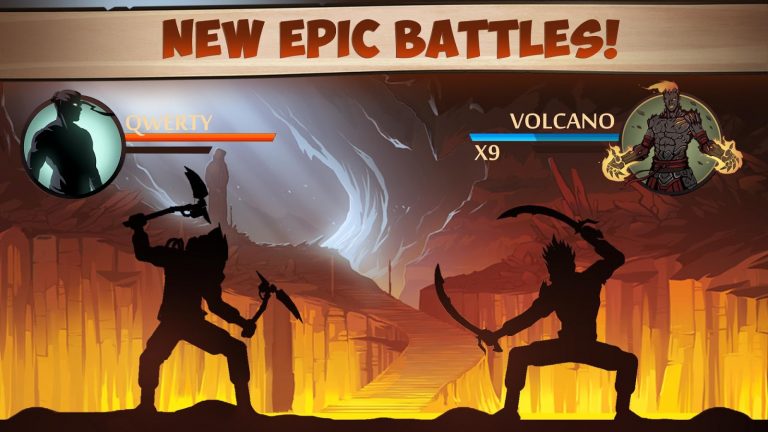 The sequel to the famous Facebook smash hit with 40 million users
Shadow Fight 2 is a nail-biting mix of RPG and classical Fighting. This game lets you equip your character with countless lethal weapons and rare armor sets, and features dozens of lifelike-animated Martial Arts techniques! Crush your enemies, humiliate demon bosses, and be the one to close the Gate of Shadows. Do you have what it takes to kick, punch, jump, and slash your way to victory? There's only one way to find out.
– Plunge into epic combat sequences, rendered in astonishingly lifelike detail by an
all-new animation system.
– Devastate your enemies with delightfully intuitive controls, thanks to an all-new
fighting interface designed especially for touchscreens.
– Journey through six different worlds full of menacing demons in this action-
packed, adrenaline-fueled combat RPG with an immersive, intriguing storyline.
– Customize your fighter with epic swords, nunchacku, armor suits, magical powers,
and more.
Shadow Fight 2. May the battle begin!
Rating: 4.6 of 5
Requirement: Android 4.0+ and  1 GB of RAM.
Download: Android | iPhone (iOS)
#4 Modern Combat 5 Blackout |
lan wifi multiplayer games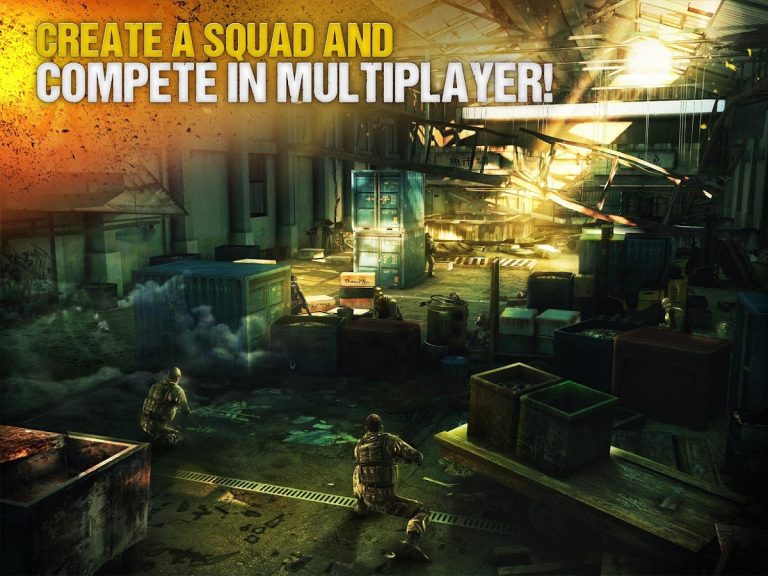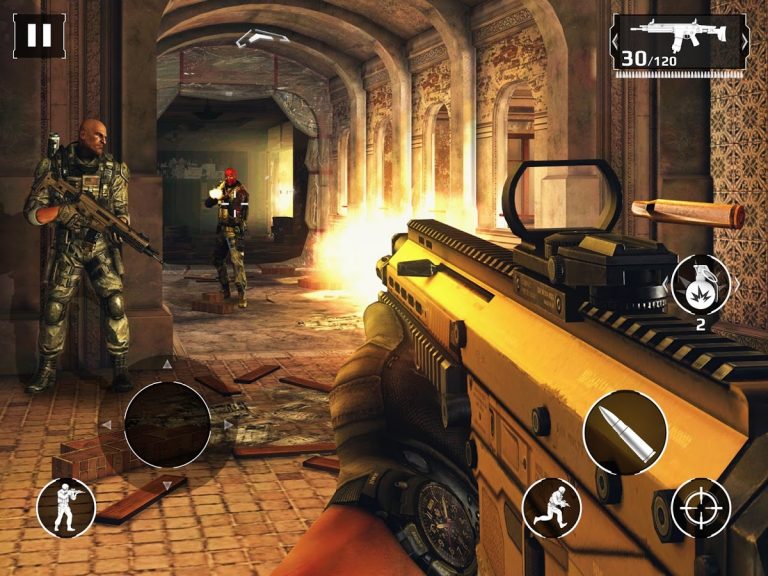 "It plays as good as it looks." – IGN
> "Amps everything up to the next level." – 148Apps
> "Sharp controls, impressive graphics." – Pocket Gamer
War has evolved, and so has the best FPS on mobile!
Step onto the battlefield with the game that raised the bar for first-person shooters. Create a squad, add your friends and test your skills in dynamic multiplayer warfare against online rivals from around the world!
Prefer to work alone? Then step into the thrilling solo campaign as you shoot your way through one dire situation after another to save a world on the brink of anarchy and expose a lunatic's apocalyptic plans.
CHOOSE YOUR FAVORITE CLASS
> 7 customizable classes that you can level up across single- and multiplayer
> Find the playstyle that suits you: Assault, Heavy, Recon, Sniper, Support, Bounty Hunter or Sapper
> Activate class-specific skills by earning and spending Skill Points
HIGH-POWERED MULTIPLAYER
> Watch players in battle with the new Spectator mode
> Epic team clashes in Squad vs. Squad matches
> Talk to other players in Global and Squad Chat
> Individual and Squad leaderboards
> Win cool rewards in the limited-time events
UNIFIED GAME PROGRESSION
> Accumulate XP and level up by playing both single-player missions and multiplayer matches
> Unlock higher-tier weapons by mastering lower-tier ones
> Customize the perfect weapon using a host of attachments and jump straight into the action
INTENSE SOLO CAMPAIGN
> Fast-paced story missions with various challenges taking you from Tokyo to Venice
> Play the new Spec-Ops missions for a real FPS adrenaline rush
> Flawless graphics, music and voice performances perfectly adapted for a shooter game
HIGHLY CUSTOMIZABLE CONTROLS
> Intuitive, highly customizable controls so you can play the game just the way you want
Modern Combat 5 supports HID game controllers. Moga Pro is also supported, in mode B (HID Mode).
Modern Combat 5 requires an Internet connection.
Rating: 4.6 of 5
Requirement: Android 4.0+ and  1 GB of RAM.
Download: Android | iPhone (iOS)
#5 Special Forces Group 2 (Offline multiplayer games like mini militia)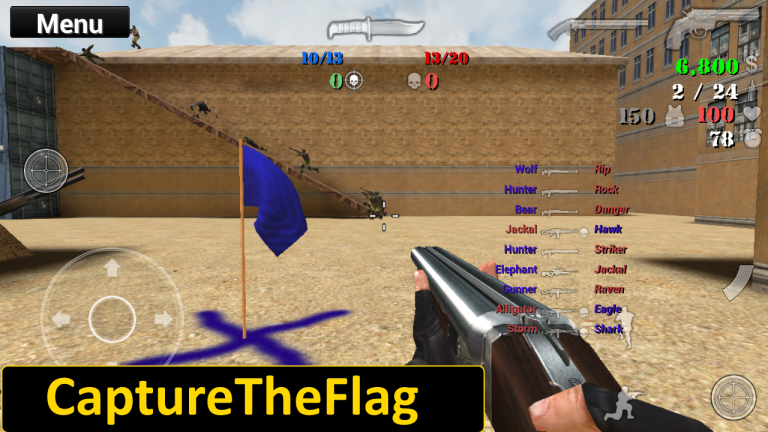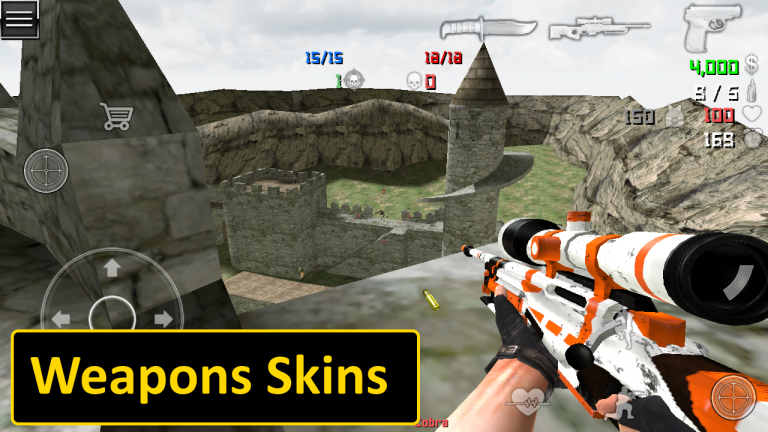 3D First Person Shooter in real-time.
-Singleplayer(with bots)
-Multiplayer Online and Wifi router.
-5 game mode (Classic,Resurrection,Capture the Flag,Zombie Mode,BombMode)
-Confrontation Special Forces teams and teams of terrorists
-Weapons Skins (110 pieces)
-6 Characters per team
-24 Maps
-7 Pistols
-3 Shotgun
-4 Submachine guns
-12 Rifles
-5 Sniper-rifles
-3 MachineGun
-3 Grenades
-3 Bulletproof vest
-7 Languages(English,Русский,Espanol,Deutsch,Francais,日本人,中国)
Rating: 4.9 of 5
Requirement: Android 4.0 and up with 84.55 MB space, 1 GB of RAM.
Download: Android | iPhone (iOS)
#6 Local Warfare (LWP – LAN Multiplayer FPS)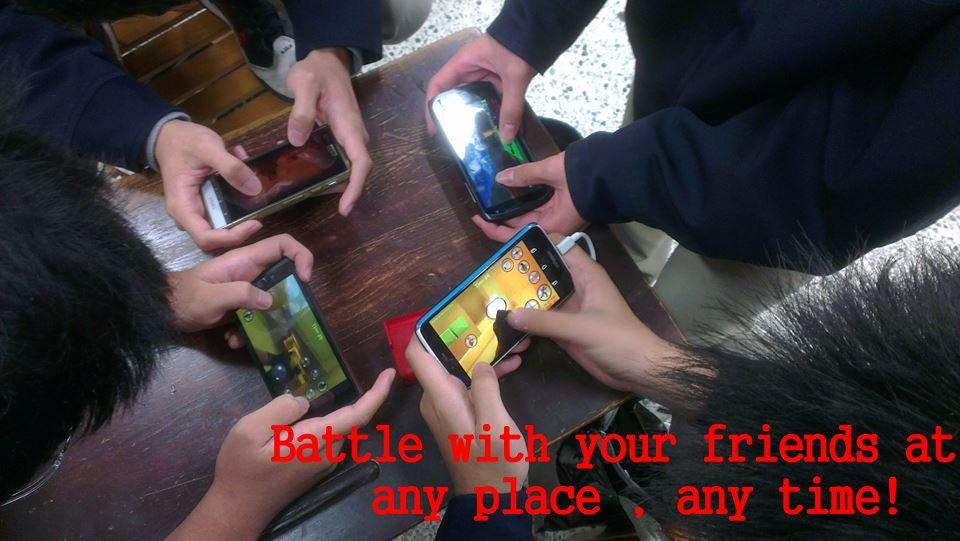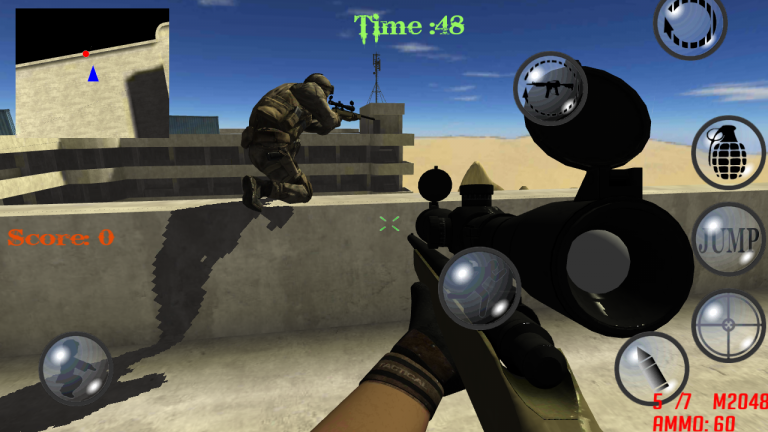 LWP(Local Warfare Protable) is LAN Multi-Player FPS, which able you to battle with your friend on Local Network.
★Features :
*Lite and performance, No Ultimate device required
*Zombie Survival Mode with a brand new Multi-Player Zombie system. how long can you stay? *Awesome graphics
*Every game mode with Multi-Player
*Realistic physics – blow up your friends or……zombies!
*Support up to 10 players
*Small size of apk file, which enables you to share it with your friends easily
*5 Bots difficulty level , keeping your gaming skill sharp
*Customizable equipments,grab your best gear then go kick some ass
*Full customization on game control. We respect your own gaming style!
*100% ads free, 100% charges free, 100% guaranteed
★How to Play LWP Multiplayer with your friends?
1.Connect All the devices to the same Wi-fi hotspot(It can be a mobile phone hotspot) 2.Launch the game then go to "MutiplePlayer"=>"Create Game"=>"Create Room" to host the server
3.Make others devices go to "MutiplePlayer"=>"Join Other"=>"Join Private Room"
4.Type the IP address then click the "Join Room" buttom to connect to the server device. (The ip address will be shown at the left-top of the server device screen)
5.Click "Start" button at the Server device and Enjoy!
★Notice : This is not an Online Game, you'll need to host your own sever for Multi Players, such as MinecraftPE or CS1.6 .
★Few Important Notes :
1.If the app shut down unexpectedly, quit it,clean up the caches,and then restart it again.
2.If the control layouts didn't fit your taste, go to "Pause Meu=> Setting => Custom control" to set it up. You can drag buttons position and use zoom in/out gesture to change it's size.
The game has two variants "Local Warfare" is for online multiplayer and "LWP – LAN Multiplayer FPS" is for Offline Multiplayer LAN wifi – Hotspot connection.
Rating: 4.2 of 5
Requirement: 4.0.3 and up, 60 MB space.
Download: Android | iPhone (iOS)
#7 BombSquad |
lan android games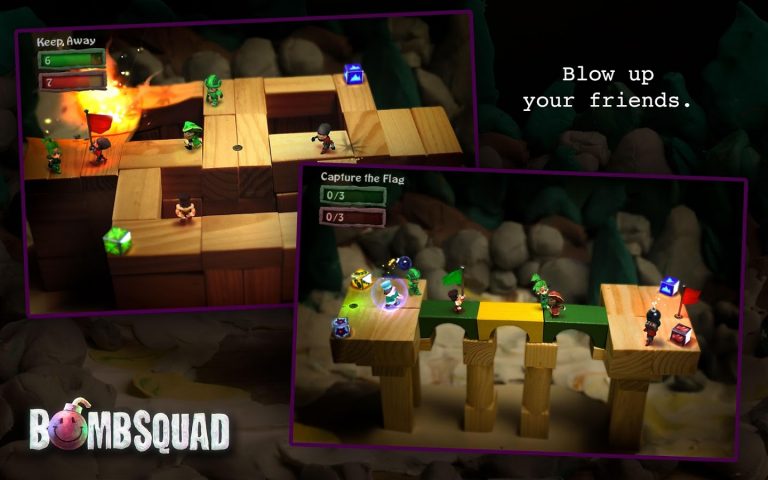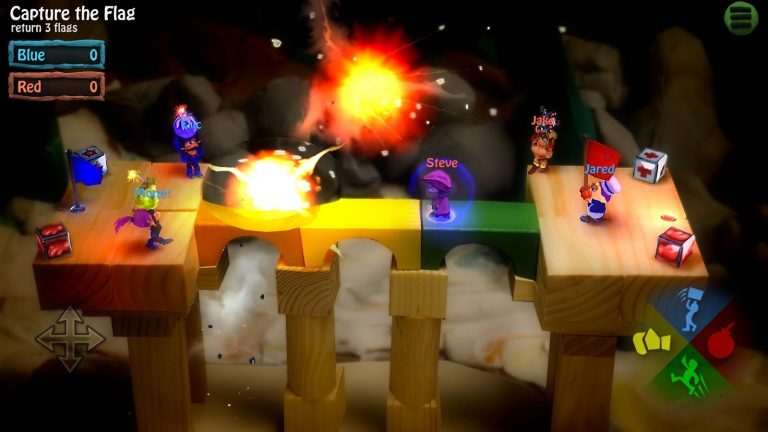 Blow up your friends in mini-games ranging from capture-the-flag to hockey! Featuring 8 player local/networked multiplayer, gratuitous explosions, advanced ragdoll face-plant physics, pirates, ninjas, barbarians, insane chefs, and more.
BombSquad supports touch screens as well as a variety of controllers so all your friends can get in on the action.
You can even use phones and tablets as controllers via the free 'BombSquad Remote' app. Bombs away!
Android TV users: a compatible gamepad is required to play (or a phone/tablet running the 'BombSquad Remote' app)
Rating: 5 of 5.
Requirement: Android 4.0.3 and up with 53 MB of space and at least 512 MB RAM.
Download: Android | iPhone (iOS)
#8 City Racing 3D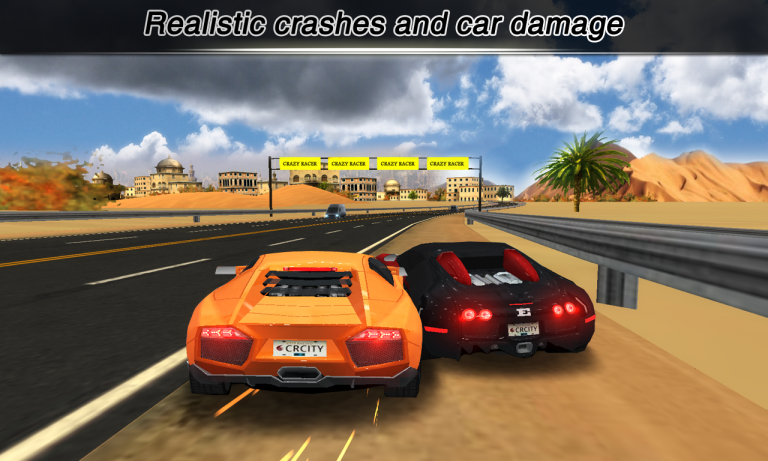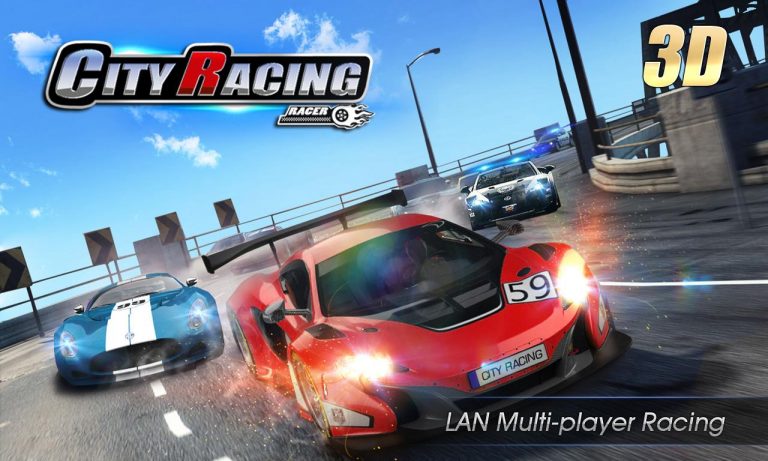 #1 Free Physics 3D Car Racing game Proudly Presented!
Bring fast driving experience to a whole new level! Incredible slim size, and support WiFi Multi-Player racing mode! Race the traffic! Be the king of street racing!
● Real Competition
Real cars, real tracks, real traffic racing with epic drift stunts. Climb up the leaderboards!
● Super Cars & Easy Controls
Big surprise for free nice cars and the test drive! Easy controls and great car selection
● Car Upgrades & Customize
Upgrade turbo engine, find the optimal tune for your car. Colorful paints and cool stickers
● WiFi Multi-Player Racing
#1 LAN Multi-Player Real-time Racing game on mobile!
● Global Rally Tour
Race around the worlds' most bustling metropolis like Tokyo, Paris, Chicago, London, Macao, Cairo, Hawaii, Chengdu, Arizona
● Many Racing Modes
Include Career, Elimination Tournament, 1 Vs 1, Time Trial
Free Clash Racing in City Racing 3D!
Rating: 4.8 of 5.
Requirement: Android 2.3 and up with 42 MB space.
Download: Android | iPhone (iOS)
#9 Air Combat Racing |Games like Mini Militia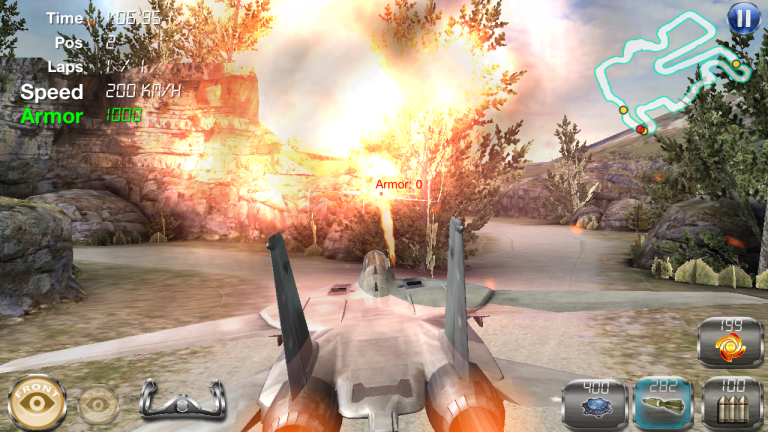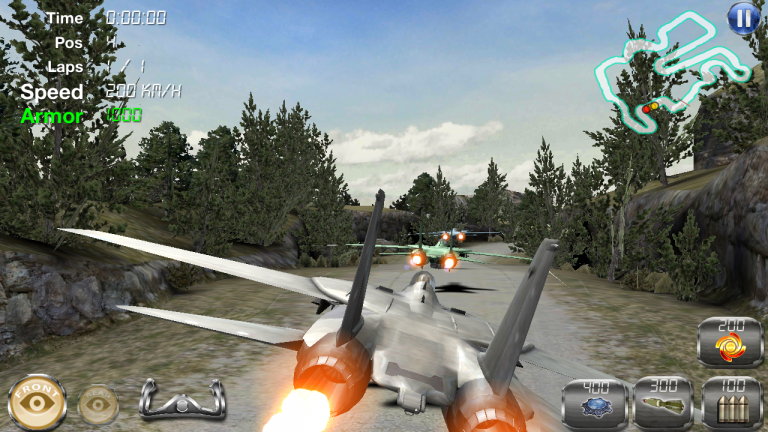 Air Combat Racing (ACR) is aircraft packed game with all-inclusive of race and shooting action that rise to the challenge at your own. Modern Air Fighters are provided for your selection, which can be operated flying at the forest roads. As well, the fighters are equipped with machine guns, missiles and etc. to help you take high scores rankings after shooting down your enemy jets or knocking down preset obstacles. The brilliant and vivid graphics are extremely attractive for players while the game is relatively easy control. A few words cannot explain all attractive features, you are invited to install this app and enjoy an amazing game.
Game Features:
– Realistic 3D graphic!
– 3 Game modes!
– Many types of leader board!
– Multiple languages support: English, Chinese (Simplified and traditional), Russian, Spanish, Indonesian, Korean and Japanese.
– Superb air battlefield!
– Missiles, machine guns and more!
Rating: 4 of 5.
Requirement: Android 2.3.3 and up with 45 MB size.
Download: Android | iPhone (iOS)
#10 8 Ball Pool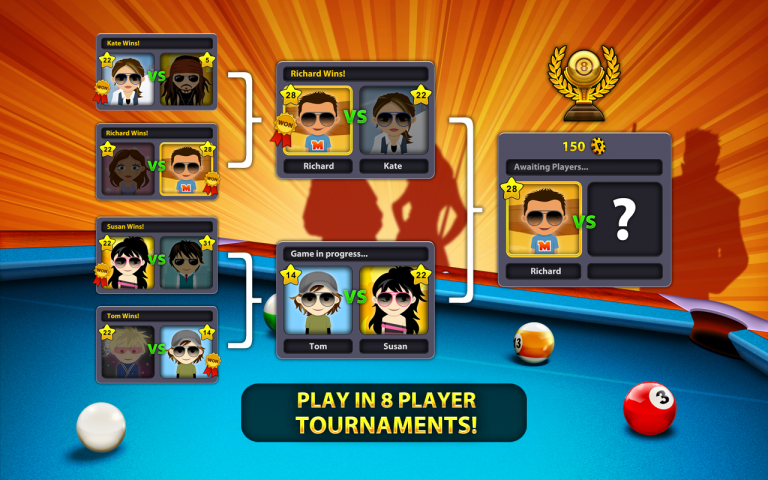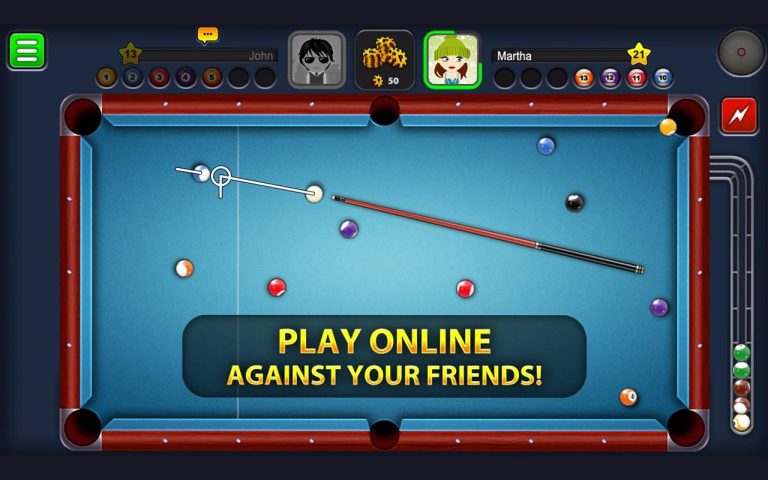 The World's #1 Pool game – now on Android!
Play with friends! Play with Legends. Play the hit Miniclip 8 Ball Pool game on your mobile and become the best!
COMPETE 1-ON-1 OR IN 8 PLAYER TOURNAMENTS
Refine your skills in the practice arena, take on the world in 1-vs-1 matches, or enter tournaments to win trophies and exclusive cues!
PLAY FOR POOL COINS AND EXCLUSIVE ITEMS
Customize your cue and table! In every competitive 1-vs-1 match you play, there'll be Pool Coins at stake – win the match and the Coins are yours. You can use these to enter higher ranked matches with bigger stakes, or to buy new items in the Pool Shop.
CHALLENGE YOUR FRIENDS
Playing friends is easy: sign in with your Miniclip or Facebook account and you'll be able to challenge your friends straight from the game. Challenge friends anytime, anywhere and show off your skills.
LEVEL UP
8 Ball Pool's level system means you're always facing a challenge. Play matches to increase your ranking and get access to more exclusive match locations, where you play against only the best Pool players.
–Download Pool by Miniclip NOW!–
*This game requires internet connection.
Rating: 4.5 of 5.
Requirement: Android 2.3.3 and up with 45 MB size.
Download: Android | iPhone (iOS)
#11 Badland – Doodle Army 2 games alternative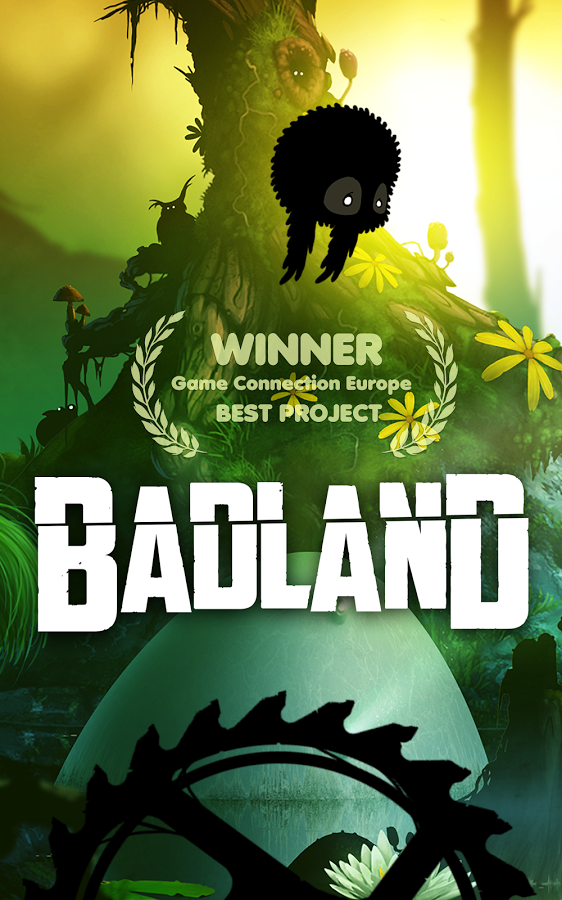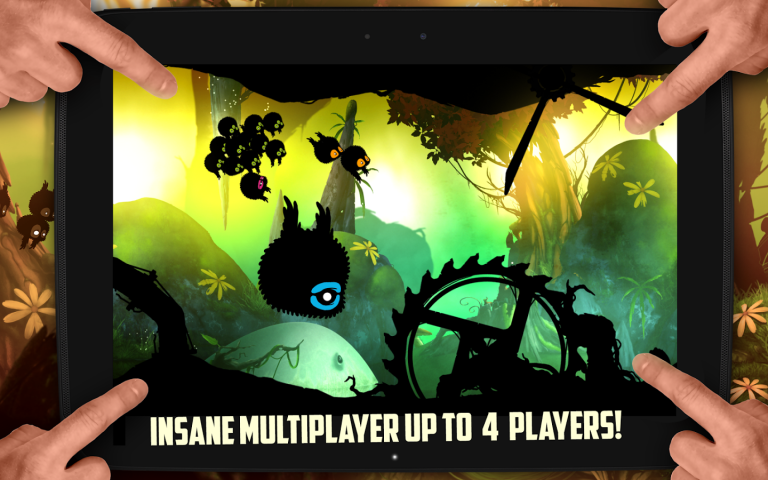 Fly and survive through the Game of the Year -winning action adventure BADLAND. More than 40 MILLION players and counting! This is Fully replaced Multiplayer Alternative Games like Mini Militia.
★ 5/5 – AppSmile
★ 4/4 – Slide to Play
★ 5/5 – AppSpy
★ 9.2/10 – Multiplayer.it
★ 9/10 – Destructoid
★ 4.5/5 – TouchArcade
"BADLAND is one of the most beautiful games on Android and one of the must download games of 2013." — Android Authority
"BADLAND is a standout game that we can't stop playing." — AppSmile
"BADLAND's unique gameplay and atmosphere make it a must-download." — Slide to Play
"BADLAND doesn't simply look pretty, it's an absolute treat to play" — AppSpy
"A hallmark of excellence." — Destructoid
★ WINNER ★ Outstanding Mobile Game — Satellite Awards 2014
★ WINNER ★ Grand Prix — the International Mobile Gaming Awards 2014
★ WINNER ★ Nordic Indie Sensation Award — Nordic Game 2013
★ WINNER ★ Apple Design Award 2013
★ WINNER ★ Apple iPad Game of the Year 2013
★ WINNER ★ Best Project — Game Connection Europe 2012
★ WINNER ★ SCEE Award — Game Connection Europe 2012
OVERVIEW
BADLAND is an award-winning atmospheric side-scrolling action adventure platformer set in a gorgeous forest full of various inhabitants, trees and flowers. Although the forest appears to be right out of a beautiful fairy tale, there's something terribly wrong. The player controls one of the forest dwellers to find out what's going on, and discovers an astonishing number of imaginative traps and obstacles on the way.
BADLAND takes side-scrollers to the next level with its innovative physics-based gameplay combined with stunning, atmospheric graphics and audio.
BADLAND also features a highly original local multiplayer mode for up to four players on the same device, where the name of the game is survival of the fittest with no rules. It's totally OK to push your rivals in front of spinning circular saws to survive. Or, if that's too rough for you, you can also cooperate with your friends and play the modified single player campaign with up to four players.
FEATURES
• SINGLE PLAYER campaign with 100 truly unique levels and more coming in updates
• MULTIPLAYER mode for up to four players on the same device in 23 levels and more content in future updates
• COOPERATIVE mode for up to four players – Survive the modified single player campaign with your friends
• LEVEL EDITOR: Create levels, share & play!
• LEVEL WORLD: New levels to play all the time
• Intuitive one-touch controls combined with innovative level design
• Full support for game controllers
• Highly immersive audio-visual gaming experience
• Designed for Android phones, tablets and Android TV
• Supports Cloud Save and Immersive mode
• More levels and content coming in updates
Rating: 4.5 of 5.
Requirements: Android 4 and up with 120 MB of space.
Download: Android | iPhone (iOS)
Read Also: WhatsApp Plus Apk Latest Version Download [Anti Ban]
Enjoy Doodle Army 2: Mini Militia? Try out some similar games local multiplayer games online
Wrapping Up
Hope you like this article on Multiplayer Alternative Games like Mini Militia and If you are really enjoying these offline multiplayer games for android game play and multiplayer features on the Doodle Army 2: Mini Militia game, you are going to love all the games we have suggested above. Also, all the Multiplayer Alternative Games like Mini Militia mentioned here, most of them will work on a majority of devices including iPhone (iOS). All the games bring their own unique gameplay and some really cool multiplayer features. If you think there are other games like Mini Militia that should be mentioned in the list, feel free to write a comment in below comment box, we will post them definitely.