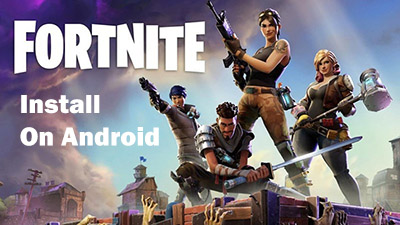 If you are a gamer then you must be knowing the famous mobile game Fortnite Battle Royale. This game was launched for iOS devices only. This game is very famous among iOS users because this can be played with your friend just like Mini Militia. You can read 11 Multiplayer Alternative Games like Mini Militia [Offline & Online] Till now it was trending among iOS users because this game was limited to iOS devices only but recently developers of Fortnite – Epic Games had launched the Fortnite Beta version for Samsung device in Samsung Galaxy Note 9 launch. Many users search Fortnite on the android play store and many fake apps are uploaded on the google play store which disguises the android users for download from the play store.
Android users were in search of fortnite battle royale release date for android but Today in this post solution Exist will show you methods to Install Fortnite Battle Royale game on Android phone without rooting android phone and also without waiting for the Fortnite release date.
If you want to play Fortnite on Android, you'll need a decently powerful phone to run it. Currently for the Samsung devices that's a Samsung Galaxy: S7 / S7 Edge , S8 / S8+, S9 / S9+, Note 8, Note 9, Tab S3 or Tab S4.
For non-Samsung phones Epic's list of recommended devices is currently this:
Google: Pixel / Pixel XL, Pixel 2 / Pixel 2 XL
Asus: ROG Phone, Zenfone 4 Pro, 5Z, V
Essential: PH-1
Huawei: Honor 10, Honor Play, Mate 10 / Pro, Mate RS, Nova 3, P20 / Pro, V10
LG: G5, G6, G7 ThinQ, V20, V30 / V30+
Nokia: 8
OnePlus: 5 / 5T, 6
Razer: Phone
Xiaomi: Blackshark, Mi 5 / 5S / 5S Plus, 6 / 6 Plus, Mi 8 / 8 Explorer / 8SE, Mi Mix, Mi Mix 2, Mi Mix 2S, Mi Note 2
ZTE: Axon 7 / 7s, Axon M, Nubia / Z17 / Z17s, Nubia Z11
Source – Epic Gamers
How to Install Fortnite Battle Royale on android (Compatible device)
Considering you have the device listed above then follow the below steps to install the Fortnite Battle Royale game on android.
Step 1 – Firstly Go to this Fortnite android invite link, and Fill all the details and signup for Fortnite android Beta.
Step 1 – After creating an account, tap on the yellow options button on the top right corner of the screen, and choose to Get Fortnite option.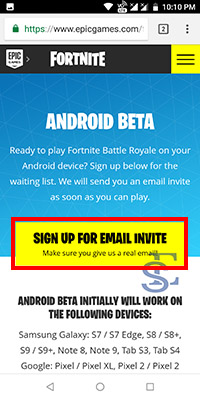 Step 1 – Now, Register for the invitation of Fortnite Installer. The website will send you an invitation email within 2-3 minutes.
If you didn't get the invite link in your email address this Follow this link to download the Fortnite installer apk.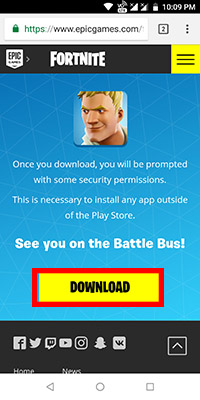 Now you will get to see an option of Download. Tap on download, and install the Fortnite Installer application.
Now, Open Fortnite Installer and simply tap on Install button. It will download Fortnight game directly from the server to your phone.
Simply install Fortnite battle Royale game, and Play Fortnite on android phone.
The above method was to install Fortnite android device which are official supported. If you are the person like me that don't have compatible device then not top worry. XDA developers had modded Fotnite game and had make it compatible for android device, so effectively you can install fortnite in any android device. To install Fortnite in all android device then follow the below steps
Note – if you are getting an error after installing and following all the process mentioned above, it is because this game is following some safety net, and also looks for ADB being enabled. So, in a way to run fortnite battle royale, you have to pass the safety net and disable ADB.
This is a modded and experimental APK with the Safety Net test skipped – this may mean your account gets banned so be careful! So use any of the disposable accounts.
Note:- Solution Exist is not responsible if you mobile hangs are heat up or for any damage.
Download Fortnite battle Royale With and without safety check – Ported by XDA Developers – Install fortnite in any android phone
This APK skips the Safety Net check and GPU/RAM check – Be extremely careful with this as it may crash or overheat your device, and your account may get banned.
This APK doesn't skip the Safety Net check or GPU/RAM check, Slightly on the safer side then Download
Credits – XDA Developers
Wrapping Up
Hope you like our tutorial on how to install Fortnite Battle Royale on android phone without Fortnite invite code – No Root and also on non samsung phone. Please remember may sure you install this game at your own risk, Solution exist is not responsible for any consequences. If you had any problem or got stuck on any steps you can use comment section. Solution Exist will help you and for fasted help and response Join our Facebook Group Android And Windows Errors Solution and Follow or Facebook Page Solution Exist to be updated with Solution Exist awesome articles.