Mi A2 is launched in India with a price tag of about 17000 Rs having has a 5.99-inch display with 18:9 aspect ration and 1080 x 2160 full HD+ resolution. I personally thinks that Xiaomi is under fear because of the competitors i.e Asus, Vivo etc. Xiaomi was under impression that no other mobile manufacturing companies can launch better specification smartphone at such a low price but now this trend is changed. This trend change can be seen through Asus and Real Me 1. Asus had done a come back n Indian market by launching Asus Zenfone max M1 in three different models i.e. 3 GB ram, 4 GB ram and 6 GB ram. This Asus device had killer Xiaomi Redmi Note 5 Pro with it Asus zenfone max M1 6 GB ram variant which had beat redmi not 5 pro in all the section including camera. In fear of Asus Zenfone max M1 6 GB ram variant launch, Xiaomi had provided review unit 15 day before the phone launch. This shows xiomi is really under stress.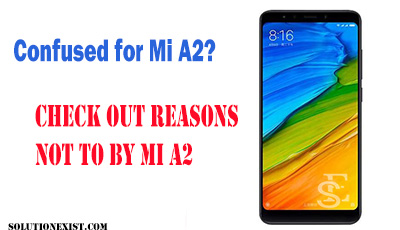 Now the phone Xiaomi Mi A2 is launched, all over the blogs and YouTube every one is criticizing Xiomi for launching this phone. Even I had read the specification of Xiaomi Mi A2 and got a shock by reading the specification. Today in this post Solution Exist will tell you whether you should but Mi A2 or not and if not then Reasons not to buy MI A2. We will also compare the feature of Mi A2 to the newly launched Honor play . Remember this article is limited to my perception and thinking. The reasons I show you may not be valid for you.
Checkout Pros and Cons of Mi A2
Pros of MI A2
Processor:
Xiaomi MI A2 comes with snapdragon 660 which is a powerful processor. Xiaomi MI A2 will not disappoint you with respect to performance – read 11 Multiplayer Alternative Games like Mini Militia [Offline & Online]. In redmi note 5 pro, you will see snapdragon 636 which give pretty good performance and on comparing both the processor snapdragon 660 is bit higher.
OS – Androidone – Stock Android
Mi A2 comes with android one support which will give you stock android support which ultimately provides you regular security patches and faster updates. The best thing of stock android is it don't comes with bloatware which are mostly waste apps that unnecessarily occupy memory and make you device slow. With stock android you need to compromise with some feature abut that gap can be filled with installing third party apps from the play store which will work as per expectation.
Camera
Mi A2 has an Artificial Intelligence-based dual rear camera setup comprising of a 12-megapixel primary Sony IMX486 sensor with f/1.75 aperture and 1.25-micron pixels and a 20-megapixel secondary Sony IMX376 sensor with the f/1.75 aperture but 2-micron 4-in-1 Super Pixel size. On the front, you get a 20-megapixel Sony IMX376 sensor with f/1.75 aperture. This is the same sensor which is used in Redmi not 5 pro. The only reason why the picture quality of Mi A2 is good is just because of image processing else the detailing in pictures is not drastically improved.
Cons of MI A2
Camera Bump:
Just see the picture and you will be seeing the extra non beautiful part of Mi A2 which is camera bump. Practically this can may you more conscious about the camera lens safety. This camera bump requires more safety if you put it on flat surface. This camera bump will force you to use mobile back cover which not only protect you phone but also cover up the camera bump.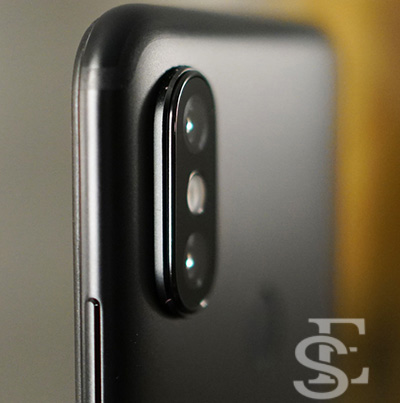 No headphone Jack:
I don't know why Xiaomi had not provided headphone jack. Yes you heard it right..!! Mi A2 dose not comes with Headphone jack and not every one is fan of Bluetooth headphone which are bit costly. Although adapter comes with the phone but this is not practically possible to bring adapter everywhere. Hence this can be proved as cons as you can't use your headphone directly to listen music.
Low Battery capacity:
Mi A2 is backed by a 3010 mAh battery, in my experience the battery will last hardly for a day on moderate use. May be the battery is not that much less but Redmi note 5 pro is providing 4000 mAh battery capacity and Asus zenfone max M1 give you a huge 5000 mAh battery. Mi A2 dosen't have 3.5 mm jack and even the honor play comes with slick design with 3750 mAh battery.
Support of Quick charge 3.0
Mi A2 comes with qualcomm snapdragon 660 process which supports quick charge 3.0. After reading this you might be thinks that this should be under prons but wait, don't so quick to judge, Although the Mi A2 supports quick charge but you will not get quick charger with phone. You have to purchase fast charge additional from the market. Mi A2 should had provide fast charger with the phone.
No SD card slot – Not even a Hybrid sim card slot
Xiaomi in mid range phones provides Hybrid sim slots. If you don't know, with the hep of hybrid sim slots you can use either dual nano sim cards or 1 sim and 1 SD card. But M1 A2 dosen't have hybrid sim cards also. In Mi A2 either you can use 2 Sim cards are 1 sim card but can't use SD card, hence effectively you can't use SD card in Mi A2
Design
Xiaomi has packed the same display in Mi A2 as the Redmi Note 5 Pro — a 5.99-inch screen with a FHD+ resolution of 2160x1080p with an 18:9 aspect ratio. When in market Vivo and other phones are going with the trend and providing Notch display also the Mi A2 lite which is cheaper than Mi A2, comes with notch display and on comparison to that it comes with Same typical xiomi design which can be seen in Redmi note 5 pro, redmi Y2 and many more. This is my personal perspective, If you don't like Notch display then this is not a con for you.
Conclusion – Reasons not to buy MI A2 / Reasons to buy Mi A2 and
Unless any phone Mi A2 have both pros and cons but on reading the listed pros and cons you also agree that cons are more compare to pros. the only pros are camera and OS which is android one. Camera performance of Mi A2 will undoubtedly be good but this cons is not sufficient to make Mi A2 killer phone. If we come to the conclusion that if you are purchasing phone for good camera then go for Xiaomi Mi A2 it else you can spend 3K bucks more and purchase Honor Play. On reviewing the cons you will get Reasons not to buy MI A2 Honor play comes with Huawei's in-house HiSilicon Kirin 970 chip which is almost same on paper but it is on higher side when comes to real time performance. Also Honor Play comes with turbo GPU boost technology which will enable you to play games one setting high compare to Xiomi A2.
What do you think about Xiomi A2. Share your thoughts in comment section.