Is your Pendrive is affected by the virus? Here is a guide how to Remove Virus From Pendrive Permanently. Virus problem with the pen drive is very common as Pendrive is the best option to transfer data. Pendrive provides you the best and fast way to transfer. If you are using Pendrive for data transfer at places like colleges, schools or at any other place there may be the chance that your Pendrive got affected by the virus. Among different types of virus, shortcut virus in Pendrive is very common.
Solution Exist in this tutorial will teach you to remove virus from pendrive. You must have come across the VIRUS creates an exe file in your usb drive with the name New Folder.exe. For this Solution Exist is providing you a solution for removing New Folder.exe virus from Pendrive. You may like:- How To Remove the virus Which Makes do not show hidden folder. This virus is more dangerous as it get spread into the computers in which it is inserted. So better to remove virus from the solution provided by Solution Exist. All you need to do is follow the below-given steps.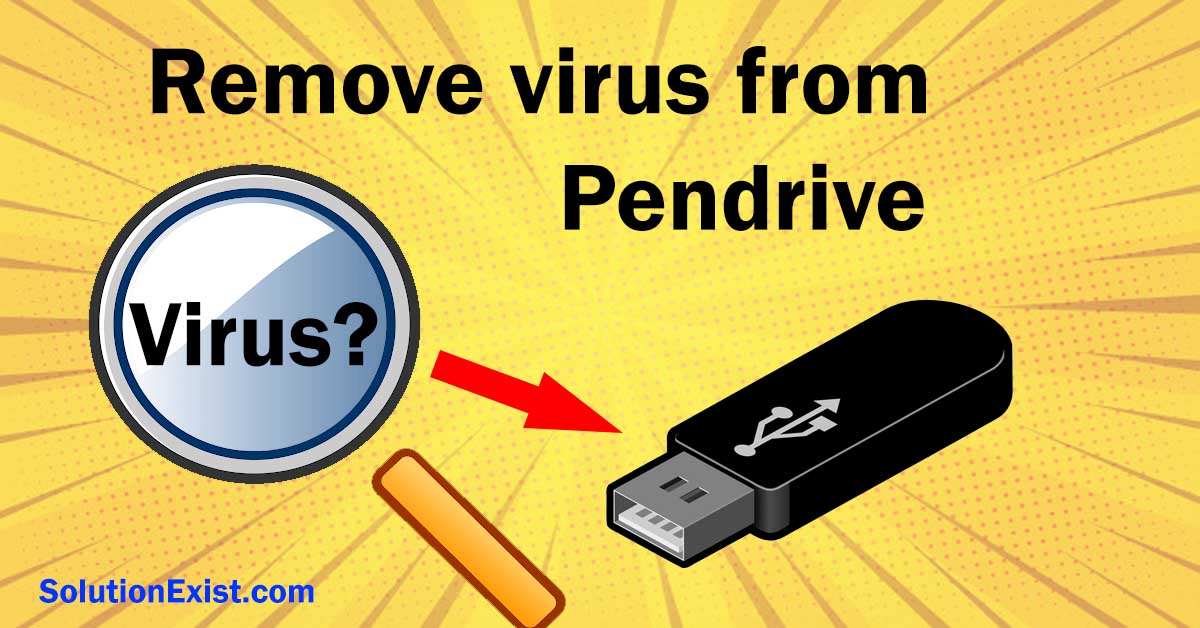 Methods to remove virus from Pendrive
If you are Pendrive is affected by a virus then this tutorial will help you resolve shortcut virus in Pendrive that too without losing your data. In case you have a backup of your pendrive data we have other methods as well which are relatively fast but you will lose data from Pendrive. So without wasting more time, let's dive into the tutorial.
Method 1 – How to remove virus from pendrive without losing data
This method includes tutorials remove virus from pen drive without losing data. Here we are using a software smart virus remover which is a virus remover and scanner. It scans virus and remove them without affecting your data. Follow the below steps.
Steps on how to delete virus in Pendrive
Step 1 –Firstly download Just download the tool from the link below.
Step 2 – Run this downloaded exe by double-clicking on it.
Step 3 – Then click on "Delete Autorun.inf file".
Step 4 – After that click on " Remove virus from USB". The virus will be removed from your pendrive.
Effect of New Folder.exe virus in your computer
Task manager is disabled. – if your task manger is not opening follow the guide on Fix can't Open Task manager
Registry Editor is disabled.
Folder options not working.
Taking too much time for accessing pendrive.
Uses half of your computer processing power. etc.
Also Read:- Remove Adware From Chrome Browser – Chrome Cleanup Tool
Note:-This software smart virus remover tool also enables you to restore your task manager, registry editor, and other things which were disabled by virus.
Just click on "Restore Default Windows Settings".
that's it..!!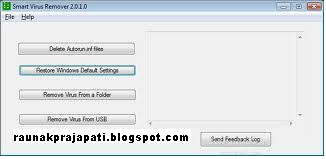 Method 2 – Scan pendrive with antivirus and remove virus
In method 1, we had posted a software which is specifically developed to remove virus from Pendrive. The only limitation of that software is if your computer is affected by virus then as you insert Pendrive again in the system, your Pendrive will get affected by the virus and hence in this case, that method will become ineffective. Methods 2 includes methods to get foolproof methods that will not only secure Pendrive from the virus but also secure your computer and system as well.
To protect your system from viruses attracts, it is recommended to have an antivirus installed on your computer. Antivirus is software that scans the system and remove virus from the computer along with spyware or malware. In an article Firewall vs Antivirus, we discussed both in detail and also we had shared our recommended antivirus software for computers.
Method 3 – Remove shortcut virus in Pendrive
If you have a backup of your data and you don't need data stored in your Pendrive then this method is for you. In this method you don't need to download any software, all you need to do is just format your Pendrive. Steps to format Pendrive are described below.
Steps to format pendrive in computer or laptop
Firstly insert your Pendrive into the system i.e. computer or laptop
Now open my computer and right-click on the Pendrive drive
Now click on the Format option and a new window will be open
Keep all the option as it is and click on Format. (If you are in hurry then you can tick the quick format option)
Wait for the process of completion and you are done.
In this way, you can format pendrive and delete virus from Pendrive but in this process, you will lose your data stored in the drive.
FAQ – remove virus from Pendrive
1. Does formatting USB remove viruses?
The short answer is yes, as you format your Pendrive, it removes or deletes all the data stored in your USB flash drive such as personal file along with virus. If your USB doesn't contain any personal data whose backup is with your then to remove virus, you can format your flash drive.
2. How to recover files from virus-infected pendrive?
Various data recovery software is available on the internet which helps you to get back deleted data. If you want to recover deleted data, you can use Rufus data recovery software.
3. How to open virus infected pen drive?
Infected pendrive if you want to open, you need to have antivirus software installed in the system. If the virus protection software is not installed in your computer, your computer will also get infected. Hence to open virus infected pendrive in system, antivirus software must be installed.
4. How to protect Pendrive from virus?
Antivirus is the software that can help you to protect your Pendrive from virus as well as your system. If any one of them i.e. either your pen drive or system is affected by viruses, other will also get affected. Hence it is recommended to have antivirus software installed in system.
5. Pendrive showing empty although it has data?
If you have data stored in your Pendrive and it is showing empty data then this is a sign that your Pendrive is affected by the virus. Go through this article and you will be able to recover your Pendrive data and remove viruses from the flash drive.
Wrapping Up
This was the simple software to remove virus from pendrive. This virus removal software will help you to remove virus from pendrive very easily. I had found this solution to remove virus from pendrive is the best and very easy. This was another Virus removal tutorial by Solution Exist. Share this article with you friends and family member and help them. You can follow us on Facebook page – Solutionexist also you can join our Facebook Group Android And Windows Errors Solution where we discuss your problems related to windows and android phones, tips and tricks and many more.