If you are facing an error in windows then resetting the PC is the option for you. In case you are facing here was a Problem with Resetting your PC Windows 10 Error then you are in right place.
Resetting Windows 10 is a great feature if you had messed up with the windows file and the reason may be you and may not be. Some windows updates are causing the error to windows which make the user do reset your PC. Previously, we had posted a tutorial on how to Fix Windows 10 error 0x8000ffff.
Yes, you heard it right, Windows 10 is buggy, and Microsoft had admitted it that sometimes windows update that they roll out are buggy and also crash windows. They also said that they are working to make windows 10 stable and bug-free.
Reset to factory setting you had seen in Android phone in which with just a few clicks, we get default android phone but lose all the stored data. Similarly, if your windows system file is corrupt or your windows is not getting the boot, Resetting your PC can help you to boot windows without formatting it.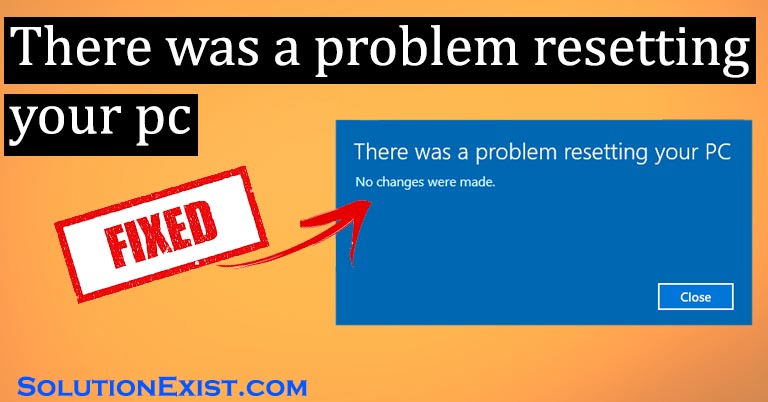 Today we are here with the solution but prior to get into methods to fix, lets have a look at the reason and cause of the error. So without wasting more time, let's dive into the article.
Reason for the "There was a problem resetting your PC" error?
Windows users face many system errors and among those, there was a Problem Resetting your PC no changes were made is one of them. There are several reasons that can result into this error. We had address all the segment which can result in the error and had provided methods to fix those. So without wasting more time, let's get into the methods to fix windows 10 problem resetting your pc and make sure you follow methods one by one.
Windows startup repair windows
Windows operating system had startup repair tool which is extremely useful if your computer is not booting up. This repair startup tool windows 10 will help you to fix startup programs error and help to fix windows 10 booting problems. This tool found effective in fixing resetting your pc error in windows 10 also. So here are the set of instructions that you can follow to run windows 10 startup repar tool
How to run startup repair tool in windows 10
To start with the procedure, you need to have a bootable pen drive or DVD of the Windows 10 operating system. In case you don't have one, you can read the tutorial on how to create a bootable pen drive using the iso file. Now let's start with the procedure.
Firstly Insert the bootable USB or DVD in PC and turn on the system.
You will get a message i.e. press any key to boot from usb. Do as the instruction say and you will be move to the next screen with some options. Here you need to choose Troubleshoot.
Now, click on Advanced Options. and then, click on Startup Repair.
Select your account and enter the account password.
Click on Continue and the automatic startup repair process will start.
Now, after completion of process, restart your computer and check, your issue of Unable to reset your PC is fixed. If the problem still exist, proceed with the following steps/methods.
Scan system for virus or malware – trouble resetting pc windows 10
Adware and malware get messed up with your system files and can result in error. These malware to make themself protected, they block windows update and also change system files by attacing the system. So resetting pc windows 10 can be becaus of virus attack on computer. It is always recommend to have a good antivirus software installed in the system to get protected from the virus atttack on computer or any system.
Solution Exist had posted a detailed guide on how to remove virus from computer and clean windows from malware and adwares installed in your system Do follow the guide and after removal,
Disable Windows Recovery Environment in Windows 10
Windows recovery environment also known as (WinRE) is a part of windows 10 startup repair tool that will help you to fix windows booting issues and various other windows startup problem. By default this option is enable so you can try disabling that option and try whether your issues is solved or not. It is noticed that disabling windows recovery environment had actually fixed the issue.
Steps to Disable System Restore in WinRE
Click on the start button and search for Command Prompt (CMD).
Now right-click over it and select Run As Administrator to open CMD as admin.
Now CMD will open, enter the following command.
reagentc.exe /disable
In this way, you can disable system remote in WinRE, Now check whether your pc resetting problem in windows 10 is fixed or not. If not then enable Windows Recovery Environment by following the below set of instruction.
Steps to Enable System Restore in WinRE
Click on the start button and search for Command Prompt (CMD).
Now right-click over it and select Run As Administrator to open CMD as admin.
Now CMD will open, enter the following command.
reagentc.exe /enable
Now, as your problem is not fixed, continue with the troubleshooting guide step and go ahead with the other procedure.
Rename system and software registry Hive – problem resetting pc
Missing crucial system files can result in throwing this error in windows 10. For this method, we'll once again be using the Command Prompt to restore some crucial system files, including the software registry itself. This method works for fixing a variety of causes, including corruption and malware.
Click on start button and type Command Prompt in the search bar and in the search result, Right-click on CMD and select the Run as administrator to open as admin mode.
Now in CMD, you need to type following commands and hit enter after typin one by one command.
cd %windir%\system32\config
ren system system.001
ren software software.001
Now type exit to close the command prompt and restart your computer
After restarting your pc, check if you problem is fixed or not.
Use system restore point to fix Problem Resetting your PC Windows 10 issue
System restore point is another solution which can be handy for you in case your windows 10 pc is not booting up. System restore point is snapshot of the device's current working state which you can use to restore if your system is not working properly after any recent activity perfom by you. For this also, the requirement is in past, you had enabled system restore point feature and had created one. Lets suppose you had created a system restore posint in windows 10, now the procedure to use system restore in windows 10 is written below.
How to use system restore in windows 10
Step 1 –Turn on the computer and interrupt the booting by pressing F11 to get into Windows 10 Advanced Startup Options.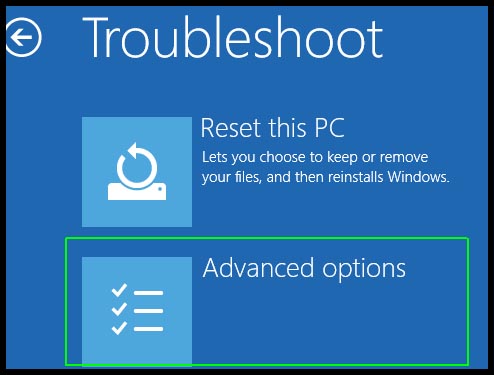 Step 2 – As windows booted, select Troubleshoot.
Step 3 – Now click on Advanced option, Ther are various option avaliable for you.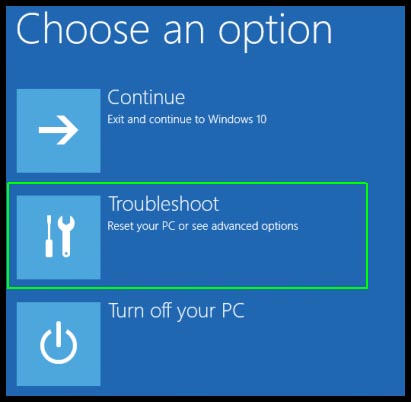 Step 4 – From the advanced option, select System restore.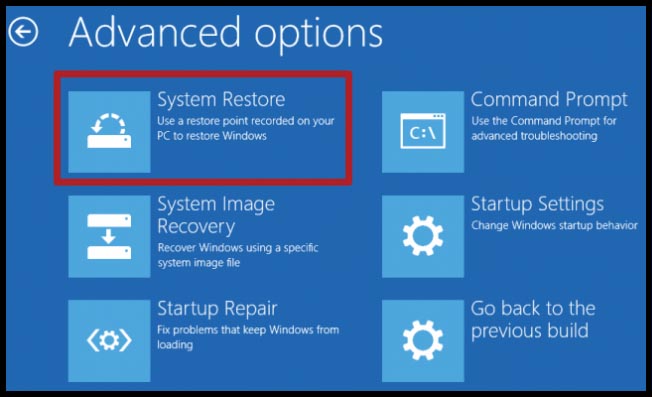 Step 5 – Now you will be asked to select the username, select and enter the username password.
Step 6 – System restore process will be started.
In this way, you can use system restore in windows 10 to fix booting problem in windows.
Recover Windows 10 from recovery drive
Windows uses if you had created recovery drive or in a new laptop, the manufacturer gives recovery drive then today is the day that will be a life savior for you. Recover drive contains all the windows system file and Windows 10 environment which will enable you to restore your windows system in case your windows 10 not booting or system crash. The only disadvantages of using a recovery drive to fix reset this pc there was a problem resetting your pc is you will be lost your personal files stored in C: Drive/system drive.
Clean Windows Installation
All the above solutions will surely fix your error i.e. There was a Problem Resetting your PC Windows 10 no changes were made. In case if your problem is not solved then this is the last option to choose i.e. fresh windows installation. Yes, you have to format your system drive and install fresh windows and it will lose your system drive data i.e. files from desktop, files saved in the download folder, or in C drive.
You need to download Windows ISO file and create a bootable USB drive or DVD drive
Now boot your computer and select the bootable device
Now follow the instruction and install windows on system.
If you don't know how to create bootable pen drive then we had a detailed tutorial on use rufus to create a bootable usb drive with video tutorial.
Wrapping Up
Hope you like this detailed guide on methods to fix there was a problem resetting your pc windows 10. If you are a windows user and are facing any other windows issues then feel free to comment down, we will surely help you and in case you want us to cover any other problem related to windows, android or mac then do let us know. Make sure you follow our Facebook page Solution Exist and also join our Facebook Group Android And Windows Errors Solution where we discuss your problem related to android and windows.