Microsoft is continuously working on the Windows 10 operating system and unlike any other software, updates are not always error-free. Update of Windows 10 is bundled with errors most of the time. So if you had updated to windows 10 1903, then you might be facing Windows error 0x8000ffff 0xc80003f3 and 0x80d02002.
In this article, we are going to learn how to fix Windows 10 update error 0x8000ffff error and other errors associated with it like 0xc80003f3 error and 0x80d02002 windows. Various methods are associated with the error solution hence you need to follow the steps one by one. Now without wasting more time, let's us jump with the steps.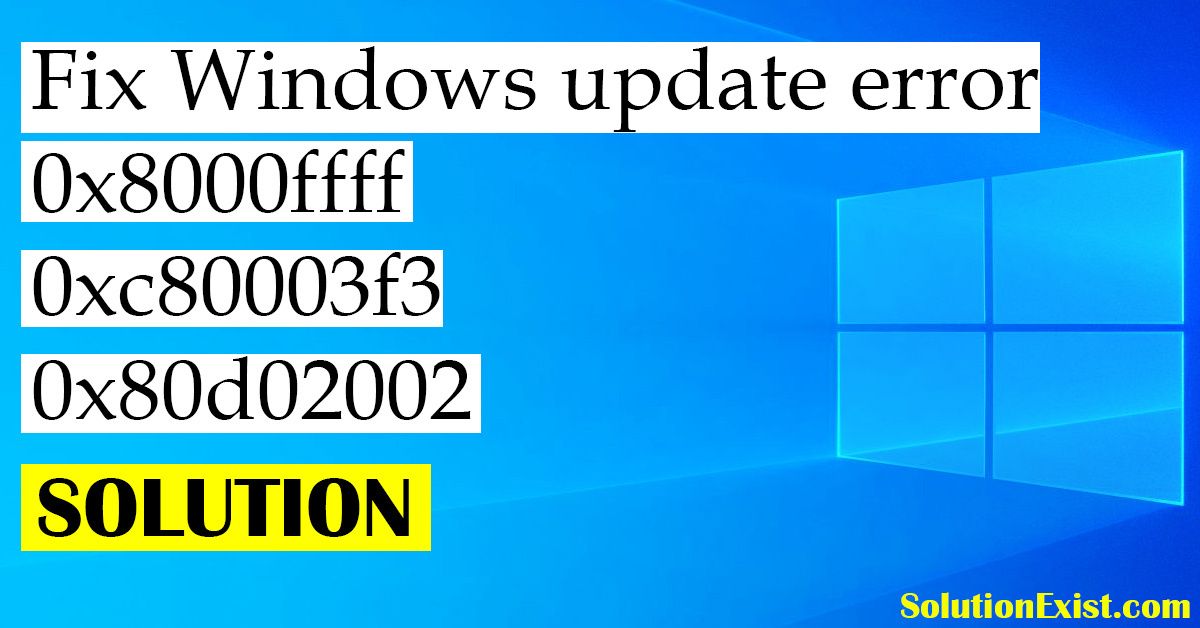 How to fix Windows 10 error 0x8000ffff?
Multiple reasons can cause windows 10 1903 error while updating. Method to fix error depends on what casuses the error. Here are some of the reason for 0x8000ffff, 0xc80003f3 or 0x80d02002 error and those are listed below.
0x8000ffff, 0xc80003f3 or 0x80d02002 Error reasons and causes
As discussed above, there can be various reasons for windows update errors. All the possible causes of error are listed below.
Windows Update Service problems
Pc/Computer Infectecd with virus, trojans, and malware.
Result ofCorrupted system files.
Outdated drivers
Corrupt registry files
Old Software and programs
Methods to fix Windows update error 0x8000ffff
1. Log in with Admirative account
Windows updating process need administrative rights and if you re not logged in with admin account you are definitely get an error. Make sure you are logged in with andmin account and if you are then create new adminstrative account and loggen it. After loggin in, try to . Yes this is the dumbest way to try but this actually works.
2. Remove malware from computer
The issue can be the result of virus and malware infection. Some malwares corrupt windows update feature which will not allow windows user to update windows version. So the simples fix it to search for malware and virus in your computer and remove those from the system. We had prepared a detailed guide on how to remove malware from pc in which we had used free malware removal tool to remove adwares and malwares and protect computer from virus. Follow that guide.
3. Set The Correct Time On Your Computer
Incorrect date and time also cause this 0x8000ffff error in computer. If you are facing cmos batter failure, your computer time and date will not get updated automatically and hence your computer showing wrong date and time. Here are the steps to correct the date and time in the computer/pc.
Fix date and time in computer
Navigate to Start > Settings > Time & language > Date & time.
Now toggle switch from Set time automatically
In this way, you can correct time on laptop and computer. Restart you computer and check if you 0x8000ffff error is solved or not. If not then proceed with
4. Update drivers windows 10
Outdated drivers in windows can also causes 0xc80003f3 errors in windows as with every updates, compatibility and bugs are fixed.. To fix the error, drivers need to be updated to the latest version.
Update drivers in computer
Firstly right-click on This PC (My Computer ) and click on manage. Now from the new windows, click on Device Manager. You can also press Win key + X -> Device Manager to open.
Now check which driver is indicating error. Right-click on it -> Update Driver Software.
You can also select uninstall and restart the pc to reinstall that particular driver.
In case you want, you can search for the drivers over the internet and install them from the manufacturer's website.
In this way, you can update windows driver and after that restart you pc and check if the error is fixed or not. We had prepared a detailed guide on How to Find Right Drivers for Unknown Hardware which can help you to install drivers easily.
5. Windows System File Check
Missing or corrupted windows system files can also affect your updating process. Windows had an inbuilt feature to check System File Check which is known as System file check (SFC). This windows tool checks system files for missing and corrupt files and fix them. Here are the steps to use SFC ro fix system windows files.
Step 1 – Click on Start button and search from CMD. Right-click on it and click on is and then click on Run as administrator to open the command prompt as admin.
Step 2 – Now type the below-written command and press Enter.
DISM /online /cleanup-image /restorehealth
Step 3 – Have patience and wait for the completion of the process which may take about 30 minutes.
Step 4 – After completion of the process, type another command posted below and hit Enter.
sfc /scannow 
Step 5 – Allow it to complete and restart the computer and check if the error is fixed or not.
6. Clear the Microsoft Store Cache
Cache also create various error and among those, error 0x8000ffff can be one of them. So to fix this, we need to clear the microsoft store cahe.
Steps to clear Microsoft store cache
Click on the start button and search RUN. (You can also press Win+R)
Now type WSReset.exe and press enter.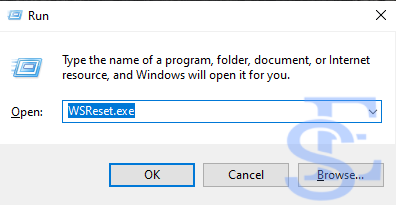 Blank CMD window will be open for a few seconds and the cache will be clear. Now restart the pc and check if the windows update error is fixed.
If this dosen't work to clear cache then follow the below steps.
Step 1 – Click on start, search for RUN, and paste the below path. You can also press Win key + R to open.
open%localappdata%\\Packages\\Microsoft.WindowsStore_8wekyb3d8bbwe\\LocalState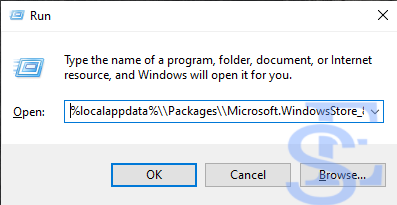 Step 2 – Search for the Cache folder and then right-click on it to Rename it with Cache.old or another name.
If a cache folder is not found then create a cache folder and name it Cache.
Now restart the computer and check if the 0xc80003f3 error is solved or not.
7. Windows Update Troubleshooter for Windows 10
Windows 10 had a built in feature that helps you to troubleshoot windows 10 update error. This option will run diagnose and try to search the possible problem which in creating error in update. Follow the below steps to use windows troubleshooter
Firstly click on Start button and then click on the Settings.
Now search for Update & Security and open it.
From the right side sidebar, click on Troubleshoot.
You can see some options in the left side, click on Additional troubleshooters.
Now under Get up and running, click on Windows Update and then Run the troubleshooter.
A scan process will be started which will try to seach for the issue and provide you the solution to fix it. Now Restart the PC and try to update computer.
For further details regarding windows update troubleshooter, you can read at Microsoft Support
8. Recovery option in Windows 10 – Fix 0x8000ffff error
If none of the above steps work then we need to use the last option i.e. system recovery and this will surely works. You might be wonder why we didn't use this method at first place. That is because it is necessay to know the source of error. If its about viruses and malware, it will shows errors in other processes as well.
Windows system had a recovery option in windows knows as System restore point. System resorte feature will create a snapshot of system which can be restore to undo the changes done in the system. There is one this to note that system resore doesn't includes personal file.
We had created a detailed tutorial on Create system restore point in Windows and use it.
Apart from 0x8000ffff error, there are couple of other errors as well that annoys us while updating windows. If you are facing 0xc80003f3 error then continue reading.
How to fix 0xc80003f3 windows error
Fixing 0xc80003f3 windows error is a process of in which one had to follow different methods one by one. All the methods are describe below, follow the steps.
1. Delete temporary file
As we do any process in the computer, the system in the background creates some temporary files which help the system in processing. These files need to delete at regular intervals as these not only result in error, but also slow down your pc. We had talked about it in Fix slow windows pc using software. Let us move to some manual methods to delete temporary fiels in windows
Step 1 – Firsly open RUN by searching in the start menu and types below command and hit enter
Temp
New windows will be open and it will as permission, click on allow/continue. You will see files and folders. Select all and delete. Some files may not be deleted so don't worry, try to delete as many files as you can
Step 2 – Now again open RUN and type below command
%temp%
Step 3 – Again new windows will be open containing files and folders. Select them and delete as many files as you can
In this way, you can delete temporary files in windows. Now check if 0xc80003f3 error is fixed or not. If you google chrome is slow then do read fix slow chrome in windows 10 where we had shared different methods to for slow google chrome.
How to fix Windows Update Error 0x80d02002?
If you are updating to windows 10 update 1903 then ther are chances that you will face a feature update to windows 10, version 1903 – error 0x80080008, and your windows 10 update failed. Here is the steps you can follow to fix this error while updating windows.
1. Uninstall troublesome software
This 0x80d02002 error mostly occurred because of the software related to the network and connection. If you have any VPN software installed in you computer then try uninstalling them.
2. Reset Windows 10 Update Components
Issues with Windows 10 update component can also cause Windows Update Error 0x80d02002 and to fix that, we need to reset update component. Here are the steps to follow.
Click on Start button and search for CMD. Right click on it and select Run as adminstrator to open command prompt as admin.
Now copy paste below command one by one and hit enter.
net stop wuauserv
net stop cryptSvc
net stop bits
net stop msiserver
ren C:WindowsSoftwareDistribution SoftwareDistribution.old
ren C:WindowsSystem32catroot2 catroot2.old
net start wuauserv
net start cryptSvc
net start bits
net start msiserver
After entering all the commands, you had successfully reset windows 10 update components. Now restart your computer and check it, your 0x80d02002 error is fixed.
Wrapping Up
This was the tutorial on how to fix 0x8000ffff error in windows 10 and apart from those the 0x80d02002 error and 0xc80003f3 windows error. You will face various errors while updating to windows 10 1903 in future also, so we recommend you to create a system restore in windows 10 so that in case of any error, you can use that system backup and restore windows in your computer. If you have any doubt with the steps or you are unable to fix the problem the do use the comment section.
Solution exist will help you to deal with it fix your windows error. You can follow our Facebook page Solution Exist and also join our Facebook group Android and Windows error solution where we discuss android and windows related quries