In this tutorial, we will learn how to create Windows 10 bootable pendrive to install in your system.
Formatting windows or installing new windows now become very easy that now most of the people are known to the procedure of How to install windows in computer/PC or how to format PC/computer. In the world of Pendrive, no one uses CD drives to install Windows and unlike Floppy drives, CD drives are also getting wiped out from the market.
USB drives are literally clearing the market of CD's and creating the place of itself. If you are among those who still use CD drives to format PC then let me tell you try to use bootable USB you will love the speed. Don't forget to check – Recover hidden files from virus infected usb pen drive Windows 10, 8, 7 and XP.
Today in this tutorial Solution Exist will help you to learn how to download Windows 10 iso file and how to create bootable Pendrive to install Windows 10 in PC. This tutorial is not limited to learn how to create bootable Pendrive of Windows 10 but you can create bootable Pendrive of any Windows like windows 7, and Windows 8.1 also. So without wasting more time read the below tutorial to learn how to create bootable drive of windows.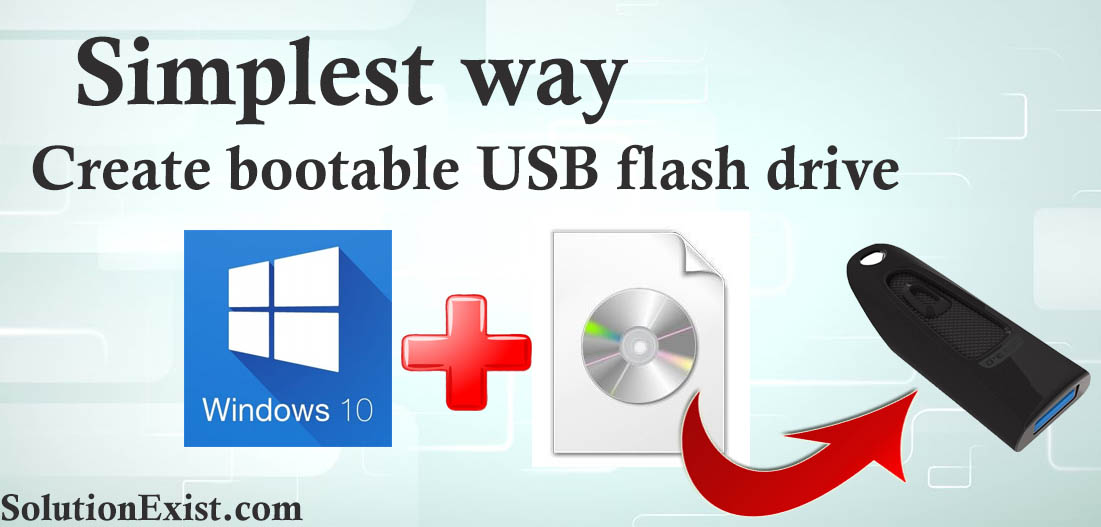 Prerequisite to create bootable Pendrive – windows 10 USB tool
1. Download the ISO file of Windows that you want to make a bootable Pendrive of. Download links to the Windows ISO file
2. Take a backup of data stored in you Pendrive and format is
3. To create bootable Pendrive use Pendrive of a minimum of 8 GB capacity. Pendrive of USB 3.0 will works fast.
Steps on how to Create a Bootable USB Flash Drive of Windows 10
Step 1 – Firstly you need to download windows 10 bootable usb tool Rufus software
Step 2 – After downloading Rufus software install it in the computer
Step 3 – Now open the software and allow the software to select the device i.e. you Pendrive
Step 4 – Click on the Select button and navigate and select to the path of the Windows 10 ISO file.
Step 5 – Now click on start You'll be prompted with a warning that all data on the UFD will be destroyed. Click on yes to format and then click on start.
After clicking on Start wait till the process gets completed. After completion, your bootable Pendrive is ready to use.
Video Tutorial on How to create bootable USB Windows 10 from ISO
FAQ (create windows 10 bootable pendrive)
1. How to create a bootable USB stick?
There are different software to create a bootable pen drive and among those, Rufus is one of them.
Wrapping Up
Hope you like the article on how to create bootable USB Windows 10. Using this article you can also create bootable Pendrive of Windows 7, and Windows 8 also. If you face any problems then free to make us know through the comment section, Solution Exist will try to help you with how to create bootable USB Windows 10.
If you have any doubts then feel free to use the comment section and Solution Exist will help you to solve the problem. Join our Facebook Group Android And Windows Errors Solution and Follow or Facebook Page Solution Exist to be updated with Solution Exist awesome articles.