If you are struggling with slow windows then Solution Exist is providing you the slow windows solution. Lots of software are available over internet. You might had notice and experience that you PC/computer becomes slow by the time you. Solution Exist in previous tutorial posted how to speed up computer performance.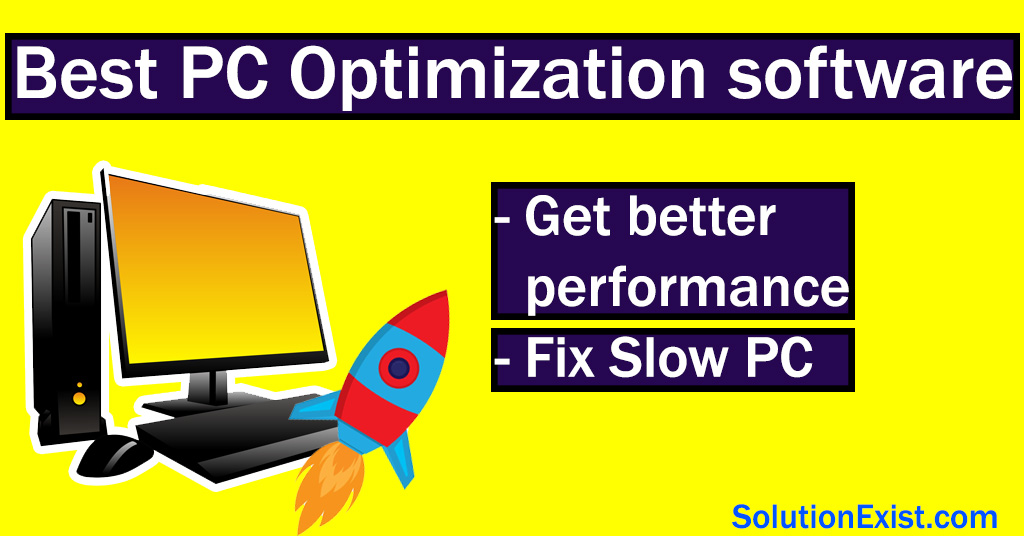 There are various reasons why computer running slow and in this post we will explore every segment to make windows fast with tested Best free PC optimization software. Solution Exist had covered How to speed up Chrome on Android Phones but how can I forget to share how to improve PC performance.
What is making my computer slow? Reasons for slow PC ?
Lots of factors are responsible for slow computer performance but broadly they can be divided into Hardware problems and other is Software optimization.
If you are having old hardware like Low ram then this can't be fix other than updating your pc hardware. You can try How To Use PenDrive As Ram in Windows 10, 8 & 7.
Software related problem can also cause low PC performance. As you use PC some software runs in background which are useless to u, the some under startup programs. If lots of software runs on startup they will cause a bad effect on the computer performance and also temporary files that generates needs to be clean else you will face slow PC performance.
If you are having updated hardware and still your PC is running slow then this can be fixed. This post will show you PC tune-up software that will fix slow windows. Recently some Solutions exist readers ask How to fix Windows 10 Slow performance. So I decided to post this post how to make windows fast and with respect to that we are posting some PC optimization software that will boost PC performance and these will work on all windows.
Picked – Best free PC optimization software – The Best PC Tune-up Software Available
CClearner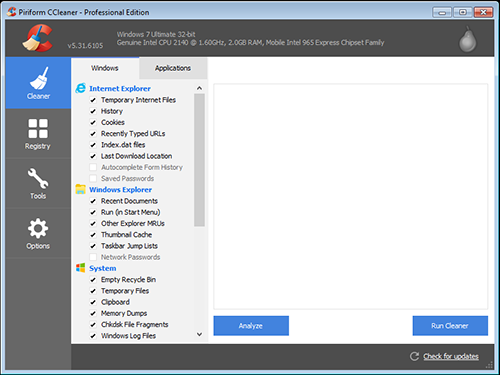 CCleaner is a system optimization, privacy and cleaning tool. It removes unused files from your system – allowing Windows to run faster and freeing up valuable hard disk space. It also cleans traces of your online activities such as your Internet history. Additionally it contains a fully featured registry cleaner. But the best part is that it's fast (normally taking less than a second to run) and contains NO Spyware or Adware!
There's a CClearner paid version is also available which had some additional features like real time protection and cleanup scheduling, free edition of CCleaner includes the important features such as removing temporary files, getting rid of browser caches, removing unwanted cookies while keeping the useful ones. You can purchase CClearner Pro version for 1,739.45 INR. Free version is also good if you don't want to pay for paid version.
Download CClearner free version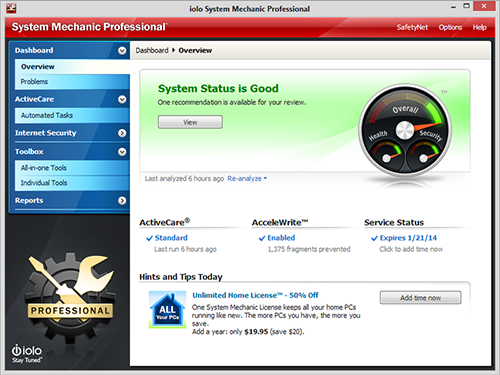 This Iolo system Mechanics comes 2nd in out list of best PC optimization software. This software Iolo System mechanics offers various tolls to speedup PC. Some key features are Boosts PC speed, Removes bloatware, Unleashes Internet speed, Repairs problems, Protects privacy and security and Cleans out useless clutter.
Unlike CClearner Iolo system Mechanic offers both free and paid version. Paid version includes some additional features like Blocks malware, Recovers lost data, Removes bloatware, Repairs problems. You can purchase Iolo System Mechanics for just 39.96$. If you want to try pro version before purchase you can download trial version of Iolo system Mechanics
Download Iolo System Mechanic Free verion
Download Iolo system Mechanics Paid version
AVG Pc tuneup
AVG Pc tuneup the plus point of AVG PC tuneup is it is also available for Mac. AVG TuneUp – Unlimited Speed up, clean up & fix all your devices. Why all device because it is available for Windows Mac and android also. AVG PC Tuneup offers various features like Fix windows crash, Updated outdated softwares, free up disk space. AVG TuneUp comes with a complete reboot of its patented 'Programs-On-Demand' technology. It puts draining programs into a smart Sleep Mode and reduces their impact on PC performance, battery life, network and storage to nearly zero.
Free version of AVG TuneUp is good and its paid version just cost 999 INR/ year which is a good deal.
Download AVG PC Tuneup Free version
Download AVG PC Tuneup Paid version
Download AVG PC Tuneup for Mac
Wrapping Up
These are some best free PC optimization software and an answer to the question How can I speed up my PC?. I have used CCleaner and I got splendid result computer and let me tell you it is the best software PC optimization software / The Best PC Tune-up Software that I had ever use. The free version of CClearner is enough if you are not willing to purchase the paid version. I totally recommend you install this software and make Pc fast. Hope you like our article on fix slow windows, If you have some suggestion let us know through comments section.