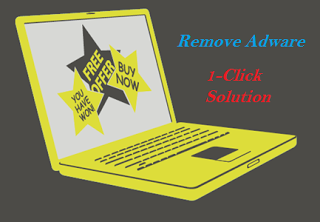 Is your internet browser is affected by adwares? then this post will help you to remove adware from computer. Frequently add-on get installed in you Firefox or Google chrome? the n you are right place. In this article Solutionexist will prove you 1-Click solution. We are here with a new adware removal tool that will remove all the adware and viruses in just one-click. This is the best adware removal tool that i had personally used to remove adware from computer. You can checkout tutorial on How to Remove Virus From Pendrive.
Why I am writing on remove adware solution?
Recently, I had install some software and in that process my computer infected with adware with adware. Because of these adware lots of unwanted software get installed in my computer. They started creating  restart of my PC Mozilla and chrome got uninstalled or some add-on get automatically installed that cause pop up ads and unexpected crash. So for fix this issue I search over internet and got this solution. The process that I will tell you in this post is personally tested by me.
Don't forget to read – Remove Adware From Chrome Browser
What is Adware Virus?
Adware are the software that get installed in your computer by the means of unauthorized software. If you download any cracked software, keygen or any software not from trusted website then there is a chances that they are clubbed with adware and spyware. As soon as you install those software adware get install in your computer and when you use chrome browser internet explorer and Mozilla Firefox and as you open any website you will get popup ads you may experience frequent pop-up ads and redirects to malicious domains and advertisement and your default search engine will also be changed.
Steps To Remove Adware from computer using free adware removal tool
Firstly download AdwClearner –  ADWCLEANER DOWNLOAD LINK
Install and run it in your computer.
Click on the Scan Button.
After that scan will run, Wait till is completes properly.
After that check all the folders and files shown in the scan result and click on the Clean button which is besides Scan button

[See the Screenshot given below for better understanding].

Done…!! Your computer will restart and

Boom

is problem solved.
Screenshot:-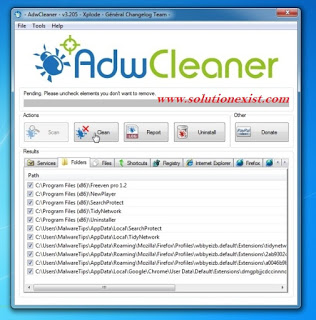 Wrapping Up
I personally use this software to remove adware from my computer. You can use this method to remove adware from windows 10, 8, & 7. and 1 thing I like to say this this the best adware removal tool because this doesn't require any signup and it is free adware removal tool. Hope you like this article and it proves to be the solid solution to you ads problem. If you had any problem related to laptop infected with virus you can read our archive section on Virus removal tutorials you will definitely get solution. If still problem is not solve then comment below I will personally analyze your problem and will help you to deal with it.