Speed Up Firefox: Lots of internet browsers are available over the internet we use based on our preference. Among various internet browsers, Mozilla firefox is one of those. In case you are wondering about the names of the internet browser then here are some, Google Chrome, Mozilla Firefox, Opera, Safari browser, and many more. If your internet is fast and still you are facing slow firefox or you are wondering why Mozilla firefox is slow then this tutorial is for you. Previously we had covered chrome slow on windows 10 where we had provided 10 methods to make chrome fast.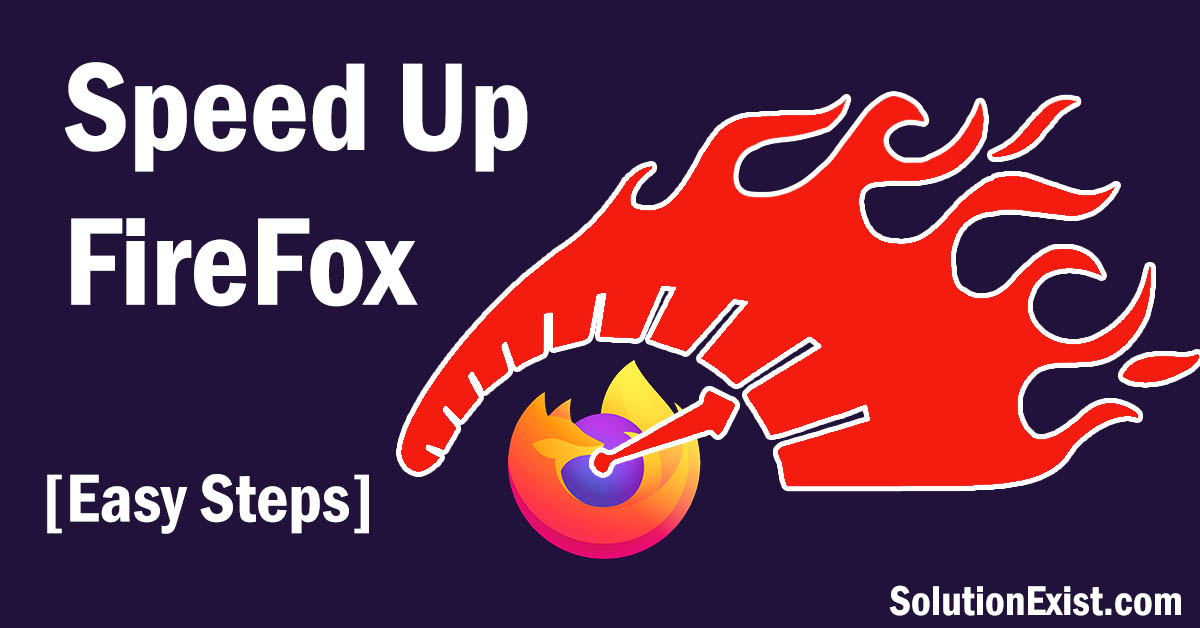 In this article, we will answer your question and fix if Is your Firefox working slow. Solution Exist will help you to Speed Up Firefox. If Mozilla opens in a lazy manner or took a long time to open and slows down your work than we have a different method and special tool for all of you which you will explore in this guide to, is a simple utility that compresses all the saved Firefox data hence making its speed a lot better.
Whenever you install Firefox it always opens faster but as the days passes its files with huge data which makes Firefox slow so here comes the role of speedyfox to compress the data and make your Firefox faster and smoother. So without wasting more time, let us jump into the tutorial on how to speed up firefox.
Steps To Speed Up Firefox – Methods to make Mozilla Firefox faster
Method 1 – Update firefox
Firefox developers are kept on updating their internet browsers to fix bugs and make the internet surfing experience better. It is recommended to keep on updating the Mozilla Firefox browser to get the latest features as well as get the bug free build. The latest version of Firefox is way faster than the older version so the first method to make firefox fast and also speed up Mozilla firefox downloads.
How do I update my version of Firefox?
Open the Mozilla Firefox internet browser and click the menu button in the top right corner.
Now Click the Help button placed at the end
Now select About Firefox and wait, the updating process of firefox will run automatically
Method 2 – Clear Cache and cookies
As you use Mozilla Firefox, supporting files like website cookies and caches as a part of data gets stored in your computer. Yes, these cookies and cache are useful for us to get the website loaded fast in the computer. Piling up of these cookies and cache can create issues if the amount of getting increase from cetain level. So to fix slow firefox you need to regularly clear cache in Firefox and delete cooking in firefox. Here is the way you can clear the cache in firefox.
Click the menu button and select Option
Select the Privacy & Security panel.
In the Cookies and Site Data section, click Clear Data
Remove the checkmark in front of Cookies and Site Data.
With Cached Web Content check marked, click the Clear button.
Close the page. Any changes you've made will automatically be saved.
Method 3 – Remove unnecessary addon to make mozilla faster
Firefox Addons are the extension which firefox user can install and add an additional feature to Mozilla firefox, these add-ons can be used to enhance user experience and one can apply themes in firefox. For better understanding, one can compare Firefox addons with google chrome extensions which can be installed in the Google chrome browser.
Have a glance to your Addons installed in your Firefox browser and incase you find addons not installed by you or incase you had installed but you don't use then remove addons from Firefox. Read the below steps to remove addons from firefox.
There is also a possibility that your computer has been attacked by adware and malware. In that case you can follow remove adwares from computer where we had share different methods to remove malware from the computer.
If you use google chrome on android then must check out speed up chrome android smartphone where we had share trick to boost chrome android speed.
Disabling extensions to fix firefox slowdown
Disabling an extension will turn it off without removing it.
Open Firefox browser and Click on the menu button and then click Add-ons and click on Extensions.
Here you will see all the extensions, installed in Firefox.
Toggle the blue button that you want to disable and the extension will be disabled
In this way, you can disable an extension in Mozilla.
To re-enable the extension, you can toggle back and turn the toggle button to blue.
Removing extensions – Increase Firefox Page Loading Speed
Open Firefox browser and Click on the menu button and then click Add-ons and click on Extensions.
Here you will see all the extensions, installed in Firefox.
Beside the toggle button, Click the (3-dot) icon and select remove and select Remove.
Method 4 – Enable Hardware Acceleration
Hardware acceleration is another feature that can speed up mozilla imediately. This option will enable firefox to take advantage of computer's GPU to load pages faster and also helps to play online videos more smoothly. Although it is enabled by default, you can crosscheck for assurance. Here are the steps to enable Hardware acceleration in Firefox.
Open Firefox and click on the menu button placed at the top-right corner.
Now click on the options
Select the General tab and scroll down to the performance section.
Uncheck the box for Use recommended performance settings
Check the box for Use hardware acceleration when available and you will see the option "Use hardware acceleration when available.
Check the box and leave the value as it is (Default value).
In this way, you can use computer GPU power to run Firefox and load webpages fast. Restart Mozilla firefox and check whether your firefox is fast or not.
Methods 5 – Disable Data Collection and Telemetry
FireFox collects data, Don't be scary this doesn't compromise your privacy and password instead Firefox continually collects anonymous data about how you use the browser. They send data to their servers to improve features in the browser. Although your data are safe but it slows down firefox. So it is recommended to disable data collection and telemetry in firefox.
Open Firefox and click on the menu button placed at the top-right corner.
Now click on the options
Select the privacy & security section and scroll down to the Firefox Data Collection and Use section.
Uncheck all boxes in this section. Save the setting and restart Firefox.
Methods 6 – use tweaking software to speed up firefox
We are going to introduce you to software by name speedyfox. This software basically tweak some of the setting of firefox which help to Increase Firefox Page Loading Speed in firefox with one click. This is one click method to boost the speed of mozilla firefox, all you need to do is install this software and click on the Speedup My firefox button. So without wasting more time, get right into this tutorial.
Features of SpeedyFox
Boosting Firefox startup speed upto 3 times.
Boosting Browsing Speed.
Quicker Operation with Cookies.
Download for Windows
Download For MAC
How to speed up mozilla firefox using SpeedyFox.
1. After Downloading SpeedyFox Run it.
2. You will a window like below just click on Speed Up My Firefox ! ( Remember Firefox should be close )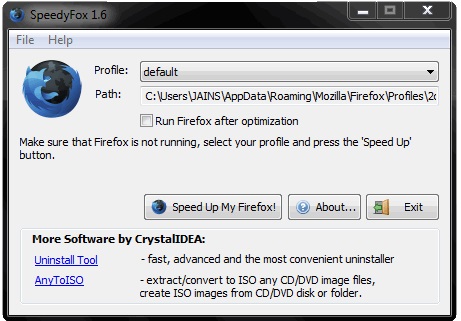 3. Now it will run its process and within sec it will complete and give you success message like below now just enjoy faster Firefox.
In this way, you can use this software and do tweak with just one click and make firefox faster.
Wrapping Up
These are the methods to speed up firefox and we are sure that by applying these methods, you will be able to fix slow firefox in windows as well as fix web pages loading slow firefox. If you use any othe webs browser then do check out speed up chrome on android phone. If you have any problem related to the article then feel free to use comment section, we will help you to fix slow firefox. You can follow us on Facebook page – Solution Exist and join our Facebook Group Android And Windows Errors Solution