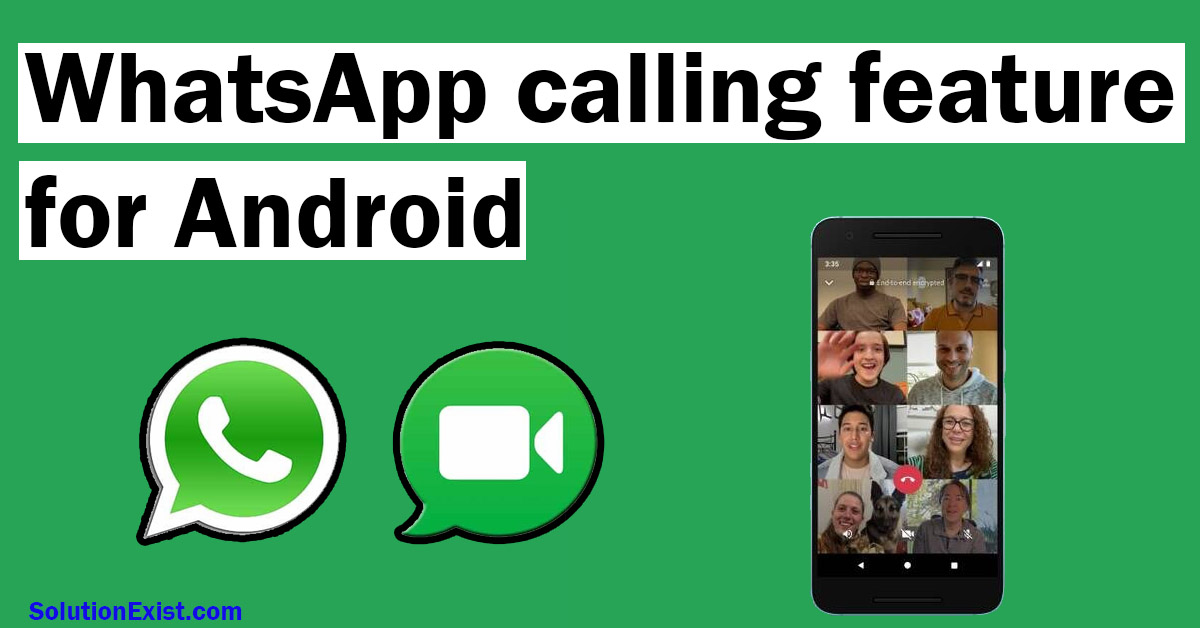 Recently WhatsApp has been rolling a new feature " Voice Calling". Somehow this feature shows a Shy Appearance. This feature meant to be come for everyone but as it is in testing section it need to be unlock. As you are in SolutionExist care you can unlock WhatsApp voice calling feature easily.
Whatsapp was working on the free calling feature from a longer time and now it had launched. After this feature, Whatsapp will compete with other apps i.e. Viber, Skype and many more. Let us see what improvement WhatsApp bring to make voice call more effective. Solution Exist had posted various Whatsapp tricks for android and iPhone users, if you are a whatsapp user and are curious to try tricks you need to check it definitely.
If youare interested in getting this whatsapp feature then this post is for you. This feature in on currently on invite basis which means if someone invites you for testing this feature, this feature will be enable for you.
SolutionExist has methods for everyone i.e For Rooted android and non Rooted android users. all you need to do is read this detailed tutorial and activated voice call feature in WhatsApp.
Method to Activate Call Feature in Whatsapp Without Root
Download the latest WhatsApp 2.11.531 and install the APK manually. Don't use play Store it is not having the latest apk Click Here To Download
Now after installing WhatsApp, you need the help of someone who already has the WhatsApp calling feature activated on his/her phone. That's because the calling functionality will be enabled only when you get a call from a WhatsApp user who has calling enabled. (It's not required to have his/her number saved, the person just needs your number to call you.)
Once you receive a call then WhatsApp calling will be automatically enabled for you. In WhatsApp, you will then see a new section for calls and also the dialer icon for calling your WhatsApp contacts.
You can see below how I make a call to one Solution Exist reader and hence make him to unlock this WhatsApp voice calling feature
Method To Activate Whatsapp Voice Call feature For Root Users
Firstly download any root browser ES File Explorer File Manager (Recommended )If you have already installed this application, go ahead. Open up ES File Explorer File Manager and enable "

Root Explorer

". To do so, just swipe from left to right, expand "Tools", scroll down and tap on Root Explorer's ON/OFF button.
Now, Go to to the following path.
Device >> data >> data >> com.whatsapp >> shared_prefs
In this location You will find com.whatsapp_preferences.xml file using the ES File Explorer File Manager app tap and open it
Tap on the menu button and select Edit.Go to the bottom and you can find the </map> tag in the last line. Just add the following lines before the </map>
<boolean name="call" value="true"/>
<string name="call_allowed">all</string>
Now, save your changes. To save, you can tap on back button and the save window will appear automatically. After that, open your stock Settings app,
Now from App setting do "

FORCE STOP

" to stop WhatsApp.
Then, open WhatsApp again. and there you go.!! You had successfully activated Whatsapp calling feature in your account.
Note:- Sometimes, this method to activate voice call in WhatsApp for nonroot doesn't work so it recommended using the Root Method. Till now this feature is limited to the Android Platform. But soon this feature will be rolled for IOS and Windows also.
FAQ (WhatsApp Voice Calling feature android and iphone)
Is WhatsApp voice calling is free?
All the service offered by whatsapp is completely free, all you need to have is active internet connection. You can do voice call on whatsapp and video call for free by using data connection or WiFi connection.
Do I get charged for international calls on WhatsApp?
No, you won't get charged for international call or domestics voice call on WhatsApp. WhatsApp services are totally free.
How can I use WhatsApp voice call on PC?
Yes, you can use WhatsApp call on PC and do that there are various methods to do so. Firstly you need to open WhatsApp on pc either by scanning QR code or using WhatsApp application on computer and after opening, you can select contact with whom you want to talk and click on call button.
Wrapping Up
This was the simple method to activate the Whatsapp Voice Call feature for rooted and non-rooted android users. We recommend you to use the method to activate the WhatsApp Voice Call feature in rooted android. if your device is not rooted then ask your friend for help. You can join the Whatsapp help group where we discuss problem realated to whatsapp and if you are facing problem realated to android or windows then join our Facebook Group Android And Windows Errors Solution