Word spell check not working Solution:- No-one is untouched with Microsoft office and special microsoft word. There are various microsoft product available over internet with different version and i am using Microsoft office 2013 previously, solutionexist had covered microsoft issue i.e Solve Office 13 Lagging/Hanging Problem We all use it either to prepare a report. either to type math equation (I was using for this purpose) and many others. Microsoft office not only gives you space to write but also provides you various features to enhance the writing experience. Among all features, the most used feature is spell check/spellcheck. This feature of MS office word helps you to correct spelling in your writing.
In case you had not used word spell check/ spell checker feature in Microsoft word, let me tell you how to use it. While typing, when you type incorrect spelling of any word, it will show Red color underline. This red color underline shows the word is misspelled. Right-click on that word and it will show you correct spelling. Click on the correct spelling and the spelling of the word will autocorrect.
There is various reasons why Microsoft word spell checks not working. Possible reasons for word spell check not working in MS office are listed below followed by methods to Fix Spell Check.
Proofing tools are missing or not installed.
Disabled EN-US Speller add-in.
"Do not check spelling or grammar" box is checked.
English language is not set as default.
The following subkey exists in the registry:
HKEY_CURRENT_USER\Software\Microsoft\Shared Tools\ProofingTools\1.0\Override\en-US
Repair office using office repair utility
There are numbers of factor that are responsible for your problem of word spell check not working, lets got with one by one and check in he order.
Method 1 – Uncheck "Do not check spelling or grammar" | Fix Spell Check
To check Language & Check Spelling Options follow the below steps
1. Open Microsoft Word or you can open any Word documents on your PC.
2. Select all the text by using the shortcut Windows key + A.
3. Click on the Review tab that is available at the top of the screen.
4. Now click on the Language under Review and then click on Set Proofing Language option.
5. Now in the dialog box that opens, make sure to select the correct Language.
6. Next, Uncheck the checkbox next to "Do not check spelling or grammar" and "Detect language automatically".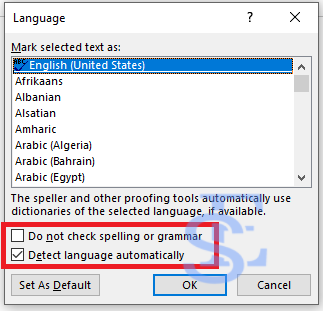 Done…!!! Now restart Microsoft office word and check word spell check is working.
---
Method 2: Check Your Proofing Exceptions | reset spell check in Word
There is feature in Microsoft Word using which you can add exceptions from all the proofing and spelling checks. This feature is utilized by users who do not wish to spell check their work while working with a custom language. Even so, if the above exceptions are added, then it can create problems and you may face Spell Check not working issue in Word.
1. Open Microsoft Word and from the Word menu, click on File then click on Options.
3. The Word Options dialog box will open up. Now click on Proofing.
4. Under Proofing option, scroll to the bottom to reach Exceptions for.
5. From the "Exceptions for" drop-down select All Documents.
6. Now uncheck the check-box next to "Hide spelling errors in this document only" and "Hide grammar errors in this document only".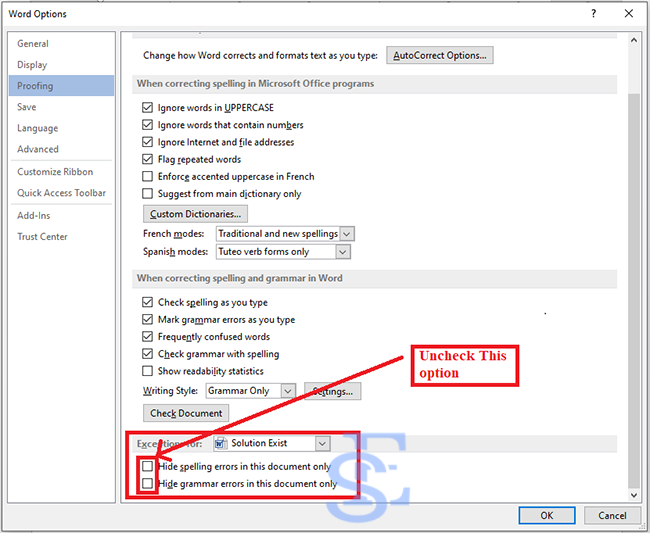 7. Done..!! click OK to save changes. and Restart Microsoft Word.
After your application is restarted, check you are able to fix Spell Checker not working in Word issue.
---
Method 3 : Rename the Proofing Tools Folder under Registry Editor
1. Open RUN by pressing start button and search RUN or by pressing Windows Key + R and type regedit to open Registry.
2. Click Yes button on the following button dialog box and the Registry Editor window will open.
3. Now navigate to the path HKEY_CURRENT_USER\Software\Microsoft\Shared Tools\Proofing Tools
4. Under Proofing Tools, you will find 1.0 folder. Rename it by right-click on the 1.0 folder from 1.0 to 1PRV.0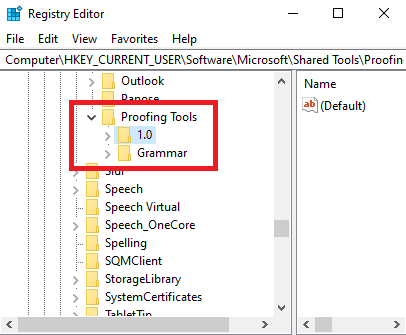 5. Now close the Registry and restart your PC to save changes.
After completing the above steps, check your word spelling check is working.
---
Method 4: Rename Your Word Template
Another possibility the your word spell is not working and word document not showing spelling errors is Global template either the normal.dot or normal.dotm is corrupted and result in Word Spell Check not working issue. Global template is located in the Microsoft Templates folder which is under the AppData folder. To fix this issue one needs to rename the Word Global template file and reset Microsoft Word to the default settings. Follow below steps to reset microsoft word to default setting.
Open Run in your PC. Either by going into start and type RUN or Press Windows Key + R
After opening RUN, type the following press Enter:
%appdata%\Microsoft\Templates
3.This will open the Microsoft Word Templates folder, Here find you can see the normal or normal.dot or normal.dotm file and after that Right-click and Rename it file name from Normal.dotm to Normal_old.dotm.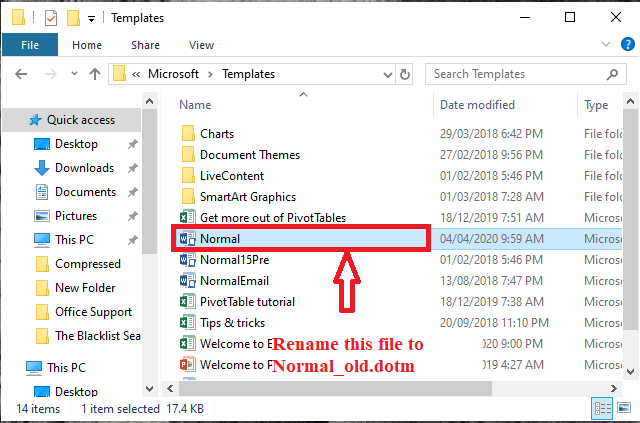 The word template will be renamed and Word settings will be reset to default. Now restart your computer and spell check in word is working.
Method 5 – Repair office application | word spell check not working Solution
Sometimes its not you, software updates may be messed up with the ms installation files. To fix that you need to repair office installation. Most of the time is a registry error and should be fixed with method 3 but in case you are not lucky enough we need to use Office Repair utility to repair word. 
Firstly open start and search for the control panel. In windows 10, you can press win + X to open the menu and open the control panel.
Now search for programs and features and open it.
Now search for Microsoft office 2016 or Microsoft Office 365 whichever is installed and select it by clicking on it.
Now click on change button and the menu will be open. Select repair and then click on continue.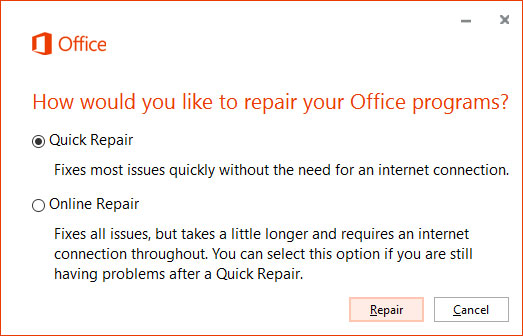 5. The software will be repaired automatically.
Now reboot your system and check where you problem is fixed or not. These were the methods to fix spell check not working in Microsoft office 365 or office 2016.
Wrapping Up
Hope you like our tutorial on word spell check not working solution. These were the methods of Microsoft Word Spell Checker Not Working solution. If you are still struggling with why is spell check not working in word then feel free to use the comment section. In Meantime you can check Windows guide where we had posted windows troubleshooting articles. If you had some other problem then you can ask us on our Facebook page – Android And Windows Errors Solution.