Hello, Solution Exist readers, After a long time, we are posting a WhatsApp trick or an article on how to Set blank WhatsApp status (now it is changed to about). This empty WhatsApp status trick is on of the popular tricks for which peoples keep on searching.
Officially there is no option exist to keep about empty in whatsapp and the application doesn't allow users to keep their WhatsApp status blank. But as our name suggests we are providing you the solution to have empty status. In case you are not a solutionexist a regular reader.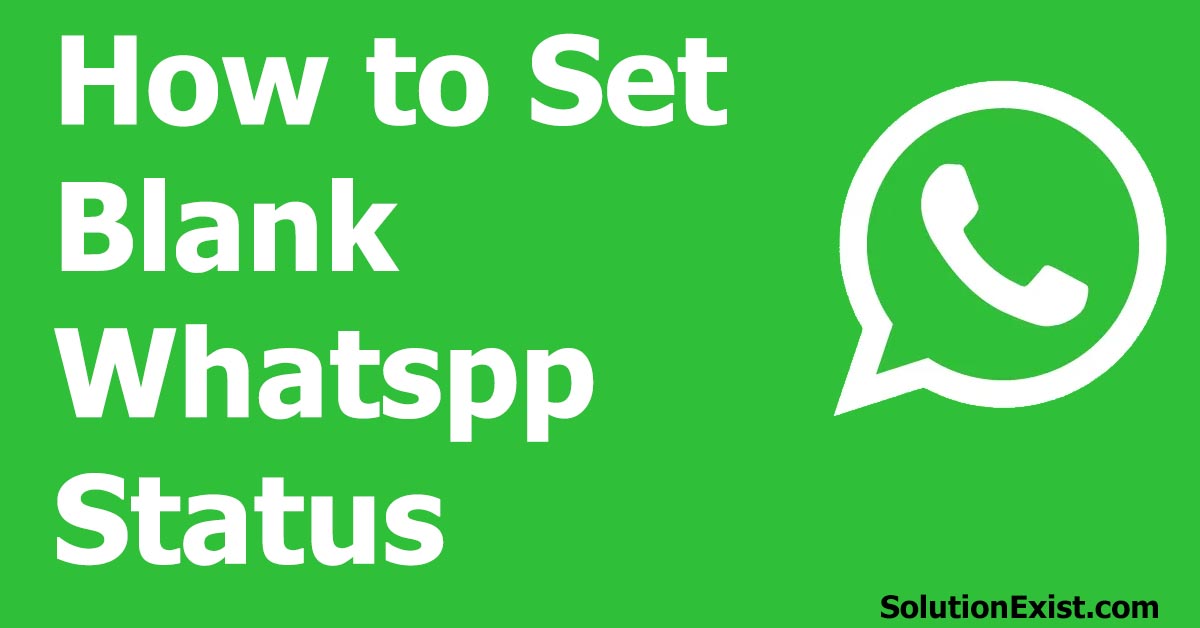 Many tricks for no status on WhatsApp are available but now they are not working, so Solutionexist in today's post working WhatsApp trick to set blank WhatsApp status. Read:- WhatsApp secret chatting. Now without wasting more time, let's dive into the tutorial
There are a couple of whatsapp tricks that includes whatsapp symbol to have no status on WhatsApp. Both methods works on android and iOs devices.
Remove WhatsApp about (Formerly known as WhatsApp status)
Use Unsupported Characters/Emoji to have no status on WhatsApp [Recommended]
Blank Whatsapp status for Android and iPhone – Delete WhatsApp status
Method 1 – Remove WhatsApp about
In this method, we instead of hiding, we remove about section which will reflect as no Whatsapp status. To remove WhatsApp about, follow the below-listed steps.
Firstly Open WhatsApp and go to Settings.
Under Settings tap on Account.
Now , go to Privacy and tap on About.
Now, select Nobody.
This will tweak WhatsApp privacy settings and the visibility of WhatsApp about will be set to nobody which will ultimately remove WhatsApp about section and help you to achieve empty status on whatsapp.
Method 2 – Use Unsupported Characters – Invisible character
The answer to the question How do I set no status on WhatsApp? is by using another method that is using invisible character.
Steps to set Blank WhatsApp Status in Android phone
1. Firstly you have to Copy Two Symbols that are given below
Symbol:- ⇨ ຸ
2. Now next step is to, Go to WhatsApp click on three-dot menu icon.
3. Now tap on Profile Name and then Tap on 'About' Status and click on edit.
4. Delete currently set about and Paste those Copied Symbol in the status (copied from 1st step).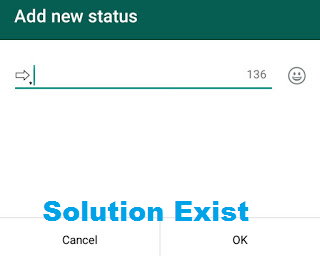 5. Now Remove The Arrow Sign(➡) From Copied Symbol. so you are now only left with second symbol
6. Now Hit The Ok Button and see the magic. You had successfully completed the step. Check your status from your friends WhatsApp.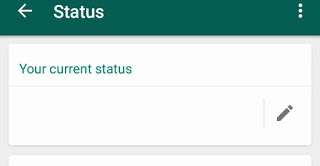 Note:- You have to Copy and paste Both Symbol then Remove First One. Don't Copy only the Second Symbol else It Will Not Work For empty WhatsApp status trick.
For better understanding or in case you don't like the text to read, we had a video tutorial posted on solution exist youtube channel which will guide you through the process.
Video tutorial on Empty whatsapp status | Whatsapp blank status
Blank stories on WhatsApp
If you are the person who is in search of how to post blank WhatsApp stories then here is the tutorial for you. Now you can even post blank stories of WhatsApp. If you had noticed that when you open WhatsApp to post WhatsApp stories, you have to post any picture or have to write anything in order to post that story. Without entering any character, you can't post stories on WhatsApp.
Today we are going through the method that will help you to do so, all the steps are listed below and we also have a video tutorial on the same.
Step 1 : Firstly open the No-word app and install it on your android phone for Google play store.
Step 2 : Now open the app and keep all the setting as it is, click on the copy button. This will copy the WhatsApp invisible text or in other words empty text.
Step 3 : Now open WhatsApp and move to the status section
Step 4 : Tap on the edit icon to open post stories option and you can see a cursor blinking. Tap and paste the copied WhatsApp invisible text.
Step 5 : Now you can see the send buttons appear to post WhatsApp stories. Hit the send button and you had successfully posted blank stories on WhatsApp.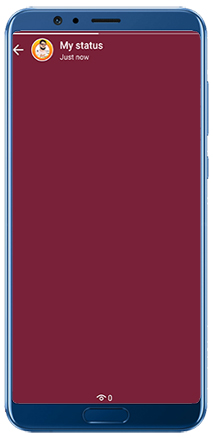 Blank WhatsApp stories Video tutorial
How to keep about empty in whatsapp | no status on whatsapp
1. How to set Blank status on WhatsApp iPhone
Ans – There is a method available that can help you to set blank status on iPhone i.e. using an empty WhatsApp character. You can use this empty WhatsApp character to set empty Whatsapp status.
2. What does no status mean on WhatsApp?
Ans – No status on WhatsApp means to set a blank status on WhatsApp. You can use Invisible Character which will not be read as a text on WhatsApp status.
3. How to keep WhatsApp about empty
Ans – The About section of WhatsApp is where you post your status. You can edit the about section visibility and set it to nobody to hide about section on WhatsApp.
4. What is empty status in Whatsapp
Ans – Whatsapp allows you to put status in about section. If you want to put blank about in whatsapp then you need to use empty character.
5. How to remove bio on Whatsapp?
Ans – You can use the Invisible character for WhatsApp in the WhatsApp about section to remove bio or we can change the About audience setting to "Nobody." from the WhatsApp setting.
Wrapping Up
This was the tutorial on remove WhatsApp status and how to set blank WhatsApp status in your Android phone to make yourself invisible on WhatsApp. If you had any problem in following the steps for WhatsApp blank WhatsApp status then feel free to use the comment section. You can also read whatsapp tricks for android and iphone collection. If you find this cool must share this post with your friends. Your hit on the share button will also appreciate our work.