Google Chrome users encounter various errors and among those, ERR_NETWORK_CHANGED error is one of them. Several google chrome users face errors while accessing web pages There are various reasons for your connection was interrupted error.
Solution Exist had covered various google chrome errors such as Google chrome dns_probe_finished_no_internet and your connection is not private chrome errors and today we are talking about other error i.e. net::err_network_changed.
Internet users had faced this error while opening websites like Google, Gmail, Facebook and etc as Unable to access the network or your connection was interrupted error, A network changed was detected or Check your internet connection this basically popped up while Google chrome failed to load the requested web page.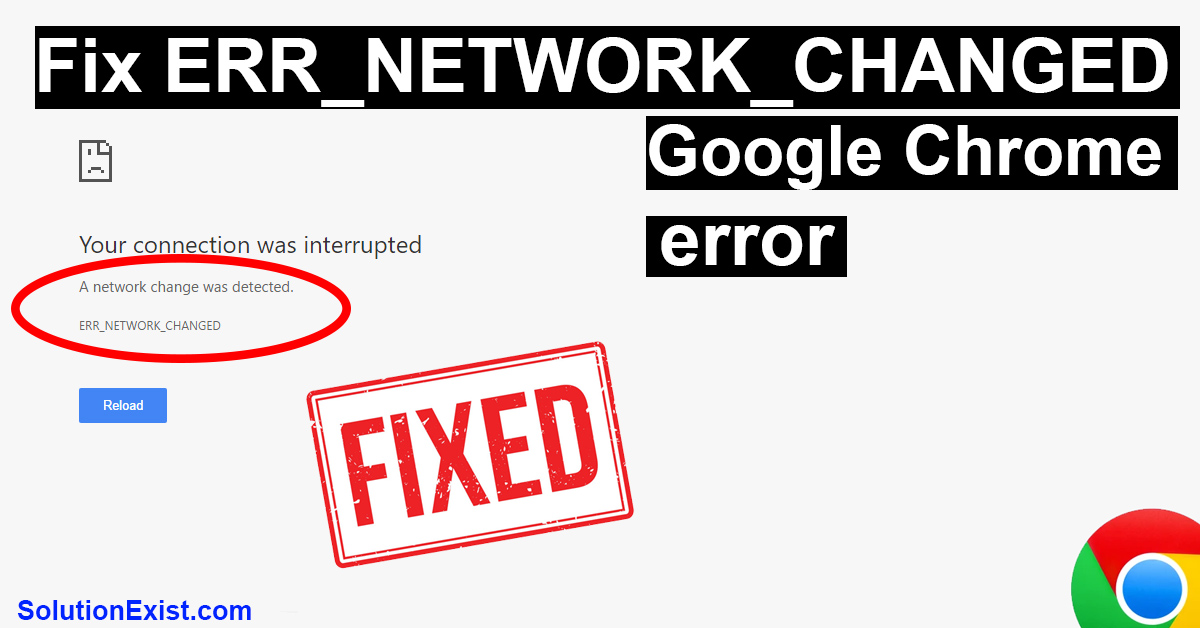 Prior to get into the solution, we recommend you to create a system restore point as you might mess up with some system files while fixing this error.
What is ERR_NETWORK_CHANGED error in Chrome
As the error name suggests, ERR_NETWORK_CHANGED popped up which denies you access to the webpage. Chrome users encounter this error when it detects a change in the IP address. If you are using wifi and suddenly switch it to mobile data, the IP address will change and this results in a google chrome network error.
ERR_NETWORK_CHANGED error in Chrome Solution
There various reasons for encountering the google chrome error so it is not possible to provide one-step solution to fix this error. Here in this post, we will walk through every possibility of getting the error and will try to fix it one by one. Now let's start with the procedure and ways to fix error 21 net.
Solution 1 – Restart Router or modem
This the basic step to fix ERR_NETWORK_CHANGED error, during the long run and due to some technical issues, your internet connection through error. In that case, you need to check by restarting your modem.
Turn of the power supply to the modem and then switch on
In this way you can restart your modem
Now try if you still face chrome error Unable to access the network. If an error still remains, follow the other solution.
Solution 2 – Disable VPN and/or Proxy servers
Software related to the network sometimes causes this error in google chrome. In that case, if you are using VPN or proxy servers then there are high chances that this softwares are responsible for the network error in google chrome.
VPN and proxy software change IP address of the network and helps you to access restricted content and website. Sometimes this change in IP address results in chrome A network changed was detected an error.
To fix this error, you need to uninstall these installed software, you can use software like Revo Uninstaller pro for the complete removal of software.
Solution 3 – Clear cache in Google Chrome to fix net::err_network_changed
Browsing data in google chrome if not clear on the regular interval also causes errors in google chrome and among those, ERR_NETWORK_CHANGED can be one of them. So to fix that issue, you can perform a clear cache in chrome and check if your issue is fixed or not.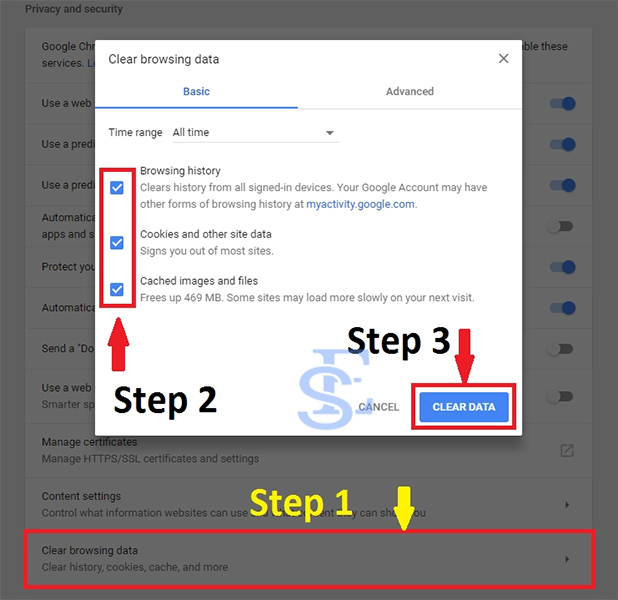 We had created a detailed tutorial on how to automatically clear cache on chrome on exit.
Solution 4 – Flush the DNS Cache
Outdated DNS cache also results in network error while surfing the internet. IT is recommended to flus DNS cache on a regular interval. Here is how to flush the DNS on Windows 10
Step 1 – Press the Windows key + X. This will open up the power user menu.
Step 2 –Click on Command Prompt (Admin).
Step 3 –Type the following command and hit enter.
ipconfig/flushdns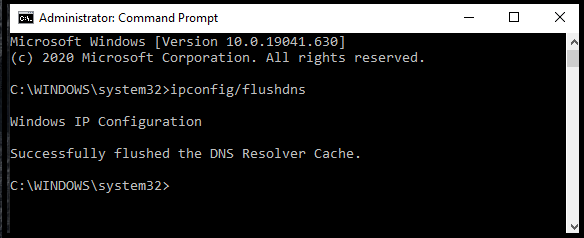 Step 3 –Restart your PC and try loading the website in Google chrome.
This was the procedure to flush DNS in google chrome.
Solution 5 – Try not to switch from Data to Wifi
While browsing the internet on Google chrome and in between you switch your active connection from mobile data to wifi then you will see this chrome error ERR_NETWORK_CHANGED. This is because your connection was interrupted and you encounter your connection was interrupted err_network_changed.
Solution 6 – Re-Enable the network adapters
Misconfiguration in-network may also be the reason behind your connection was interrupted chrome error. In this case, you need to disable network adapter and re-enable it. Here are the steps to follow
Network adapters can sometimes be the cause of the ERR_NETWORK_CHANGED error on a PC running Windows. Generally, this problem does not occur on a Mac.
Steps to fix network adapter issue
Click on the Start button, enter the text Device Manager. and open it.
Scroll down and click on the Network Adapters option.
Rigth click the adapter you are currently using. (Here you can optionally scan for any hardware issues.)
Disable and then Re-enable the network adapter.
Restart your PC and try loading the webpage in Google chrome.
Check if A network changed was detected error is fixed or not, if not the follow the other below step.
Solution 7 – Reset TCP/IP in Windows 10
This is another way to fix the chrome network error i.e by resetting TCP/IP to default in windows. Here are the steps to describe in detail.
Step 1 – Press the start button and search for CMD, right-click on it, and select run as admin. You can also press Windows key + X. to open the power user menu and click on the command Command Prompt (Admin).
Step 2 – Now you need to enter commands described below one by one and press enter
ipconfig/release
ipconfig/flushdns
ipconfig/renew
Step 3 – Now close the command prompt and again follow the same procedure to open CMD.
Step 4 – Now run the below commands one by one.
ipconfig/flushdns
nbtstat – r
netsh int ip reset
netsh winsock reset
Step 5 –Now close cmd and restart your computer.
Check if your problem is fixed or not, if not then move the following solution.
Solution 8 – Uncheck Proxy server option
It has been noticed that proxy server options are also the reason behind unable to access the network error in chrome. To fix that we need to disable proxy server. Steps to uncheck the proxy server option is described below.
1. Click on the Start button and search for inetcpl.cpl and open it (Works on Windows 10). If you are using anything other than windows 10 then open RUN command by pressing and type inetcpl.cpl and hit enter.
2. In the dialogue box opened, click on the Connections tab and then click on the LAN setting.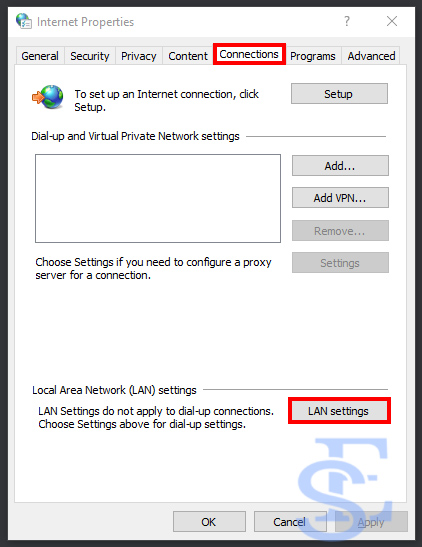 3. Check "Automatically detect settings" is checked or not, if not then check it and then Uncheck Use a Proxy Server for your LAN.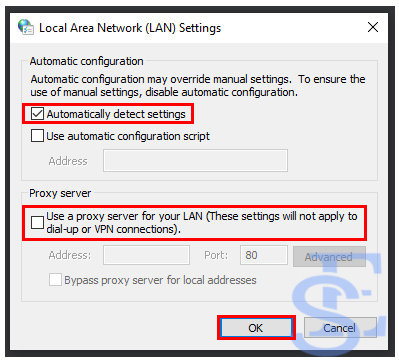 4. Now click on OK and restart your computer.
Now check by reloading the webpage and see if Your connection was interrupted error is fixed or not.
Solution 8 – Use system restore
If none of the above solutions works then you need to use this method of restore windows to the previous dates. If you had enabled system backup then you can use that system backup and restore in but the only thing in this situation required as you had enable system backup earlier.
Solution 9 – Contact your Internet Service Provider (ISP)
You are here means above ways to fix chrome error is not working. Not every time it's you, sometimes misconfiguration with your ISP also cause this error. in that case, you need to contact with your ISP provider regarding the ERR_NETWORK_CHANGED error.
FAQ (your connection was interrupted a network change was detected)
How do I fix Err_network_changed?
This error occurred when you switch your network i.e. mobile data to wifi or vise-versa. The simplest solution to fix the Err_network_changed error is to restart your modem or router and check. If you are facing this error on mobile then you can put your phone to airplane mode for few seconds and then disable airplane mode and check it.
Why is my Internet connection being interrupted?
If you are using VPN or proxy servers to surf the internet then you might face internet connection interruption. While surfing the internet, if you switch the mode of the internet from wifi to mobile data, then also you can face the same error.
Wrapping Up
These were the ways to fix ERR_NETWORK_CHANGED error in Google chrome or A network changed was detected. If you have any problem following the step then feel free to contact us, we will help you to fix it. If you have tried any other way to fix then do share it with us in the comment section. We had covered a various tutorials on Google chrome such as chrome slow on windows 10. You can follow un on Facebook i.e. Solution Exist and join our Facebook group Android And Windows Errors Solution