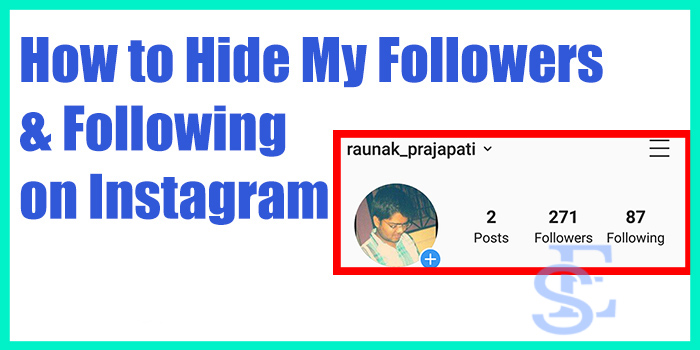 Hide My Followers and Following list on Instagram– In today's era, we all love privacy although it does not exist. Not everyone like to show following list to other on instagram Every instagram user is in the race on how to increase instagram followers.  Initially, you IG account is set to public which means that anyone can see your Instagram followers and to whom you follow on instagram. If you don't like that anyone can see my follower and following list on instagram then this tutorial is for you. Solution Exist had posted various Instagram trick like How to create instagram stickers for instagram stories. Now prior to get into the steps, let's find out the answer to the question is it possible to hide followers on instagram?
Can i hide my followers on instagram?
This is not option provided by official instagram to hide following list on instagram from the instagram user but we are come up with some solution which will help you with your question how to hide my following list on instagram from followers. So without wasting more time, lets go through the solution to control you
Two methods to hide following list on instagram
How to hide my following list on instagram from followers – 
Method 1 – Limit visibility of Instagram account
Method 2 – Completely hide Instagram account details
Steps to How to Hide My Followers & Following on Instagram
Method 1 – This methods includes steps which can give you control over visibility.
Firstly click on the profile button places the the right side end.
Click on three horizontal dots located in the upper-right corner of  screen.
Tap on Gear button / Setting button.


Now tap on Privacy option.
Now connection section, tap on account privacy and toggle to make your instagram account private.

Note – Instagram business account can't be private. In that case you need to change your business account to personal account.
Now only your instagram followers will be able to access the list of your Followers & Following on Instagram. I know this methods is not a complete solution but this can limit all users to have a access to your following and follower list on instagram. But If case you someone is already following you before you make account 'Private' Then follow method 2.
Have a look to Read Instagram message without notifying them
---
Method – 2 Block user on Instagram – hide mutual followers on instagram
As described above, On instagram, you can limit your visibility and in that case, yout instagram follower list and instagram following list can be access by approved followers. In case you wish to hide followers and following list from any specific instagram user then you had to block user on instagram.
How to block a user on instagram
Search that instagram user to whom you want to block on instagram and open user's profile.
Tap the three horizontal dots located in the upper-right corner of  screen
Menu will popup, Select 'Block'
Tap 'OK' on the confirmation message.
Done. You has successfully block user on instagram. Blocked user will not be able to see follower and following list of the user who had blocked him/her. If you wish to unblock that user the follow below tutorial.
How to see blocked users on instagram and unblock user on instagram
Open Instagram app in your smartphone.
Now go to profile by clicking on the icon placed at the right end.
Click on horizontal three line icon and then tap on setting (gear) button.
No go to privacy and then under connection, you can find blocked users.
Tap on block users to see your blocked users on instagram.
As there in no dedicated option is available to hide followers we had to block that user.
Wrapping Up
Hope you like this tutorial on how to hide my following list on instagram from followers. If you had problems in following the list then feel free to use comment section, solution exist will help you with that. In Meantime you can read Whatsapp tricks and tips. Don't forget to check Windows guide where we had posted windows troubleshooting articles. If you had some other problem than you can asked us on our Facebook page – Android And Windows Errors Solution.