Set background image in Google Keyboard – Yes, photos are everywhere, photos are on Instagram, Facebook, Mobile wallpaper, and even on Whatsapp chat screen. Yes, we love clicking photos and posting them on social networks whether in form of Instagram stories, Snapchat stories or WhatsApp status.
Photos had cover a special place at every social platform. Today in this post solution exist will introduce you to a another place where your favorite photo can take place and that is put Picture on Android Keyboard.
Today in this post solution Exist will show you How to download keyboard background and put picture on android keyboard / How do I change the background on my Android keyboard?. So without wasting more time start following the below tutorial.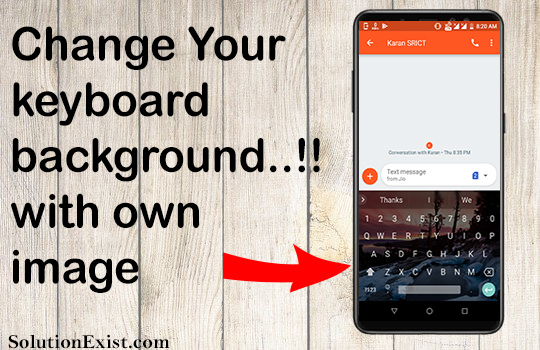 Steps to Put Picture On Android keyboard – Set Wallpaper On keyboard Android
Step 1 – Firstly install Gboard keyboard install in an android phone.
Step 2 – Now open setting in android phone and navigate to Languages and input
I have Zenfone Max M1 Pro and in this Mobile to open Languages and input I need to navigate to Setting>>System>> Languages and input.
Step 3 –Now tap on the virtual keyboard and then Theme. Here you will see various options.
My Theme – You can select any image to set as keyboard backgrounds that you had clicked or downloaded from the Internet.
Colors – You can select a solid color for android keyboards. Especially if you like a dark theme then select a black color.
Landscape- You will find some landscape images offered by Gboard. With those, you can download keyboard backgrounds and put picture on Android keyboard.
If you want to use solid colors as a background you can select Color.
If you want to set Now tap on My Theme. Your Phone gallery will open, select the image that you want to set, and click on Next.
Step 4 – Adjust the brightness of the image as per your preference and tap on Done.
Step 5 – Boom..!! You had successfully put picture on android keyboard
---
If you don't like to read all the steps or in case you prefer video tutorial more than the text then we had created a video tutorial on the same.
How To Set Wallpaper on Android keyboard
– 
set background image in Google Keyboard
Wrapping Up
This was the tutorial on How to Put Picture on Android Keyboard by using this tutorial you will be able to set wallpaper on Android keyboard. If you faced any issue in following steps to change background in android keyboard / set background image in Google Keyboard then feel free to use the comment section, Solution exist will help you to deal it with. In meantime, you can read Best Apps to Secure Android Phone Join our Facebook Group Android And Windows Errors Solution and Follow or Facebook Page Solution Exist to be updated with Solution Exist awesome articles.