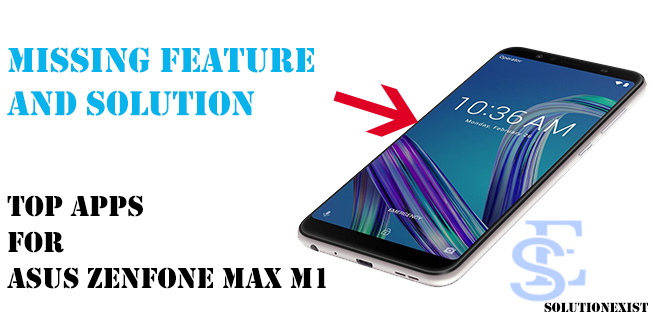 Asus had literally made a come back by launching Asus Zenfone max pro M1 at a very aggressive price. Asus zenfone max pro M1 comes in 3 variant i.e. 3 GB ram, 4 GB ram and 6 Gb ram. The biggest unique selling point (USP) of Asus zenfone max pro M1 is this comes with stock android and big battery.
Asus zenfone max pro M1 comes with stock android which is, bloatware free android experience. This means you don't have crappy apps and no bloatware installed in android phone. Almost all the phone comes with there own launchers. These launchers are although heavy but loaded with tons of builtin software and features that will help you to do stuff like, lock apps installed in android phone, take long screenshots, turn on screen with notification. This is not the sad point that Asus Zenfone max pro M1 is lacking behind because of missing features. Not to worry, Solution exist in this post will shows recommended apps for Asus Zenfone Max pro M1 to get missing features. The apps which are listed in this post are personally tested by me so without worry you can install these apps in Apps For Asus Zenfone Max M1. So without wasting more time check the post. Don't Forget to check – Mi A2 Lauched in India – Reasons not to Buy Xiomi MI A2
Apps for Asus Zenfone Max Pro M1 – Missing Feature in Asus Zenfone Max Pro M1 Solution
1. How to use dual whatsapp and other apps in Asus Zenfone Max pro M1:
Nowadays almost every user is using more dual sim in phone and dual sims comes with dual number which are meant for specific  section of people. Unlike Xiaomi phone you can you are the person who want to use dual whatsapp the here is the painless way to use two whatsapp in one android phone. This is the best way to use multiple whatsapp in android phone. This method is restricted to use only two whatsapp in one android phone.
If you want to use dual Facebook account, dual twitter account or dual Hike account then for that also Solution Exist will help you that. There is app on Playstore by name Parallel Space. This Parallel app will help you to  and run multiple accounts of the same app simultaneously and  It also protects user privacy by making apps invisible on device with the Incognito Installation feature.
2. How to lock apps in Asus zenfone max pro M1:
As Asus Zenfone Max pro M1 comes with Stock Android which mean you will not this phone will be free from the bloatware. If you are hearing this "Bloatware" for the first time then let me explain you what   bloatware means. Bloatware are the apps that comes Pre-installed in mobile. As this doesn't comes with fancy system UI like MIUI or Asus ZenUI launcher , you will not get some features. This is not a sad point because you can install third party apps which can serve you the same purpose. Like Asus zenfone comes with stock android you will not see built in option to lock apps in android phone. For that purpose you need to install a app name AppLock.
I personally use AppLock in Asus Zenfone max pro M1 and I recommend you to too. I ha tried other lock application also then are less secure. – Check out Best App to secure android phones. If you try to uninstall other apps they will get uninstall and the app which you had locked with those app will be unlocked but in case of AppLock you can uninstall this app without entering password hence you need to enter the password to uninstall this app hence this will make you mobile apps more secure
Download Applock – Google Play Store
3. Dynamic Notification:
Another missing feature is turn on mobile screen with incoming notification. You must had seen this in Oneplus devices that when notification arrives, phone screen light up. You will find this feature missing, in Asus zenefone max pro M1,  screen will not lit up with notification. You will just get notification light turn on but not the screen. To get this feature you need to install Dynamic notification app from the play store.
Dynamic Notification app comes with Free and Paid version. I recommend you to use free version and if you find this app useful then go for Pro version
4. Call Recording – Automatic Call Recorder Pro:
This call recording feature the biggest feature which is missing in Asus Zenfone Max pro M1. Nowadays it is very important to have this feature enable. If you search over playstore "Best Call recording app" you will get numbers of apps. The only problem with most of the apps are the they gives you limited calls to record but with this app you can record unlimited call including incoming and outgoing calls. Automatic Call recording comes in both free and paid version . In free version you will get ads and In the Pro version only: You can set calls from particular contacts to be automatically saved, and they will be saved in the cloud.
Download Automatic Call Recorder From Play Store
5. Internet Speed Meter –
Internet speed meter is a good app that will help you to monitor the internet speed. To get this feature in Asus Zenfone max pro M1  then we have a app for you. This app not only show internet speed but also shows the data usage throughout the day and months and will provide you almost accurate internet speed. to get internet speed monitor app download Internet speed meter. – If you are using Google chrome in android phone then must see – How to speed up Chrome for Android Smartphone
6. Long Screen Shot : Long Shot
If you want to take a screen shot that is not coming in one frame than this feature will fill the gap. Now you don't need to take multiple screenshot for one complete page. One of the solution exist follower and asked me how to take long screenshot in android so this is the answer for the question. This feature is available in redmi note 5 pro built in but to get this feature in Asus Zenfone max pro M1 you need to install Long shot app.
Download Long Shot From Play Store
7. Timelaps and manual mode – Best camera app for Asus zenfone max pro m1
Asus zenfone max pro M1 comes with snapdragon camera app which is lacking behind in terms of providing features. To get full control over the camera and to use manual mode in Asus zenfone max pro M1 you can try this camera app for asus zenfone max pro M1 i.e Bacon Camera app. I personally used this app to create time lapse and also some photography and this app is giving decent performance.

Download Bacon Camera from Playstore
Wrapping Up
Hope you like this post on missing features in Asus Zenfone Max pro M1 and to get those feature Top useful apps for Asus Zenfone Max pro M1. The apps shows in the post are personally tested by me and these app are best in performance. The app that I really want you to install is AppLock which will help you to lock apps in Asus zenfone max pro M1 and secure android device. If you have some apps that are useful in Asus Zenfone Max pro M1 then comment down below, we will try to include in our post and also share you experience using apps. Join our Facebook Group Android And Windows Errors Solution and Follow or Facebook Page Solution Exist to be updated with Solution Exist awesome articles.