Is your WhatsApp account is banned? Yes, then this tutorial is for you. it is frustrating as you can't message to contact and can't reply. Well not to worry, as we are here with a detailed guide on Unbanned WhatsApp numbers quickly and easily.
This detailed guide is answer to the question i.e. How can I recover my banned WhatsApp number? and How to Fix this account is not allowed to use WhatsApp due to spam Problem. So don't waste time downloading any apps that claim to unban your number and start following the tutorial.
Encountering an error while opening the app i.e. your WhatsApp number is temporary ban must had troubled you. At this moment, you might be thinking what's wrong.
Recently in one of the Facebook group, many users reported WhatsApp accounts temporary ban and on the same day, my WhatsApp account got banned.
In this post, we will discuss the reasons and how to unbanned WhatsApp number. Before we jump to the solution, let us understand the type of ban.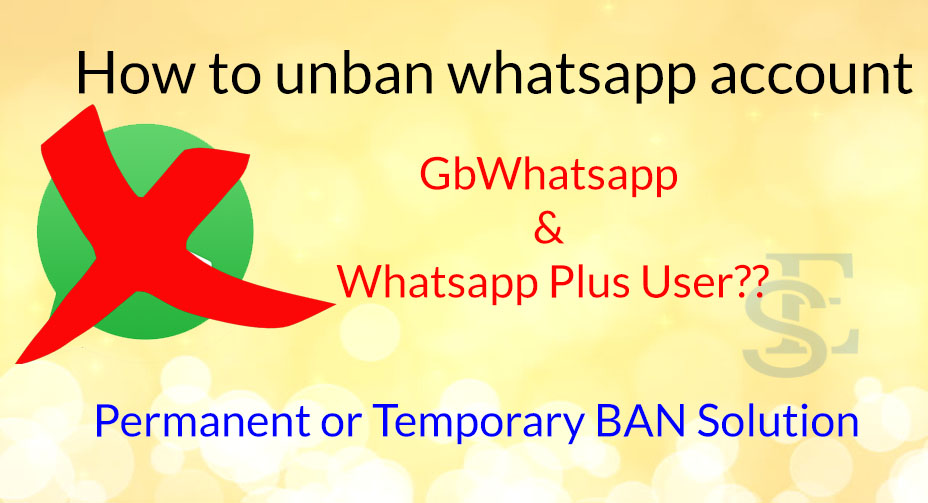 What ar the types of WhatsApp ban?
Temporary WhatsApp ban – Usually unbanned from WhatsApp quickly
Permanent Whatsapp ban – Depends on the policy violation
If your number is a temporary ban then your case is less serious and you will be able to unbanned from WhatsApp quickly. Now the question you might be thinking How long does a WhatsApp ban last? the answer to this question is, ban can last from 24 to 48 hrs and if you have done repeatable violation of policy, it may last for several days.
But If your account is permanently banned then its not easy to recover but we can try to get it back as for that, you need this WhatsApp permanent ban solution.
Read WhatsApp Tricks Tips Hacks For Android & iPhone
Why my Whatsapp number ban?
There are several reasons so you must refresh your memory and try to think if you had violated any of the WhatsApp policies or had done things.
Sending bulk marketing messages
Sending messages to unknown person
Sending illegal, obscene, defamatory or threatening message
Sending suspicious links to the whatsapp contacts and spreading fake news on WhatsApp.
Using offensive words like Child porno in Account name or group name.
Sending fake viral videos, and spamming group.
Using a modded version of WhatsApp.
These are some of the reasons for banning WhatsApp accounts. I personally use Gbwhatsapp and I and totally a fan of that. WhatsApp had started banning WhatsApp users who are using third-party apps. If you are one of those and looking for the solution here we have.
In meantime, you can read Multiple WhatsApp accounts on Computer
How to unbanned WhatsApp numbers quickly
A temporary WhatsApp ban means you will see the timer which is constantly decreasing. That timer shows the time elapsed to get your WhatsApp unban. If you are getting this screen then your WhatsApp number is a temporary ban. Below are the steps that you need to follow
Step 1 – Firstly uninstall Gbwhatsapp Apk from your android phone.
Step 2 – Now comes the tricky part, there are two options.
If you are using Gbwhatsapp as a dual WhatsApp along with the original WhatsApp then you should install Whatsapp business apk. WhatsApp Bussiness
If you are using Gbwhatsapp to enjoy the additional features then you have to wait until the new anti-ban version of Gbwhatsapp and you need to install the original WhatsApp. Check out the latest Gb WhatsApp apk download and Whatsapp plus apk download
Step 3 -Now open the Google Play Store and download the latest updated WhatsApp in your android phone.
Step 4 -Now login to WhatsApp number by entering number.
Step 5 -Still you will be seeing the WhatsApp temporary ban timer which is constantly decreasing, wait for the timer to get completed and as the timer is over, you will get your account.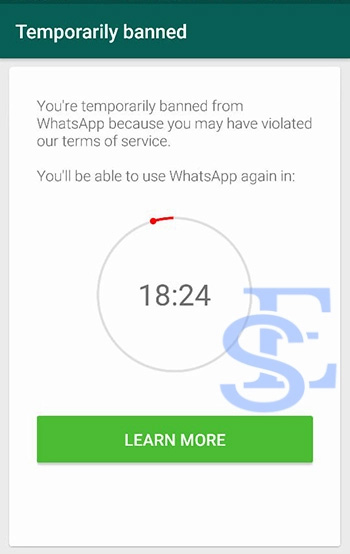 Remember – Step 1 i.e. uninstall any modded version is very necessary as if you didn't uninstall the modded version of WhatsApp then WhatsApp ban time will increase and it will take more time to get the account unban.
Whatsapp permanent ban solution
Yes, you had made some mistakes that have resulted in WhatsApp permanent ban.
You can get your account by requesting to the team.
How do I send an email to an unbanned WhatsApp number?
Step 1 – Uninstall your existing WhatsApp now and Download and install new updated WhatsApp from the Google Play Store
Step 2 – Now after installation, open WhatsApp and Enter your phone number. You will see an error message popup.
Step 3 – Click on the "Support" option from the popup message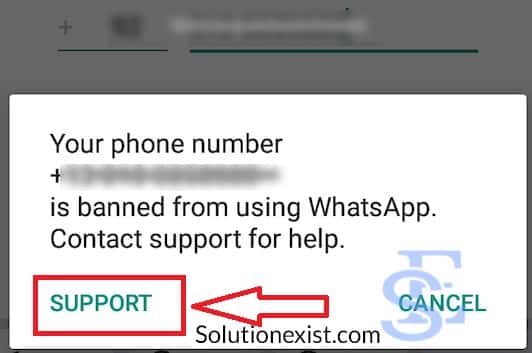 Step 4 – Write your problem and add the screenshot of what it is showing and Don't forget to add your number
Step 5 – Now Click "Next" and scroll down
Step 6 – Choose "This does not answer my problem"
Step 7 – Now send a support email using [email protected]
Now, this step will take a while, you have to wait for the reply of WhatsApp and for this you need to check your email inbox. Whatsapp usually, takes 24 hrs to reply
If you are not on the Android platform or getting any error in sending email to WhatsApp then Here are the list of WhatsApp support email address for all platform on which you can send email containing all the details and remember, send email in English.
Whatsapp support email address for banned number
Note – The process of unban a WhatsApp permanent ban account is totally based on whether WhatsApp considers you innocent or not. If WhatsApp found you innocent and think to forget the mistake you had don't then your WhatsApp account will be unbanned and if not they will not unban you, in this case, you have to wait for a week and again follow the same procedure to unban WhatsApp number
If you are facing You Need the Official Whatsapp to Use This Account error then follow the tutorial.
Email for WhatsApp unban request message
Subject: Request to Unblock my WhatsApp Account

Dear WhatsApp Support Team,

I am writing to request that my WhatsApp account be unblocked. I recently received a notification that my account has been banned, but I am not aware of any violation of your terms of service.

I am an WhatsApp user and use the app to talk to family, friends, and colleagues and I am deeply disappointed to have been banned without any explanation.

I would like to request that you review my account and provide me with the reason for the ban. If there was an violation, I apologize and assure you that it was unintentional. I am willing to comply with your terms of service and take any necessary steps to avoid future violations.

I kindly request that you unban my account so that I may continue to use WhatsApp to stay in touch with my loved ones and colleagues.

Thank you for your attention to this matter. I look forward to hearing back from you soon.

Sincerely,

[Your Name]
Precaution for unblocking WhatsApp number
This is the only method get your acount. There are lots of scammers available online who claim to unban their WhatsApp accounts by taking money.
Remember there is no one who can unblock WhatsApp numbers except WhatsApp himself. So don't pay anyone to activate it.
How to fix This account cannot use WhatsApp solution
If you are signed up to WhatsApp and are creating an account the process is pretty smooth. Some users face the error message i.e. this account cannot use WhatsApp. This usually happens when you have purchased a new sim number which as previously issued to the other person and that person was banned by WhatsApp for sending spam messages.
In that case, and if you are creating an account and are sure that you had not violated WhatsApp spam message policy then here are the steps that you can follow.
Step 1 : First uninstall any modded WhatsApp installed in your mobile and install the latest version of WhatsApp from the google play store.
Step 2 : Now open WhatsApp and enter the mobile number after selecting the country and tap on the Next button.
Step 3 : If you face an error of this account cannot use WhatsApp register new number then uninstall WhatsApp and open Google Play Store again.
Step 4 : Now search for WhatsApp business and install it.
Step 5 : Now repeat the same procedure of creating an account on WhatsApp. In most cases, the problem is fixed at this step.
Step 6 : If you still face the error, you can tap on the support button and explain your problem and your problem will be fixed in 5-6 working days.
This is how you can fix this account cannot use WhatsApp register new number in WhatsApp. This problem usually occurs when WhatsApp has banned the sim number of the previous owner.
FAQ – How can I recover my banned WhatsApp account?
1. My WhatsApp number is banned how to unbanned?
Ans – Whether your account is permanently banned or temporarily ban, this tutorial will help you with the problem and provide you with the solution.
2. WhatsApp number banned solution?
Ans – There are policies that one needs to follow but it not always a user's mistake. Sometimes your phone number is banned from using WhatsApp is by mistake. All you need to do is follow the instruction and you will be able to get your account back.
3. Why am I banned from WhatsApp?
Ans – Whatsapp is becoming very strict when it comes to policy violations. There are several reasons why WhatsApp is banning users and some of those are listed below.
Bulk Messages:
Spam Messages
Use of MOD Version of WhatsApp:
Inappropriate Contents:
4. WhatsApp support email for banned number?
Ans – If your WhatsApp account is banned then you can use support email to get your account to unban. Here is the email address for both android and iPhone users.
Android – [email protected].
iPhone – [email protected].
5. Can a banned WhatsApp number be unbanned?
Ans – Yes, if you accept your mistake and explain a perfect reason for your WhatsApp ban, there are chances that you can recover the banned WhatsApp number.
6. What are Whatsapp banned my number solution?
Ans – The only solution to recover number from WhatsApp is to mail to the Whatsapp team and explain the reason for banning.
7. Are WhatsApp bans permanent?
Whatsapp usually doesn't ban permanently but if you constantly violate policies then there are chances that your ger permanently ban.
8. How to fix This account cannot use WhatsApp register new number?
This error usually occurs when you had violated whatsapp spam message policy. In that case, you had to mail the the support team and explain your problem.
9. How many reports to get banned on WhatsApp?
There is no fixed number revealed by WhatsApp as people can abuse reports and block features but on a good basis, more than 5 reports can get your account banned.
10. How to get someone banned on WhatsApp?
If someone is annoying you or in case you feel that person in spam or fake, you can report it by taping on the profile then
Tap on More option, More and then Report.
11. Why is my number banned from using WhatsApp
There can be multiple reasons why your WhatsApp ban your number. Here are some of them listed below,
1. Sending bulk messages about crypto or marketing.
2. Getting mass reported by WhatsApp users.
3. Sending suspicious links to WhatsApp contacts.
4. Sending fake viral news, articles, videos, and spamming group.
5. Using a modded version of WhatsApp.
12. How much time does it take to unban WhatsApp?
There is no specific time frame in which your whatsapp account will unblocked. Most of the account taked one to four months.
13. How to unban WhatsApp business account?
The procedure to get a WhatsApp business account unban is similar to an individual account. You need to send an email to the WhatsApp business support email [email protected].
Wrapping Up
I hope you like How to unbanned from WhatsApp quickly whether your WhatsApp number is permanently banned or WhatsApp number temporary ban. In the meantime read how to Use Multiple Whatsapp Accounts in One Android Smartphone.
If you face any problem in getting your WhatsApp number unban then do comment, and we will help you to fix that issue if you want to be updated with Gbwhatsapp latest release then follow us on Facebook page – Solution Exist and also join Facebook group – Gbwhatsapp, Whatsapp plus & Dual whatsapp Group.