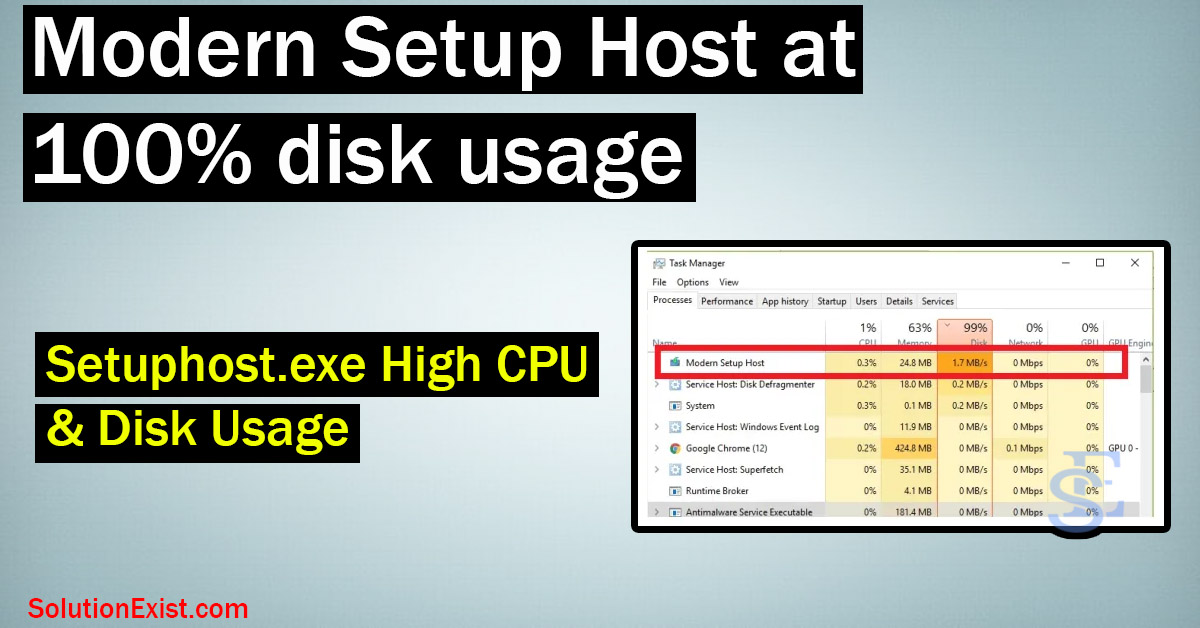 If you have little knowledge of computers and while using the computer you find slow windows performance you check windows task manager and check CPU usage. In most of the case, if your system is performing slow, the Task manager will show high CPU usage and if you find Modern Setup host casing high CPU usage then this post is for you.
In this tutorial, we are going to learn how to fix Windows developers keep on working on the Windows operating system to add new features and optimize the system, and to do so with the Disk Usage.
You had noticed that your computer becomes extremely slow which updating windows. This is because while updating windows, the process runs in the background under the name of Modern setup host which consumes high disk usage, resulting in reducing computer performance.
How to Check Disk Usage in Windows 10
The various program installed in computer or laptop consumes CPU as they run. Some program runs in the background which gets enabled automatically and some are started by the user. If the CPU usages get high up to 80 to 90% then the user can face slow system performance. CPU usage in windows is a feature that helps to identify which program is consuming CPU usage and result in slow computer performance. Task Manager will help you to get CPU usage and disk usage in windows.
Steps to open Taskbar in Windows
User need to press CTRL + Alt + Del button from the keyboard to open the system menu
Now click on Task Manager to open task manager
Now click on More details to get full features Task Manger
In the process tab, you will get all the details like CPU usage, Memory usage, disk usage and etc.
If one has not opened any application or software, CPU usage should be around 0. If in an ideal condition where not software is open and still the CPU usage is high then it is a bad condition and one had to fix it.
If you are facing high CPU usage and in-process tab you find modern setup host responsible for high cpu usage then we had posted a solution to fix high CPU usage due to modern setup host. Prior to getting into the solution, let us understand what is modern setup host is and why it cause 100% Disk Usage in Windows 10
What Is Modern setup host in windows 10
The modern setup host in windows also refers as setuphost.exe is a component of Windows operating system that can be found in all windows versions and every build. The main function of the Modern setup host is to help in installing windows updates. You will find the component working while your system is being updated.
Modern Setup Host has Stopped Working
Along with 100% CPU usage by Modern Host setup, another modern setup host error that windows users encounter is Modern Setup Host has Stopped Working. This is a common error you get if your disk had low space and there is no space left for the windows system to download updated files. Another reason for the modern setup host had stopped is temporary files in the softwaredistribution folder.
High Disk Usage by Modern Setup Host?
Now as you had learned what is modern setup host and setuphost.exe, we will move towards the problem of Modern Setup Host at 100% disk usage and high CPU usage. There is a number of factors that can be responsible for setuphost.exe high cpu usage, we will take the reasons one by one and will try to solve it in order. Now without wasting more time, lets get into how to fix setuphost.exe high CPU usage.
Solution 1 : . Clear Out Temporary Files From Your SoftwareDistribution Folder.
Temporary files are created while the system or program runs, this basically help the program to run smoothly. Sometimes these temporary files in the SoftwareDistribution folder are responsible for windows updates getting stuck and responsible for 100% disk usage. As the Modern Setup Host program runs for an unspecified period of time as it gets stuck, it can cause 100% CPU usage. In this case, we had to delete the temporary file from softwaredistribution.
Steps to delete temporary file from softwaredistribution.
Open run dialogue box by typing RUN in search or you can press Windows key + R to open up the run.
In dialogue box, Type in SoftwareDistribution and press enter.
New window will open up and from that, navigate to download folder.
Press Cntrl + A to select all files of the folder and press shift + Del to delete all files
Close the window and Restart the computer.
Now check if you get modern setup host high CPU usage in task manager problem is fixed or not.
Solution 2: Perform a clean boot in windows
As windows get the boot, numbers of software and program get loaded and start in the background. This software consumes CPU and this is reflected as a spike in CPU usage. To check if the high memory usage in windows is due to third-party software or due to a system program, a clean boot in windows should be performed. This clean boot will help you to determine the root cause.
Steps to clean boot in Windows
Step 1: Turn on the computer and click on the start button and type msconfig.exe and you will find System Configuration appears in the search result from the results.
Step 2: A dialogue box will open, click on the Services tab of System Configuration to open it.
Step 3: Now check the Hide all Microsoft services options, and then select Disable all.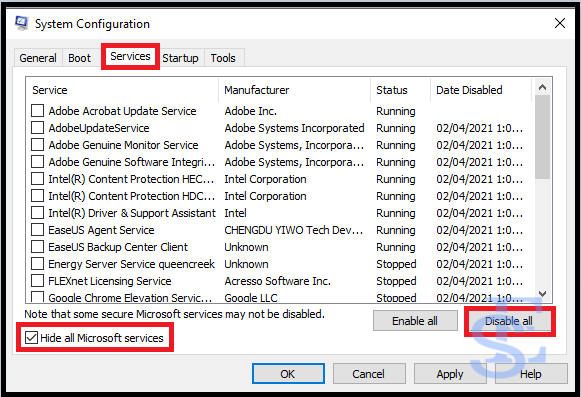 Step 4: On the Startup tab of System Configuration, select Open Task Manager.
Step 5: Under Startup in Task Manager, for each startup item, select the item and then select Disable.
Step 6: Now restart your computer and in this way, you can do a clean boot in windows.
Now check if your problem of modern setup host high CPU usage is fixed or not. If not the continue with the tutorial and keep following the other solution.
Solution 3 : Scan for malware in system
It is noticed that some malware gets installed in the computer and disguise with some system process name and in the background, it consumes high CPU power. This malware as consume CPU and disk power, high disk usage, and high CPU usage graph observed in task manager and it makes computer slow. It is observed that malware runs in the background under the name of setuphost.exe any hence many users have reported a problem of setuphost.exe high memory usage.
For this, the user must have to scan the system for malware infection. Solution Exist had prepared a detailed guide on how to remove malware from computers. You must refer and perform a malware scan.
Solution 4: Running the Windows Update Troubleshooter
One of the best ways to resolve Modern Setup Host errors is by running the Windows Update troubleshooter. If you're using Windows 10, the tool is built-in. However, if your computer runs Windows 7 or Windows 8, you need to go to Microsoft's website and download the troubleshooter. Here are the steps for running the troubleshooter on Windows 10:
Click on the start button and search for troubleshoot and open to for troubleshoot setting.
Go to the right-side panel, and select Windows Update.
Click the Run the Troubleshooter button and let the troubleshooter scan and figureoutthe problem.
After completion, a set of instructions will appear on the screen, follow them to fix the issue.
Solution 5: Performing a DISM Scan
SetupHost.exe process errors also found culprit along with corrupted Windows update. The windows team had developed a tool name Deployment Image Servicing and Management (DISM) which is a command-line tool that will help to resolve windows update-related errors. To fix the corrupted windows update, we can perform a DISM scan using this tool. Here is the method to do DISM scan in computer.'
Steps to perform DSIM scan
Click on the start button and search for CMD.
Now Right-click over Command Prompt and click on Run as Administrator to open CMD in admin mode. (Important step)
Grant the permission if asked and the CMD screen will open.
Now in the command prompt, type the below commands one by one and hit enter.
DISM.exe /Online /Cleanup-image /Scanhealth
DISM.exe /Online /Cleanup-image /Checkhealth
DISM.exe /Online /Cleanup-image /Restorehealth
This process can take time and may run for few minutes. It is recommended not to interrupt the process in between and allow the process to get complete. After completion, restart the system and check if the setuphost.exe high CPU usage problem is solved or not.
Solution 6 : Check the default system language on your computer
Wrong date in computer also affects windows update and this conflict in update process increase CPU usage in computer.
Press start key and search for Change the time and date and open it. You can even press the Windows Key+ I to bring up the Windows Settings.
Now Click on Time & Language and then click on Region and make sure it is set to your default system language.
Now restart the system and check if the problem is solved or not.
Solution 7 : Disable Windows Notifications and Turn off background apps
Windows notification is also found to run in the background continuously and can contribute to high disk usage. In my case, it didn't work the way other blogs on the internet say. One should give it a try as the steps to disable windows notification is pretty easy and won't cost much time of yours. Without wasting more time, let's get into the steps.
Step 1 : Press the Start button and search for setting and open setting.
Step 2 : Now click on the system and new windows will open.
Step 3 : From the right-side panel, click on Notification & Actions and toggle off all the notifications.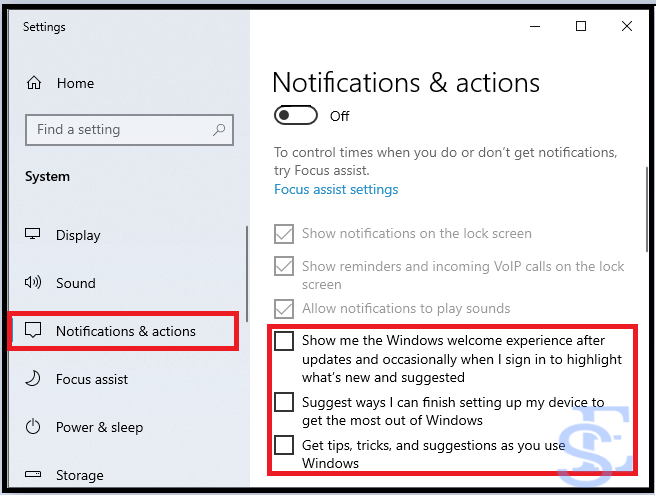 Step 4 : Now press the back button from the setting windows to come back to the main menu and then click on privacy.
Step 5 : In the right-side panel, scroll down and search for background apps and click on them.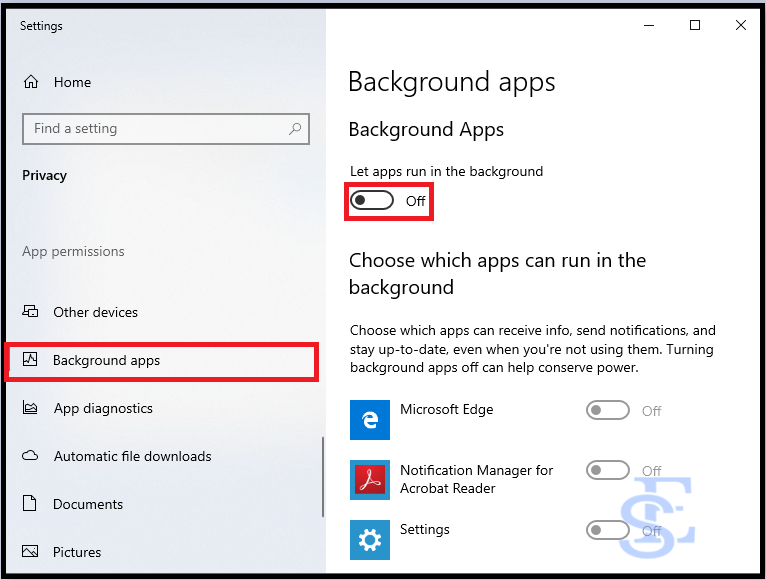 Step 6: Now toggle off the let's run apps in the background option and also toggle off unnecessary programs to run in the background.
Step 7 : Restart your pc
Now you had turned off windows notifications and turn off background apps, check if your problem of high memory usage is fixed or not. If not then continue with the solution.
Basically, you disable extra Windows notifications that are basically advertisements. Go to Settings, then click on System, and then Notifications and Actions. Simply turn off the Get tips, tricks, and suggestions as you use Windows.
Solution 8 – Disable Windows Defender and other Antivirus software installed
Windows Defender is an antivirus or virus protection feature that comes pre-installed in Windows 10. This software helps the system to avoid virus attacks on the system. Try disabling windows defender and check if your problem is fixed or not. If you had some third-party antivirus software installed in your system then Windows defender gets disabled automatically but in the worst case, if it is still active, two antivirus software active in the system can result in high disk usage. Hence check if windows defender is disabled or not and if it is then you should try disabling third-party antivirus software as well.
Steps to disable windows defender
Click on Start button and search for settings and open it
Now click on Update & Security and then navigate to Windows Defender.
Here toggle off Real-Time protection and Cloud-based Protection
Solution 9 : Disable Windows Updates Temporary
The modern setup host is directly associated with the windows update. To fix 100% disk usage due to the modern setup host, one tries this temporary fix of disabling windows updates. The point to note is this is not a permanent solution, one has to find the cause of the Modern setup host error.
We had posted a detailed tutorial on How to disable windows updates temporarily.
Note – It is not recommended to stop windows update and Microsoft push updated to fix flaws and security patches via windows update. Hence to keep your system safe, it is recommended to keep windows updated.
FAQ – Setuphost.exe disk usage
Can i delete modern setup host
Modern setup host is a system file hence you can't delete it. However, if your window operating system is getting an update, it will show high usage. You wait for 15-20 minutes if the disk usage is due to this, after a couple of minutes it will reduce.
Is setuphost.exe is a virus?
No, this is setuphost.exe is not a virus, and apart from that, this is a part of the Windows operating system which helps to download windows updates. Sometimes, some virus or malware can disguise itself as the setuphost.exe and in that case, setuphost.exe is a virus.
What is setuphost.exe
Setuphost.exe is another name of modern setup host and both help systems to download and install windows update files. So in place of a modern setup host, you may find setuphost.exe.
Wrapping Up
This is a detailed tutorial on What is Modern Setup Host? and how to fix modern setup host high CPU usage and high disk usage. If you have any problem while following the steps or in case your issue of setuphost.exe high disk usage is not fixed then feel free to use the comment section, we will help you with that. If you have any queries related to windows or android then feel free to ask on our Facebook Group Android And Windows Errors Solution and you can follow us on Facebook page Solution Exist.