If you watch movies a lot online then you must come across a soap2day website. Today, in this post, we are going to discuss is soap2day safe? and how to remove soap2day virus from the system if you are affected while using this website.
Soap2day allows users to stream TV shows and movies for free but if you use it, you might get annoyed by the ads such as popup ads, updated software warning notifications and updated Windows operating system messages. These are ads that ask you to install different software and apps in your phone which might contain viruses and malware.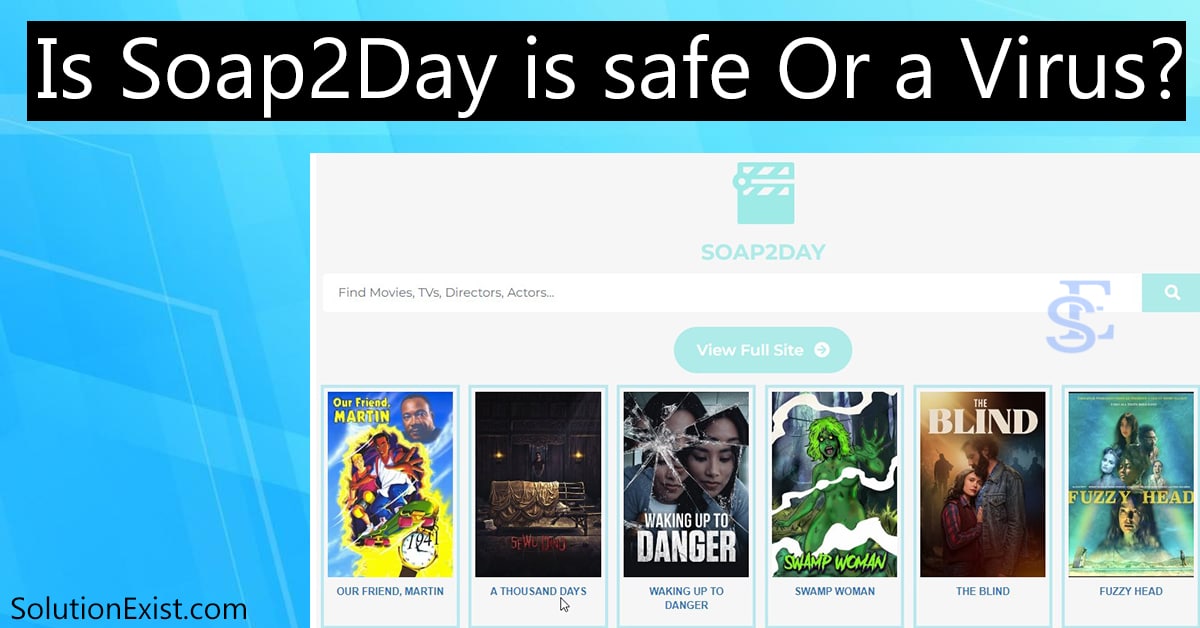 In this tutorial, we are going to learn is Soap2day is safe and what are the different ways to remove the soap2day virus from computers, chrome, and Android phones.
What is soap2day?
With the rise of online streaming platforms, Soap2day has gained significant popularity among movie and TV show enthusiasts. So what is Soap2day? it is a website that offers free streaming of movies and TV shows without the need for any subscription. However, this raises some important questions regarding its safety and legality.
Firstly, when it comes to safety concerns, accessing content on Soap2day can expose your device to various risks. The website contains numerous pop-up ads and third-party links that may lead to potential malware infections or phishing attempts. Additionally, since Soap2day provides copyrighted content without permission from the original creators or distributors, using it could be considered illegal in several jurisdictions.
It's essential to be aware of the potential risks involved before deciding to use a platform like Soap2day. Ultimately, staying safe online requires taking responsibility for our actions and making informed choices about where we consume content.
Now that we had a quick introduction to the website, lets move forward with the tutorial and steps to prevent your system from malware and adware.
Do Soap2day contain virus?
It is pretty obvious to have a doubt about Soap2day as it is free and doesn't require any subscription then how soap2day is free? If it is free, why is my device affected by viruses after using Soap2day? The answer to this question is this free steaming website is free from viruses and to the owner had monetized the website through ads.
While using Soap2day, you might receive various popup ads. This website content is not Google adsense friendly and this makes the owner use other ad publishers. As the third-party advertisers are not reputed, you get low-quality app promotions that might contain viruses, and malicious apps to install and those are risks to your security and privacy risks.
These apps can be trackers and track your identity and had the potential to do credit card scams and frauds. So the answer to your question does soap2day have viruses? is No, Soap2day virus is not a thing but you have to be alert from the popup dads and banner ads on the website.
Is soap2day safe on the phone?
As discussed, it is an online streaming platform that allows users to stream movies and tv series. The platform is free and they have monetized the platform through ads. These ads sometimes push you to download apps that are dangerous and may contain malware. So soap2day is safe on the phone but you have to be aware and cautious not to download any app or files from the ads and if you are not an expert, you should avoid using Soap2day.
Remove Soap2Day Virus from Windows 11/10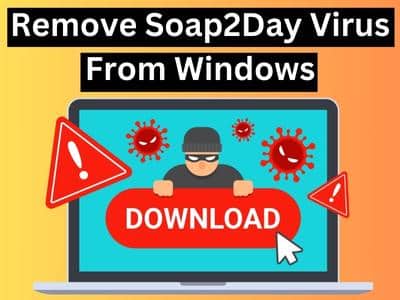 If your Windows is affected by the virus or malware after using soap2day then you might have mistakenly installed any software.
These spam website club malware with the software and as you install that software, malware affect your computer and cause problem. If this is the case, here are the steps to follow to remove virus from Windows 11/10.
Step 1 : First turn on your computer and click on the start button.
Step 2 : Now search for the control panel and open it. Here you will get a list of system options. Click on uninstall a program under the programs option.
Step 3 : Here you will see all the installed software in your windows. Observe all the installed software and find if there is any other software that is recently installed and not by you.
Step 4 : After uninstalling the software, open Chrome and install a software named Malwarebytes.
Step 5 : After installing, run a search and delete the virus if this software detects in your system. You can even use Windows Defender to scan your system.
In this way, you can rid of soap2day virus from Windows 11/10.
Remove Soap2Day Virus from Android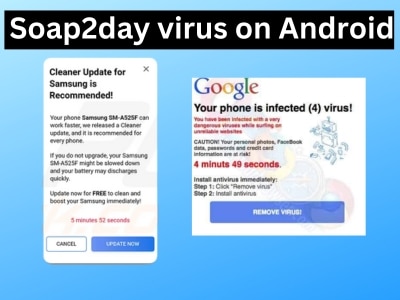 If you had access to the website on an Android phone, there is no app of this app. So you had used Chrome of any other internet browser in the phone. For Android phones, these websites push ads like there is a system updated in your phone and your phone starts to vibrate. You are asked to update an app or install an app that claims to remove viruses.
Actually, they are malware and these can affect your addroid phone. If you are getting ads popup on your phone then there is the possibility that your phone is affected by adware. Here are the steps that you need to follow.
Step 1 : Firstly open your phone settings and then tap on apps.
Step 2 : Here you will see all the installed apps on your phone, observe every app and identify any app that is not installed by you.
Step 3 : Uninstall those apps from your phone. After that, open Chrome and check the download section and check recently downloaded item, and delete them.
Step 4 : After this also your problem is not fixed, factory reset your phone after taking a backup of your phone data.
In this way, we can remove viruses from Android phone affected by using this website. If you are still facing problem, then follow the detailed tutorial on How to remove Adware From Computer.
Remove Soap2Day malware from Google Chrome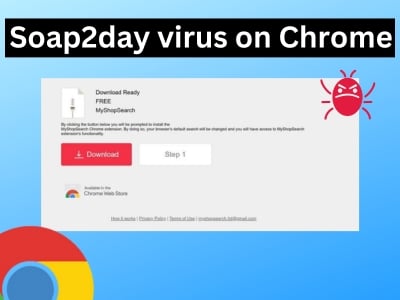 Hackers and attackers' favorite software or route to install viruses or malware into the system is attacking Google Chrome. If your system is behaving abnormally after opening Google chrome such as becoming slow or consuming high CPU usage without opening any tab then there is the possibility that your Google Chrome is affected by a virus.
Automatically opening of website, different ad popups or notifications on the website are the indications of affected Chrome.
Don't panic, here are the steps that you can follow to remove the Soap2day virus from Chrome.
Step 1 : Open Chrome and navigate to the menu by clicking on the three-dot button on the right side top of the screen.
Step 2 : Now select More tools, then choose Extensions. Here you will find all the installed Chrome extensions.
Step 3 : Observe all the installed extensions and remove if you find any extensions not installed by you.
In this way, you can remove the soap2day virus from Google Chrome in windows. We had posted a detailed tutorial on Remove Adware From Chrome Browser.
💡Tip
Don't install any Chrome extension or update any plugin while using this website as most of them affect your computer.
How to remain safe from the soap2day virus?
Use of this website is illegal and we are not promoting users to have access to soap2day but in case you want to use this video streaming platform, here are some tips to remain safe while using soap2day.
Step 1 : Keep your Windows update on auto-update and check your Windows versions are updated. If you don't want to turn off auto update on Windows, then you can choose a different option such as manual update.
Step 2 : Turn on windows defender in your windows 11 or 10. Windows Defender will protect you from any malware or cyberattack. You can even use any other third-party anti-virus software and keep it updated such as Quick Heal or Avast.
Step 3 : Don't install any software from any untrusted source as they might contain malicious software, adware or spyware. Always use trusted website or the official website to download and install software, and games in your system.
Step 4 : While using Chrome, spammy websites push you to install Chrome extensions from other untrusted websites. Stay away from installing those extensions in Chrome other than the official extension website.
Step 5 : Install malware removal software such as Malwarebytes which is free software and Scan your system regularly. Do have a backup of your important files as sometimes, these viruses corrupt your hard drive and you won't be able to access your files as well.
FAQ (Is soap2day is safe)
1. Is Soap2Day legal to use?
No, Soap2Day is illegal as it is an online streaming platform is can allow users to stream movies and TV shows only with the permission of the copyright owner. Hence this is illegal as Using Soap2Day to watch copyrighted content is considered illegal in most countries.
2. Is Soap2day still running?
This online streaming website was shut down and also the mirro website but some clone websites changing minor words in the url are running to trap users.
3. How to remove the soap2day virus from the computer?
If your computer is affected by virus then you should scan your computer using Malwarebytes software which is an effective and free software to remove malware, adware, and spyware
4. How soap2day is free?
Soap2day is free and doesn't charge for a signup or has subscription. They had monetized the platform through ads.
Wrapping Up
Hope this tutorial on what is soap2day virus and methods on how to remove soap2day virus from computer or Chrome browser. If you want to be safe while accessing the website, then do follow the Guide on How to prevent Soap2day virus affecting your system. If you have any question regarding the steps written in the article, use the comment box to ask. You can even reachout to us on the Solution Exist Facebook page to reach out to us.